I took this tonight with my camera phone. I noticed a red glow right beside the moon as I was waiting for my friend outside a restaurant parking lot. I have "nightmode" on my cam so it was able to pick it up.
take a look
So the lesson here is..........................there was actually nothing next to the moon. The red glow appeared as a result of the camera, nothing else.
Point Im trying to make is to be weary about pics that people claim are Nibiru. They're very simply crafted out of nothing...
I do believe in Nibiru but I hate all the fakes we try to convince everyone with....be cautious...
How many times must you honk your horn and say fuck you?
Now what the fuck does that do?
You feel better now, I didnt let you pass.
How bout I stop my car and beat your fuckin' ass?
---
Good post.

Thanks for sharing.

Hawk
We gather knowledge faster than we gather wisdom. - William Bell
---
Thanks Hawk...and happy thanksgiving to you too
How many times must you honk your horn and say fuck you?
Now what the fuck does that do?
You feel better now, I didnt let you pass.
How bout I stop my car and beat your fuckin' ass?
---
bump
How many times must you honk your horn and say fuck you?
Now what the fuck does that do?
You feel better now, I didnt let you pass.
How bout I stop my car and beat your fuckin' ass?
---
this is a retarded thread dude. Just more nonsense. Just because you dont believe in something don't make it not true.

I dont know if nibiru exists or not, and personally I hope not, but to think that you, a person who has no experience in astronomy is going to tell people what is and what is not, is just laughable.

I love this quote about ignorant people ->

Just because your head is up your ass dont mean the sun dont shine.

not trying to insult you, but making clear the point your no one to tell anyone how it is.

kthxbye.
If you help the Oppressors, eventually you and your family will be oppressed.
www.mind-wars.com
---
well mep you completely missed what this thread was intended for...


good job, yur smart.
How many times must you honk your horn and say fuck you?
Now what the fuck does that do?
You feel better now, I didnt let you pass.
How bout I stop my car and beat your fuckin' ass?
---
lol i see lots these photos and videos and it's not even what nibiru is supost look like , it was called winged planet

and if you really read ancient texts on this subject you should notice all different storys that talk about the same event. i think it's here on earth the storys of a salt water moon crashing into our fresh water ocean mixing earths swee waters with salt.
this event is also known as fallen angels the moon was called lucifer, should research it you be amazed how much it's been written about by the ancients.
lucifer the snake
---
---
Lucifer is a Latin word, literally meaning "light-bearer", which in that language is used as a name for the dawn appearance of the planet Venus, heralding daylight. Use of the word in this sense is uncommon in English, in which "Day Star" or "Morning Star" are more common expressions.
In English the name "Lucifer" usually refers to the Devil. This usage is not found in the New Testament. The use of the name "Lucifer" in reference to a fallen angel stems from an interpretation of Isaiah 14:3-20, a passage that speaks of a particular Babylonian King, to whom it gives the title of "Day Star", "Morning Star" (in Latin, lucifer),[2] as fallen or destined to fall from the heavens or sky.[3] In 2 Peter 1:19 and elsewhere, the same Latin word lucifer is used to refer to the Morning Star, with no relation to the devil. However, in post-New Testament times the Latin word Lucifer has often been used as a name for the devil, primarily in fictional works.
http://en.wikipedia.org/wiki/Lucifer
---
Note: This article is speculative in nature and may or may not be correct
Lucifer was a planet as well as a super being. This planet was located between our present Mars and Jupiter(where now lies the inner asteroid belt). The planet Lucifer is known by many other names: Maldek, Phaeton, Rex, etc., but is most aptly named after the super archangel who ruled over it -Lucifer. Lucifer was a perfect and beautiful being and his planet was one of ten in the solar system of that time. The planet Lucifer rivaled the Sun in splendor and may in fact have been a second sun or binary. The Luciferians living on it were a godly people until their leader fell from grace and brought them to ruin along with a third of the entire solar system.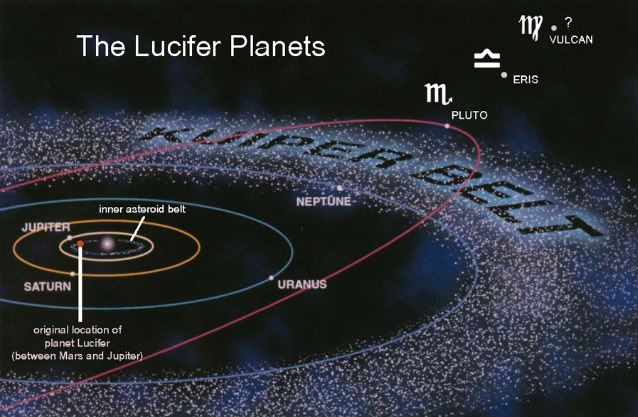 Lucifer was of course thwarted and defeated in his attempt to become the ruler of our solar system, who was then Michael or the Sun, and his home planet was destroyed or flung into the far reaches of the solar system. Planet Lucifer may have exploded into billions or trillions of pieces creating at least three rings or asteroid belts. The most famous is of course that between Mars and Jupiter, but there is a smaller one around the Sun, and of course a larger one beyond Neptune now known as the Kuiper belt. The Oort cloud may be the final ring of accumulated debris. It was this explosion and the resulting debris that cratered the planets and moons and produced their rings, disrupted the planetary orbits and rotations, and gave birth to the meteors and comets.
Astrologically, Lucifer was of the combined nature of Virgo, Libra, and Scorpio, which according to esoteric tradition, were then one sign(and one planet). Virgo was Lucifer's purity and dedication. Libra was Lucifer's perfect beauty and wisdom, and Scorpio was Lucifer's dark or extreme side. These three qualities made Lucifer too powerful or gifted for his own good and led to his conceit, rebellion, and downfall. Before Lucifer's unruly power got out of hand, he was supernaturally cut down and changed forever. His essence was literally divided into three separate parts so that he was greatly weakened and no longer posed a threat. Lucifer became the new signs of Virgo, Libra, and Scorpio, increasing the zodiac from ten to twelve signs. There were now also twelve major planets instead of ten.
The large planet Lucifer had many moons or small planets some of which may very well have survived its destruction and which were were blasted to the ends of our solar system("cast into outer darkness"). The largest of these may be the current dwarf planets or plutoids two of which are Pluto, Eris. Vulcan? may be the third, and all three represent separate aspects of Lucifer. These remnants of Lucifer straddle the Kuiper belt and beyond exercising great power over the collective aspect of being and preserve the history of a turbulent past.
In the book, Outer Space People and Inner Earth People, the author, William Lester Blessing, states that Lucifer was in fact our own planet Earth, in its previous incarnation. The Earth was then as large or larger than our Sun making ours a BINARY solar system. It was populated by LUCIFERIANS and named after its leader LUCIFER. Around the planet Lucifer revolved many planets and moons includiing Lilith(named after Lucifer's wife) which are now scattered across the solar system after it was destroyed or went nova. The people on Lucifer must have been giants and lived to a least a thousand years old. Was the creation story of Genesis in the Christian bible a description of the rebirth, reconstuction, or partial restoration of a former and greater Earth?
---
Related topics

Replies
Views

Last post