http://the-rabbits-hole.com/?p=22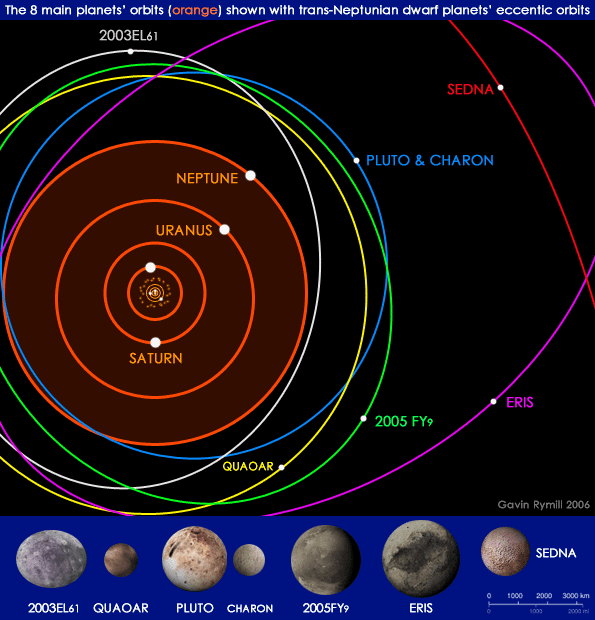 Check out these videos and this site if intersted in Nibiru and how astronomy doens't make much sense when applied to the far reaches of our solar system if Nibiru, the star Nemisis, and the comet that follows Nemisis don't exists.
If nothing else, you have to ask yourself, why do Pluto, Sedna, and all the other trans-Plutonian planets, comets and asteroids seem to follow a regular orbit that is completely irregular compared to the planets between Uranus and Mercury? Ovular, simmilar, and regular to only them yet irregular to everything else? Why is Pluto turning red? If you say because the Sun is misbehaving, consider that Pluto is currently in the part of its orbit where it moves away from the Sun. Why are the ring of planets tilted in certain ways? What exactly are they pointing at? Why are so many objects entering our solar system from SOUTH of the Sun? What's southward from us that would throw them northward and cause them to come back to?
Is global warming causing earthquakes and volcanic activity? Or is it the space dust NASA says we're passing through? Where did the origins of the story of the Phoenix come from? Why do so many ancient peoples claim the exact same things, especially concerning aliens, the dark star, and the great flood?
Stop playing popularity contest or trying to debunk everything. Time to know the difference in a hypothesis and an unproven FACT. Its time to open your logical mind to something that IS happening and we have chosen to witness and be on Earth for!
---
Gamma rays travel along lines of gravity. Gravity exists in bands or spirals. The Norway spiral and a few others came from gamma ray bursts hitting the gravity of Earth and displaying themselves to us via the plasmatic and ionic energy field that surrounds this planet. This energy then travels inward to the gravitic source and the energy is displayed as a volcanic eruption, an earthquake, or a massive change in atmospheric weather. Sometimes all 3 occur as they all fall under the term "weather" when defining weather as everything the enviornment does or doesn't do with or without intervention.
http://www.etheric.com/GalacticCenter/GRB.html
[*]
Keep in mind that it was nighttime, so Norway was facing away from the son AND facing southward according to the tilt of the earth. So the spiral and the burst originated from something southward and at the opposite angle. What's down there that would be close enough to throw that burst and create that spiral?
---
Some comets and a few planets have highly eliptical orbits. Their orbits are so narrow at the ends that they should be unstable and simply fly out of the solar system. The only reasonable explanation as to why they don't is that they are held in these egg, as apposed to circle shaped orbits by TWO poles. One of these poles is obviously our Sun, the other....
"Sedna shouldn't be there. There's no way to put Sedna where it is. It never comes close enough to be affected by the sun, but it never goes far enough away from the sun to be affected by other stars... Sedna is stuck, frozen in place; there's no way to move it, basically there's no way to put it there – unless it formed there. But it's in a very elliptical orbit like that. It simply can't be there. There's no possible way - except it is. So how, then?"
- Dr. Michael Brown, discoverer of the planet Sedna
---
http://www.hercolubus.net/english/home_e.htm
Then theres the theory of Hercolubus! If you haven't heard or read about this you're definately missing a few clues as to what's going on and has been going on since before creatures walked out of the ocean onto land.
---
Edgar Cayce, Mother Shipton, Velikovsky and many others spoke matter-of-factly about what exists and may be coming...
http://www.darkstar1.co.uk/gregjenner4.html
---
Related topics

Replies
Views

Last post