It's not a planet... but what IS it???

Time will tell.
If rain brings wind of change, let it rain on us forever
---
Posts: 21462
Joined: Thu Jul 22, 2010 3:20 am
Location: Odin's Palace
see : Zacharia Sitchins (work) ?
Collapse is a series of events that sometimes span years.
Each event increases in volatility over the last event,
but as time goes on these events tend to condition the masses.
---
Idk what that is on sky map, weird. It's cool. Like a man-made planet set in orbit by the anunaki
---
Idk what that is on sky map, weird. It's cool. Like a man-made planet set in orbit by the anunaki
---
Posts: 208
Joined: Fri Jul 30, 2010 12:44 am
NIBIRU IS A LOAD OF BUNK!
Back in 2008 the preachers of Nibiru were saying that by April of 2009 this planet would be visible to the naked eye in the sky. That month came and went and nada and then these Nibiru dolts decide to re invent the wheel by saying that it is approaching from the =South pole and hence it was only visible from there but alas these dolts do not know geometry for if this boast were true anyone from the equator right on down to the South Pole would be able to see Nibiru with their naked eyes.....GUESS WHAT?....01/2011 AND THERE IS NO SIGHT OF NIBIRU AS OF YET!


WHAT A FREAKING SHAME AND HOAX!!!!!!!!!!!
---
The solar system is binary.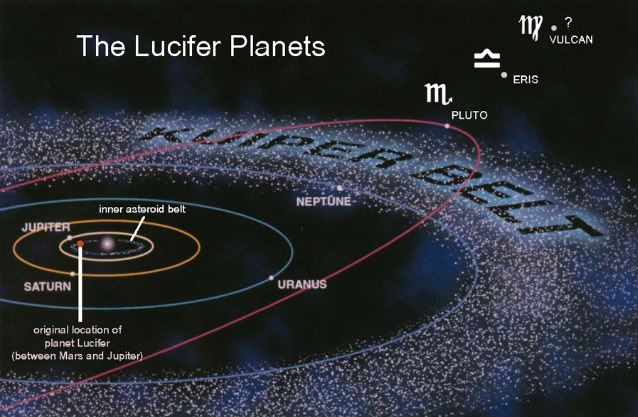 ---
---
rinzler wrote:
It is a sudden switch over from the history channel, to an animated voice. Then the subtitles don't even match at the end, just shows pictures like what it's saying
---
Nemesis Theory
- Nemesis is a hypothetical hard-to-see red dwarf star or brown dwarf, orbiting the Sun at a distance of about 50,000 to 100,000 AU (about 0.8-1.5 light-years), somewhat beyond the Oort cloud. This star was originally postulated to exist as part of a hypothesis to explain a perceived cycle of mass extinctions in the geological record, which seem to occur once every 27 million years or so. In addition, observations by astronomers of the sharp edges of Oort clouds, similar to that of the Solar System, around various binary (double) star systems, in contrast to the diffuse edges of the Oort clouds around single-star systems, has prompted some scientists to postulate that a dwarf star may be co-orbiting the Sun. Counter-theories also exist that other forces (like the angular effect of the galactic gravity plane) may be the cause of the sharp-edged Oort cloud pattern around the Sun. To date the issue remains unsettled in the scientific community.
http://en.wikipedia.org/wiki/Nemesis_%28star%29
http://www.spacedaily.com/reports/Evide ... r_Sun.html
---
---
Related topics

Replies
Views

Last post