Those who live on the buffet line shouldn't throw porky pies
---
---
Posts: 18703
Joined: Thu Jul 22, 2010 4:20 am
Location: underneath the circumstances
.
........
.....................
....sit back and enjoy the show...
.

Obama Misses 60% of Security Briefings... and Blames Intelligence Community?


.
---
---
Posts: 9151
Joined: Fri May 14, 2010 7:03 pm
Location: Inside You.
I agree with this, and yes I am serious. I think there is a lot of evidence to support this claim and I think people should take this far more seriously!.
Censorship debunking & disinformation, it's all in a days work.
---
someone painted this,
from huffingtonpost.com
http://www.huffingtonpost.com/2012/11/27/barack-obama-jesus-cross-painting-the-truth-controversial_n_2199073.html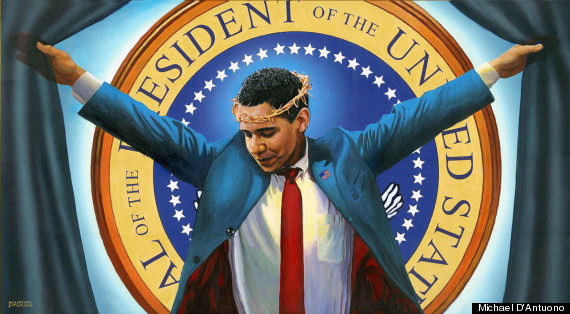 I just dont see Jesus as someone who would be droning people daily, operating asymmetrical warfare on seven countries, and running countless indefinite detention torture camps.

Ah and Jesus is the one to make the NDAA and sign that in too right??
anyhow here is my fixed version of it....
I have always said most Christians been duped and they actually worship images of Baphomet....
If you help the Oppressors, eventually you and your family will be oppressed.
www.mind-wars.com
---
Posts: 2926
Joined: Wed Oct 06, 2010 7:31 pm
Location: Looking for a city, not built by man!
"I don't always double down on failure,
But when I do,
I vote for Obama"--some dudes sig on another forum
In Christ are hid all the treasures of wisdom and knowledge
---
Tiger Woods.Lewis Hamilton.Barrak Obama,all brilliant if you ask me,every one flawed,who cares if Obama doesnt have a birth certificate,Im an Englishman and a white one at that but what do you want,peace or war?at some point you gotta accept the world is moving forward,wether you dug your heels in or not.
---
---
---
Related topics

Replies
Views

Last post