Opportunity rover parked on slope for Martian winter
http://www.spaceflightnow.com/news/n1201/10opportunity/

Deception in life is nothing but a lie reduced to practice
---
Opportunity rover parked on slope for Martian winter
But where did the cart parked:
here?
http://www.newscientist.com/blogs/short ... nds-w.html
or here
http://www.spaceflightnow.com/news/n1201/10opportunity/
Notice there is a extreme resemblance between the landscapes, but the first picture seems to capture it much closer seen from THE RIGHT while the second is more distant and seen from THE LEFT.
The vantage point in both photos is not that of a cart at ground level

Deception in life is nothing but a lie reduced to practice
---
I could find the "map" of the area opportunity Rover chose to withstand Mars winter. It's called "Greeley Haven" in memoriam to Ronald Greeley, Regents' Professor of planetary geology at
Arizona State University
who died last October.
http://www.jpl.nasa.gov/news/news.cfm?r ... 2012-003#4

Deception in life is nothing but a lie reduced to practice
---
Posts: 19543
Joined: Thu Jul 22, 2010 4:20 am
Location: underneath the circumstances
frutty wrote:

The vantage point in both photos is not that of a cart at ground level
.....how dare you insinuate....?.................
................................................... CHA-CHINGLE BELLS .................................................
---
---
http://www.nasa.gov/topics/technology/f ... 11208.html
Results from an AEGIS data collection session onboard Opportunity. On the left is shown the selected rock target, captured in three color filters using the Mars Exploration Rover Panoramic Camera. On the right is the original target selection in a wide-angle image taken by the rover's navigation camera. Image credit: NASA/JPL-Caltech
PASADENA, Calif., – Autonomous Exploration for Gathering Increased Science (AEGIS), novel autonomy software that
has been operating on the Mars Exploration Rover Opportunity since December 2009
, is NASA's 2011 Software of the Year recipient.
The AEGIS software, developed by NASA's Jet Propulsion Laboratory in Pasadena, Calif., autonomously directs Opportunity's cameras to interesting science targets.
AEGIS was developed to enhance the usual targeting process involving scientists on the ground, which can require the rover to stay in the same place for a day or more while data are transmitted to Earth and targets are selected from preliminary images.
With AEGIS, the rover software analyzes images onboard, detects and prioritizes science targets in those images, and autonomously obtains novel, high-quality science data of the selected targets, within 45 minutes, with no communication back to Earth required. AEGIS chooses science targets based on pre-specified criteria set by the mission science team.
AEGIS can be used as soon as the rover reaches a new area and is especially beneficial during and after long drives. It enables high-quality data to be collected more often and in a significantly reduced time frame. The incorporation of AEGIS in the Mars Science Laboratory flight software is in progress, and it is also being considered for future NASA missions.
The AEGIS capability was developed as part of a larger autonomous science framework called OASIS (short for Onboard Autonomous Science Investigation System), which
is designed to allow a rover to identify and react to serendipitous science opportunities
.
The AEGIS system takes advantage of the OASIS ability to detect and characterize interesting terrain features in rover images. This technology was created with assistance from NASA's Mars Exploration Rover Project and with funding from the New Millennium Program, the Mars Technology Program, the JPL Research and Technology Development Program, the JPL Interplanetary Network Development Program and the Intelligent Systems Program.
JPL is a division of the California Institute of Technology in Pasadena.

Deception in life is nothing but a lie reduced to practice
---
Posts: 19543
Joined: Thu Jul 22, 2010 4:20 am
Location: underneath the circumstances
frutty wrote:being considered for future NASA missions.
................................................... CHA-CHINGLE BELLS .................................................
---
---
Happy Birthday Opportunity! The Mars Rover Turns Eight
A mission planned for 9 months turns 8 years today
Opportunity Rolls On Maas Digital LLC for

Cornell University and NASA/JPL

via Wikimedia
Read more:
http://www.time.com/time/health/article ... z1kiU09fVw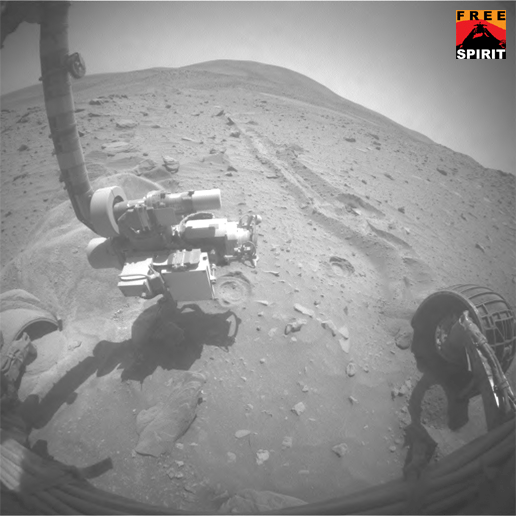 Deception in life is nothing but a lie reduced to practice
---
NASA budget will axe Mars deal with Europe: scientists
by Staff Writers
Washington (AFP) Feb 9, 2012
US President Barack Obama's budget proposal to be submitted next week for 2013 will cut NASA's budget by 20 percent and eliminate a major partnership with Europe on Mars exploration, scientists said Thursday.
The White House is proposing a $1.2 billion budget for the US space agency, down from $1.5 billion this year, according to Louis Friedman, a former NASA official and co-founder of the Planetary Society who was briefed on the matter.
"It's certainly dead," Friedman told AFP, referring to the ExoMars project which aimed to send an orbiter to the red planet in 2016 followed by a pair of rovers in 2018, ahead of a possible mission to return samples from Mars to Earth in the 2020s.
According to the deal NASA and the European Space Agency made in 2009, NASA would contribute $1.4 billion to the project and ESA would chip in $1.2 billion.
Friedman added that the political will in Europe and the United States was likely strong enough to push efforts toward a new deal of some kind, but the details remain to be seen.
"I don't think it is hopeless. But there is no indication that Congress is willing to help," he said.
G. Scott Hubbard, a professor of aeronautics and astronautics at Stanford University who was NASA's first Mars program director and revitalized the program after a string of failures, also said the ESA project was likely to die.
"If the budget cuts appear next Monday as the rumors suggest, then the existing NASA/ESA ExoMars collaboration may well disappear. What will replace that is unknown to me," Hubbard told AFP in an email.
NASA officials declined to confirm the details of the budget proposal but scheduled a series of press conferences to discuss it on Monday.
"Consistent with the tough choices being made across the federal government to reduce spending and live within our means, NASA is reassessing its current Mars exploration initiatives to maximize what can be achieved scientifically, technologically and in support of our future human missions," said NASA spokesman David Weaver.
The project had been named as a top priority flagship mission by the US National Academy of Sciences' Decadal Survey, which sets out a plan for NASA space exploration.

Deception in life is nothing but a lie reduced to practice
---
Related topics

Replies
Views

Last post