As they say, i pic is worth a thousand words......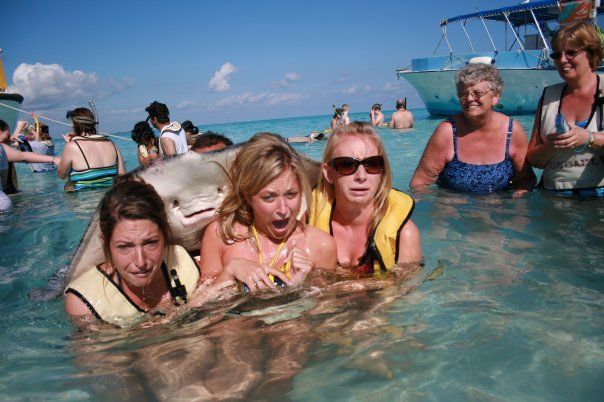 A photo of three seemingly terrified women being greeted by a giant stingray is making the rounds online.

The "photobomb," posted to Reddit.com on Wednesday, appears to show a man in the water behind the women lift the stingray onto their backs just as the photo was taken.

Several commenters pointed out that the undated photo was likely taken at Stingray City, a popular tourist destination in the Cayman Islands where swimmers and snorkelers are encouraged to feed ground squid to the rays from a sandbar.

"Come kiss a stingray with us this year!" an offer on boat charter service StingrayCityTrips.com reads. "Standing in only three feet of water you will be surrounded by more than two dozen friendly stingrays."

According to Cayman.org, the spot has become populated with rays because local fishermen dispose fish offal there. The site in Grand Cayman's North Sound became popular in the late 1980s after it was featured in Skin Diver magazine.

The site also offers some helpful tips on how to "survive" a stingray trip, including:

If you dive or deep snorkel, wear a "skin" or light wet-suit to protect from stingray "hickies." Stingrays cannot see what they are feeding upon and they eat by sucking the food into their mouths between two hard dental plates. Sometimes they can get confused by all the feeding going on, and since they don't feed by sight, they just start sucking as they approach the food source (divers).

Remember, the ray hunts by sense of smell so you can lead a ray around for quite a while with just one piece of bait—actually just long enough to get bushwhacked by another ray coming in from another angle.

Many folks just let go of the bait the first time or two—the ray misses the fish and it gets taken by one of the ever-present Cayman Piranha. These fish are actually the real threat here, they can come and give you a rather sharp bite on the finger to help encourage you to give them the bait.



http://news.yahoo.com/blogs/sideshow/st ... 43169.html
---
Posts: 1777
Joined: Wed Dec 17, 2008 2:21 pm
"HEY GIRLS, HOW'S IT GOIN!?!?"
---
---
Thruster wrote:''Is that your barb sticking into my back or are you just glad to see me?''
Wanted to make a T-Shirt with that animal planet guy on it..........it would say
"Crikey.......I've got a stingray barb in me 'art "
"The superior man, when resting in safety, does not forget that danger may come. When in a state of security he does not forget the possibility of ruin." Confucius (551 BC - 479 BC)
---
The Enviroment Minister is not very impressed with this and released a statement reminding tourists and tour operators that removing rays from the water is illegal. They tried tracking down the photographer but have not been able to.

The locals are even less then impressed that the rays have been drawn to the sandbar by the fisherman's disgarded fish guts...
and no longer have the sandbar to set thier chairs up and enjoy the sandbar.

I don't know why those chicks are so freaked out about... those rays have now become so domesticated they are like annoying cats...I avoid the sand bar and that end of the island when ever I'm there...
Welcome back!
---
flsts1 wrote: those rays have now become so domesticated they are like annoying cats...

cats dont have 8 inch members that can tear you heart out....

(talking about the barb on their tails)
---

The trend is catching on.........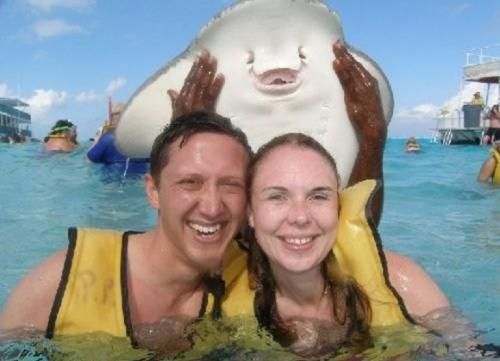 ---
Related topics

Replies
Views

Last post