---
Posts: 3011
Joined: Tue Jun 08, 2010 10:47 am
LOL, Fcuk Pit.
GO you filthy elites.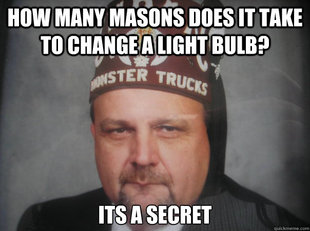 I suppose you need a honey pit and evidence of indiscretions to keep people quiet.
Check out this lodge:
https://www.facebook.com/WestGateAdelphicLodge509
No undue influence to see here:
Last edited by
Opalserpent
on Tue Sep 03, 2013 1:35 am, edited 2 times in total.
Live by the Terror, Die by the Terror.
---
---
Posts: 3011
Joined: Tue Jun 08, 2010 10:47 am
E6722maj wrote:if everyone involved was a consenting adult, then frankly it's nobody else's business

.
Perhaps but the police were called for a reason, I didn't know Masonic lodges were registered
as strip clubs and fcuk pits. Must be in the building code I suppose.
Live by the Terror, Die by the Terror.
---
Posts: 117
Joined: Fri Aug 09, 2013 12:49 am
Location: Occupied Confederacy
Gotta watch out for those Masons. They are a wild and crazy bunch.
---
Related topics

Replies
Views

Last post