Proof of a

ghost

at Netley Abbey?
http://www.thisishampshire.net/news/471 ... ey_Abbey_/
A digitally enhanced version of the image
The original image
COULD this chilling picture finally be proof of ghostly goings-on among the ruins of Netley Abbey?
The spooky image appears to show a shadowy figure lurking beneath an archway at the thirteenth century building.
Ghost experts say they are baffled by the appearance of the hooded-character and are investigating.
It has often been said that a Cistercian monk and former abbot both haunt the Abbey while tales have also been told of eerie chants ringing out from the derelict site.
Photographer Andrew Nicholson was archiving pictures on his computer when he found the image.
The 35-year-old dad of two said: "When I saw the photo, I showed it to a few friends who said ' y o u should do something with that.' "Whatever the picture shows, it just reenforces my belief that there is much more to this world than we will ever know or understand."
Mr Nicholson, of Rookley in Netley, said he was with family when he took the picture in February 2005 and denied the image was a hoax.
David Scanlan, founder of the Hampshire Ghost Club, said: "Is this a ghost? Is this a living person? We don't know but further testing is under way."
The most complete Cistercian monastery in Southern England, the Abbey was founded when a colony of monks crossed Southampton Water from Beaulieu to establish a new religious house in 1239.
It was set up by the Bishop of Winchester Peter des Roche under the patronage of Henry III.
After the dissolution of the Abbey by Henry VIII in 1536 the building was stripped and partially demolished by a series of owners before English Heritage took over the ruins.
English Heritage curator Pam Braddock said: "I have heard the stories about the spirits at Netley Abbey and know lots of people have seen something.
I never have but I'm such a cynic I wouldn't believe in ghosts if one came up and slapped me on the chops."
http://www.thisishampshire.net/news/471 ... ey_Abbey_/
---
---
---
I see boots, really.
Also subject, seems to be walking away from the camera.
http://ufomaniacs.blogspot.com/
http://tiny.cc/Rizzesearch
"The greatest things on earth are us,supposedly.
Why don't we act accordingly, with humanity" Rizze
---
Posts: 1539
Joined: Sat Nov 29, 2008 2:45 am
looks like one of those shadow people dunno weird though
---
Posts: 1
Joined: Mon Nov 09, 2009 10:32 pm
Hello Everyone.... This is my picture... I took it when on a trip there with my family.. We were the only people in there.... Apart from the warden who was trying to kick us out....
Here are my originals.... The ones they published in my local paper were enhanced.. Messed around with and did not look like the original.
The first one is the original
exactly
as it was off of the camera
http://i620.photobucket.com/albums/tt287/anicholson_photos/IMGP1583.jpg
The second is one that has been brightened on the pc...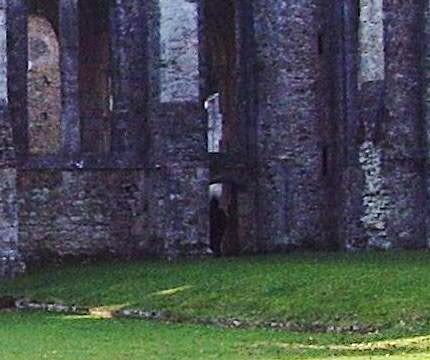 ---
Related topics

Replies
Views

Last post