Posts: 9330
Joined: Fri May 14, 2010 6:03 pm
Location: Inside You.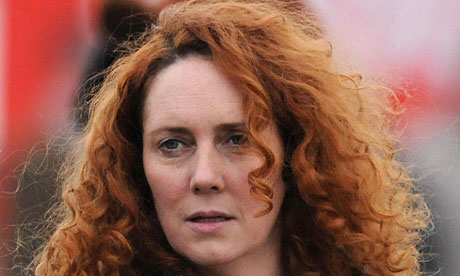 The face of a morally bankrupt lying criminal
Rebekah Brooks is among six people arrested by Scotland Yard detectives on suspicion of conspiracy to pervert the course of justice, as part of the investigation into phone hacking.
The former News International chief executive was arrested at her home in Oxfordshire by detectives from Operation Weeting. Sources also said that her husband, racehorse trainer Charlie Brooks, was arrested.
The Metropolitan police refused to confirm the names of those arrested, but said that a 43-year-old woman and a 49-year-old man had been held. News International and the lawyer for Brooks declined to comment on the reports.
This morning's arrests took place between 5am and 7am at addresses in London, Oxfordshire, Hampshire and Hertfordshire.
The Met police said a 39-year-old man was arrested in Hampshire, a 46-year-old man was arrested in west London, and a 48-year-old man was arrested at a business address in east London.
Another of the men arrested is Mark Hanna, the director of group security at News International. All six are currently being interviewed at police stations.
One of those arrested was described by News International sources as being a "non-editorial employee"; their name was not released by the company.
Scotland Yard said in a statement: "A number of addresses connected to the arrests are being searched. Today's operation follows consultation with the Crown Prosecution Service."
Police said the arrests did not result from information passed to them by News Corporation's management and standards committee (MSC).
The arrests form the biggest single swoop yet by the Met police in its ongoing investigation into alleged voicemail interception. So far 23 people have been held under Operation Weeting, with two people released without charge.
Brooks was also previously arrested on 17 July last year on appointment at a London police station on suspicion of conspiring to intercept communications, contrary to Section1(1) Criminal Law Act 1977 and on suspicion of corruption allegations contrary to Section 1 of the Prevention of Corruption Act 1906.
The former Sun and News of the World editor was held in the summer 48 hours after she resigned as News International's chief executive.
Rebekah Brooks became editor of the News of the World in 2000, before moving to the same position at the Sun in 2003. A close confidante of Rupert Murdoch in her time at the titles, she was elevated to become chief executive at News International in 2009, until she was forced to resign in July of last year as hacking allegations mounted in the wake of the revelation that a phone belonging to missing schoolgirl Milly Dowler was targeted.
Both Rebekah and Charlie Brooks are close Oxfordshire neighbours of David Cameron. Their friendship with the prime minister came under fresh scrutiny recently after Cameron admitted he did ride a retired police horse lent to Rebekah Brooks by Scotland Yard in 2008. Cameron described his fellow Old Etonian Charlie Brooks as "a friend of mine of 30 years' standing", but attempted to draw a line under the so-called "Horsegate" saga when he said he had not been riding with Brooks since the 2010 election.
Charlie Brooks had been hoping to attend the Cheltenham festival today, writing in his column for the Daily Telegraph that "the happiest moment of my year" is about three hours before the first race "queuing behind Alan Brazil for my, but not his, first pint of Guinness of the meeting."
Source The Guardian
http://www.guardian.co.uk/media/2012/ma ... sfeed=true
Now my two cents...
News International and Rupert Murdoch needs to get the fuck out of the UK. You fucking social engineering scum. All UK news papers need to be placed under strict regulations that will purge all of this criminality from the greater press, and place the board of regulations outside of those that actually run the papers, and hold them accountable to the public for false journalism. Secondly, employ full time field journalists that actually source their own stories and do real journalism unlike the current 99% of journalists who rely on AP ticker trades.
In short, become fucking journalists again, Water Gate did not just get posted on The Associated Press website for exposure and distribution.
Censorship debunking & disinformation, it's all in a days work.
---
Related topics

Replies
Views

Last post