Shaggietrip wrote:Constabul. This thread may be epic. covering a large subject of interest to all. Wish it well. I will do my best to contribute but not destroy.
Any contribution is welcome, tho trying to stray away from making this about metaphysical belief structures, that largely is due to misinformation and misunderstanding of what the science in evolution is, where it is at today, and how it started. All of which were/are a series of studies, discoveries, and lab preformed/out of lab preformed testing that has become a number of sciences including Genetics. It has nothing to do with the theist debate and baiting tactics. Which that first video is, either ill informed, or bad satire, not conducive to the post in general

It is hard to try to discuss evolutionary sciences with out this argument being made, but the arguments are largely outdated.

To any who would claim science is a belief, one only has to look to medical sciences to disprove this notion. Really hope to avoid these type of arguments.
As they provided vary little, where as new discoveries, or charting the progression of discovery, as with the Higgs Boson studies. Can Inform, and enlighten people of the present to new knowledge, new questions, and a better understanding of the world today, and possibly in the future. Tho, unfortunately I can not stop the possibility, of the thread turning that way because someone, like in the next video completely missed the
"
trying to stray away from making this about metaphysical belief structures
"
and will bring a subjective argument to an objective discussion/news post/general picture development.

The second video is cool, i completely missed

it

adsorbed in counting.

Add away man.
---
Posts: 37
Joined: Fri Mar 16, 2012 5:23 am
Science is nothing but the rules and laws by which
Allah
manage from atom to galaxy that is the whole universe.
-Mosiour Rahman Mosih
---
Const, by now I can only say thank you!


Im downloading some of the vids to my collection!
"The Heaven's Lights are fed by the energy generated inside the furnaces of Hell; I AM One Conductive Wire! "
---
Did Exploding Stars Help Life On Earth Thrive?

ScienceDaily (Apr. 24, 2012) — Research by a Danish physicist suggests that the explosion of massive stars -- supernovae -- near the Solar System has strongly influenced the development of life. Prof. Henrik Svensmark of the Technical University of Denmark (DTU) sets out his novel work in a paper in the journal Monthly Notices of the Royal Astronomical Society.

When the most massive stars exhaust their available fuel and reach the end of their lives, they explode as supernovae, tremendously powerful explosions that are briefly brighter than an entire galaxy of normal stars. The remnants of these dramatic events also release vast numbers of high-energy charged particles known as galactic cosmic rays (GCR). If a supernova is close enough to the Solar System, the enhanced GCR levels can have a direct impact on the atmosphere of Earth.

Prof. Svensmark looked back through 500 million years of geological and astronomical data and considered the proximity of the Sun to supernovae as it moves around our Galaxy, the Milky Way. In particular, when the Sun is passing through the spiral arms of the Milky Way, it encounters newly forming clusters of stars. These so-called open clusters, which disperse over time, have a range of ages and sizes and will have started with a small proportion of stars massive enough to explode as supernovae. From the data on open clusters, Prof. Svensmark was able to deduce how the rate at which supernovae exploded near the Solar System varied over time.

Comparing this with the geological record, he found that the changing frequency of nearby supernovae seems to have strongly shaped the conditions for life on Earth. Whenever the Sun and its planets have visited regions of enhanced star formation in the Milky Way Galaxy, where exploding stars are most common, life has prospered. Prof. Svensmark remarks in the paper, "The biosphere seems to contain a reflection of the sky, in that the evolution of life mirrors the evolution of the Galaxy."

In the new work, the diversity of life over the last 500 million years seems remarkably well explained by tectonics affecting the sea-level together with variations in the supernova rate, and virtually nothing else. To obtain this result on the variety of life, or biodiversity, he followed the changing fortunes of the best-recorded fossils. These are from invertebrate animals in the sea, such as shrimps and octopuses, or the extinct trilobites and ammonites.

They tended to be richest in their variety when continents were drifting apart and sea levels were high and less varied when the land masses gathered 250 million years ago into the supercontinent called Pangaea and the sea-level was lower. But this geophysical effect was not the whole story. When it is removed from the record of biodiversity, what remains corresponds closely to the changing rate of nearby stellar explosions, with the variety of life being greatest when supernovae are plentiful. A likely reason, according to Prof. Svensmark, is that the cold climate associated with high supernova rates brings a greater variety of habitats between polar and equatorial regions, while the associated stresses of life prevent the ecosystems becoming too set in their ways.

He also notices that most geological periods seem to begin and end with either an upturn or a downturn in the supernova rate. The changes in typical species that define a period, in the transition from one to the next, could then be the result of a major change in the astrophysical environment.

Life's prosperity, or global bioproductivity, can be tracked by the amount of carbon dioxide in the air at various times in the past as set out in the geological record. When supernova rates were high, carbon dioxide was scarce, suggesting that flourishing microbial and plant life in the oceans consumed it greedily to grow. Support for this idea comes from the fact that microbes and plants dislike carbon dioxide molecules that contain a heavy form of carbon atom, carbon-13. As a result, the ocean water is left enriched by carbon-13. The geological evidence shows high carbon-13 when supernovae were commonest -- again pointing to high productivity. As to why this should be, Prof. Svensmark notes that growth is limited by available nutrients, especially phosphorus and nitrogen, and that cold conditions favour the recycling of the nutrients by vigorously mixing the oceans.

Although the new analysis suggests, perhaps surprisingly, that supernovae are on the whole good for life, high supernova rates can bring the cold and changeable climate of prolonged glacial episodes. And they can have nasty shocks in store. Geoscientists have long been puzzled by many relatively brief falls in sea-level by 25 metres or more that show up in seismic soundings as eroded beaches. Prof. Svensmark finds that they are what can be expected when chilling due to very close supernovae causes short-lived glacial episodes. With frozen water temporarily bottled up on land, the sea-level drops.

The data also support the idea of a long-term link between cosmic rays and climate, with these climatic changes underlying the biological effects. And compared with the temperature variations seen on short timescales as a consequence of the Sun's influence on the influx of cosmic rays, the heating and cooling of Earth due to cosmic rays varying with the prevailing supernova rate have been far larger.

The director of DTU Space, Prof. Eigil Friis-Christensen, comments: "When this enquiry into effects of cosmic rays from supernova remnants began 16 years ago, we never imagined that it would lead us so deep into time, or into so many aspects of the Earth's history. The connection to evolution is a culmination of this work."
CREDIT
"The Heaven's Lights are fed by the energy generated inside the furnaces of Hell; I AM One Conductive Wire! "
---
Iamthatiam wrote:

Const, by now I can only say thank you!

Im downloading some of the vids to my collection!

Glad you are enjoying the material, honestly i haven't had much opportunity lately to indulge in the subjects i enjoy due to taking an emergency medical technician course, getting closer to the end so able to relax a bit, and started looking up articles and videos again, and have posted what i was viewing. Pretty much as i view em. No real direction or motive other then sharing information i was either hearing again, or for the first time in many cases.

Look forward to contributions of future posts



Glad you made it back to dtv too
---
Any keeping up with the information on DNA/RNA and biology/microbiology. These next two articles are geared in that direction. As all of these discoveries are bench marks of beginnings of expanding a field of knowledge, but also the techniques that will one day be used in humans, or are starting to be, or, are already.

Structure of a Key 'Gene Silencer' Protein Discovered: Potential Therapeutic Targets With 'Untapped Potential'

ScienceDaily (Apr. 26, 2012) —

Scientists at The Scripps Research Institute have determined the three-dimensional atomic structure of a human protein that is centrally involved in regulating the activities of cells. Knowing the precise structure of this protein paves the way for scientists to understand a process known as RNA-silencing and to harness it to treat diseases.

The protein Argonaute2 can effectively "silence" a gene by intercepting and slicing the gene's RNA transcripts before they are translated into working proteins. (Credit: Image courtesy of The Scripps Research Institute)

"Biologists have known about RNA-silencing for only a decade or so, but it's already clear that there's an enormous untapped potential here for new therapies," said Ian MacRae, an assistant professor at Scripps Research and senior author of the new report.

The new report, which appeared on April 26, 2012 in the journal Science's advance online publication, Science Express, focuses on Argonaute2. This protein can effectively "silence" a gene by intercepting and slicing the gene's RNA transcripts before they are translated into working proteins.


Interception and Destruction of Messages


When a gene that codes for a protein is active in a cell, its information is transcribed from DNA form into lengths of nucleic acid called messenger RNA (mRNA). If all goes well, these coded mRNA signals make their way to the cell's protein-factories, which use them as templates to synthesize new proteins. RNA-silencing, also called RNA interference (RNAi), is the interception and destruction of these messages -- and as such, is a powerful and specific regulator of cell activity, as well as a strong defender against viral genes.

The silencing process requires not only an Argonaute protein but also a small length of guide RNA, known as a short-interfering RNA or microRNA. The guide RNA fits into a slot on Argonaute and serves as a target recognition device. Like a coded strip of VelcroTM, it latches onto a specific mRNA target whose sequence is the chemical mirror image, or "complement," of its own -- thus bringing Argonaute into contact with its doomed prey.

Argonaute2 is not the only type of human Argonaute protein, but it seems to be the only one capable of destroying target RNA directly. "If the guide RNA is completely complementary to the target RNA, Argonaute2 will cleave the mRNA, and that will elicit the degradation of the fragments and the loss of the genetic message," said Nicole Schirle, the graduate student in MacRae's laboratory who was lead author of the paper.

Aimed at disease-causing genes or even a cell's own overactive guide RNAs, RNA-silencing could be a powerful therapeutic weapon. In principle, one needs only to inject target-specific guide RNAs, and these will link up with Argonaute proteins in cells to find and destroy the target RNAs. Scientists have managed to do this successfully with relatively accessible target cells, such as in the eye. But they have found it difficult to develop guide RNAs that can get from the bloodstream into distant tissues and still function.

"You have to modify the guide RNA, in some way to get it through the blood and into cells, but as soon as you start modifying it, you disrupt its ability to interact with Argonaute," said MacRae. Knowing the precise structure of Argonaute should enable researchers to clear this hurdle by designing better guide RNA.


More Points for Manipulation


Previous structural studies have focused mostly on Argonaute proteins from bacteria and other lower organisms, which have key differences from their human counterparts. Schirle was able to produce the comparatively large and complex human Argonaute2 and to manipulate it into forming crystals for X-ray crystallography analysis -- a feat that structural biologists have wanted to achieve for much of the past decade. "It was just excellent and diligent crystallography on her part," said MacRae.

The team's analysis of Argonaute2's structure revealed that it has the same basic set of working parts as bacterial Argonaute proteins, except that they are arranged somewhat differently. Also, key parts of Argonaute2 have extra loops and other structures, not seen on bacterial versions, which may play roles in binding to guide RNA. Finally, Argonaute2 has what appear to be binding sites for additional co-factor proteins that are thought to perform other destructive operations on the target mRNA.

"Basically, this Argonaute protein is more sophisticated than its bacterial cousins; it has more bells and whistles, which give us more points for manipulation. With this structure solved, we no longer need to use the prokaryotic structures to guess at what human Argonaute proteins look like," MacRae said.

He and Schirle and others in the lab now are analyzing the functions of Argonaute2's substructures, as well as looking for ways to design better therapeutic guide RNAs.

"Now with the structural data, we can see what synthetic guide RNAs will work with Argonaute and what won't," MacRae said. "We might even be able to make guide RNAs that can outcompete natural ones."


http://www.sciencedaily.com/releases/20 ... 155021.htm
New Technique Will Transform Epigenetics Research

ScienceDaily (Apr. 26, 2012) —

Collaboration between scientists at Cambridge University and the Babraham Institute have demonstrated a new technique that will significantly improve scientists' ability to perform epigenetics research and help unlock the door to understanding how cells develop and function. Epigenetics is a branch of genetics that studies modifications to the DNA which affect gene activity. The research, published April 26 in the journal Science,has important implications for stem cell research and the development of regenerative medicines.

The centre of the diagram shows levels of 5mC and 5hmC chemical modifications along a chromosome (section of DNA). The cycle illustrates that after addition to DNA, 5mC (blue) can be converted to 5hmC (red) and then subsequently removed. (Credit: This work is licensed under a Creative Commons Licence.)

All the cells in the body have the same DNA sequence (genome), but it is how this DNA sequence is interpreted that results in the formation of different cell types. Epigenetic changes control how a DNA sequence is interpreted, specifically how different genes are switched on and off in different cell types, tissues and organs.

One of the most studied epigenetic marks is the addition of a very small chemical modification called a methyl group to DNA, which turns associated genes off. Methyl groups are always added to the DNA base cytosine and so this chemical modification is called 5-methylcytosine (5mC). Babraham Institute scientists are involved in researching the role of another DNA chemical modification in mammals called 5-hydroxymethyl-cytosine (5hmC), which is believed to be important for stem cell function, helping to define how the body develops. 5hmC may be a separate epigenetic mark or possibly be part of the process which removes methyl groups from DNA, allowing genes to be switched on again. Decoding the 'epigenome' will provide greater understanding of how cells are regulated and has major implications for regenerative medicine and how cells such as stem cells can be controlled.

Professor Shankar Balasubramanian FRS, of the University of Cambridge Chemistry Department and Cancer Research UK Cambridge Research Institute, and his PhD student Michael Booth invented new chemistry to allow the recently discovered base 5hmC to be sequenced in DNA at single base resolution. This was not possible using existing methods. In a fruitful collaboration between the Cambridge group (led by Balasubramanian) and the Babraham Institute (led by Professor Wolf Reik FRS), this method was applied to sequence 5hmC and 5mC in embryonic stem cell genomic DNA.

Balasubramanian, whose group previously co-invented Solexa sequencing, explained, "Sequencing DNA is becoming an increasingly important part of science and medicine and we are pleased to have met the challenge of finding a way to sequence this important new base modification."

Michael Booth, co-inventor of the technique, said, "We developed a chemistry that was specific for this new modified DNA base, 5hmC. This allowed us to accurately distinguish between 5mC and 5hmC at single base resolution in the genome."

Dr Miguel Branco from the Babraham Institute who is joint lead author commented, "There was a real need in the field for a technique that would map both 5hmC and 5mC in the genome quantitatively and at high resolution. We applied this new technology to embryonic stem cells and immediately recognised its power in furthering our understanding of the biological functions of these DNA modifications."

Professor Wolf Reik who led the study at the Babraham Institute, which receives strategic funding from the Biological Sciences Research Council (BBSRC) said, "It has recently become apparent that in addition to DNA methylation, there are other modifications of DNA, such as for example hydroxymethylation. This suggests that DNA modifications are more dynamic than we previously thought. With the new method we are now in a position to map these modifications at great precision, and to relate them to stem cell function, aging, and perhaps more generally to how the environment interacts with the genome."

The Babraham Institute undertakes world-leading life sciences research to generate new knowledge of biological mechanisms underpinning aging, development and the maintenance of health. Professor Michael Wakelam, Director of the Babraham Institute, said, "This is an excellent example of collaboration between research institute and University research scientists. The work will improve our knowledge of how cells develop, with potential long-term benefits to society." In addition to the BBSRC, this research was supported by the MRC, the Wellcome Trust and the EU.

Professor Daan Frenkel ForMemRS, Head of the Department of Chemistry at the University of Cambridge, commented, "This new technique, which reflects the continued innovative work of Professor Balasubramanian and his team, will dramatically change how epigenetic research is conducted. By collaborating with experts at Babraham, they have also demonstrated how the technique will have significant implications for regenerative medicine."
http://www.sciencedaily.com/releases/20 ... 143854.htm
---
This is really cool

Rare Protozoan from Sludge in Norwegian Lake Does Not Fit On Main Branches of Tree of Life

ScienceDaily (Apr. 26, 2012) —

Humankind's remotest relative is a very rare micro-organism from south-Norway. The discovery may provide an insight into what life looked like on earth almost one thousand million years ago.

Glimpse into primordial times: Genetic analyses of a micro-organism that lives in the sludge of a lake in Ås, 30 km south of Oslo i Norway, are providing researchers with an insight into what the first life on Earth looked like. (Credit: UiO/MERG)

Biologists all over the world have been eagerly awaiting the results of the genetic analysis of one of the world's smallest known species, hereafter called the protozoan, from a little lake 30 kilometer south of Oslo in Norway.

When researchers from the University of Oslo, Norway compared its genes with all other known species in the world,

they saw that the protozoan did not fit on any of the main branches of the tree of life.

The protozoan is not a fungus, alga, parasite, plant or animal.

"We have found an unknown branch of the tree of life that lives in this lake. It is unique! So far we know of no other group of organisms that descend from closer to the roots of the tree of life than this species. It can be used as a telescope into the primordial micro-cosmos," says an enthusiastic associate professor, Kamran Shalchian-Tabrizi, head of the Microbial Evolution Research Group (MERG) at the University of Oslo.

His research group studies tiny organisms hoping to find answers to large, biological questions within ecology and evolutionary biology, and works across such different fields as biology, genetics, bioinformatics, molecular biology and statistics.

World's oldest creature

Life on Earth can be divided up into two main groups of species, prokaryotes and eukaryotes. The prokaryote species, such as bacteria, are the simplest form of living organisms on Earth. They have no membrane inside their cell and therefore no real cell nucleus. Eukaryote species, such as animals and humankind, plants, fungi and algae, on the other hand do.

The family tree of the protozoan from the lake near Ås starts at the root of the eukaryote species.

"The micro-organism is among the oldest, currently living eukaryote organisms we know of. It evolved around one billion years ago, plus or minus a few hundred million years. It gives us a better understanding of what early life on Earth looked like.," Kamran says to the research magazine Apollon.

How they move

The tree of life can be divided into organisms with one or two flagella. Flagella are important when it comes to a cell's ability to move. Just like all other mammals, human sperm cells have only one flagellum. Therefore, humankind belongs to the same single flagellum group as fungi and amoebae.

On the other hand it is believed that our distant relatives from the family branches of plants, algae and excavates (single-celled parasites) originally had two flagella.

The protozoan from Ås has four flagella. The family it belongs to is somewhere between excavates, the oldest group with two flagella, and some amoebae, which is the oldest group with only one flagellum.

"Were we to reconstruct the oldest, eukaryote cell in the world, we believe it would resemble our species. To calculate how much our species has changed since primordial times, we have to compare its genes with its nearest relatives, amoebae and excavates," says Shalchian-Tabrizi.

Caught with a tasty morsel

The protozoan is not easy to spot. It lives down in the sludge at the bottom of a lake.

It is 30 to 50 micrometres long and can only be seen with a microscope. When Professor Dag Klaveness of MERG wants to catch the protozoan he sticks a pipe down into the lakebed, removes a column of sludge and pours a bile green algae mixture over it.

The algae are such tempting morsels for the small protozoa that they swim up.

"We can then pick them out, one by one, with a pipette," says Klaveness.

There are not many of them. And the University of Oslo biologists have not found them anywhere else other than in this lake.

"We are surprised. Enormous quantities of environmental samples are taken all over the world. We have searched for the species in every existing DNA database, but have only found a partial match with a gene sequence in Tibet. So it is conceivable that only a few other species exist in this family branch of the tree of life, which has survived all the many hundreds of millions of years since the eukaryote species appeared on Earth for the first time."

Not very sociable

The protozoan lives off algae, but the researchers still do not know what eats the protozoan. Nor do they know anything about its life cycle. But one thing is certain:

"They are not sociable creatures. They flourish best alone. Once they have eaten the food, cannibalism is the order of the day," notes Klaveness.

The protozoan has a special cell indentation. It looks like a groove.

"The species has the same intracellular structure as excavates. And it uses the same protuberances as amoebae to catch its food. This means that the species combines two characteristics from each family branch of the main eukaryote groups. This further supports the hypothesis that the species from this lake belongs to a primordial group. Perhaps it descended from the antecedents of both the excavates and amoeba?" asks Shalchian-Tabrizi.

The protozoan was discovered as early as 1865, but it is only now that, thanks to very advanced genetic analyses, researchers understand how important the species is to the history of life on Earth.

Breeding enormous quantities of the protozoan

Dag Klaveness has, together with research fellow Jon Bråte, managed to breed large quantities of the species. No one has done this before. Klaveness has spent the last 40 years specialising in breeding organisms that are difficult to breed or that are difficult to isolate from other species.

Breeding is important if we want to analyse the creature's genes. More than just a few are needed for a genetic test. Researchers have needed to breed large quantities. The work is demanding and has taken many months.

The protozoan's favourite food is green algae, but since both the protozoan and the green algae are eukaryote species, i.e. species with real cell nuclei, it is easy to confuse the genes of the protozoan with those of its food in the gene sequencing. Therefore, Klaveness has chosen to feed the protozoan with blue green bacteria, which are genetically very different to the protozoan. Blue green bacteria are not exactly its favourite dish, but the protozoan can only choose between eating or dying.

Blue green bacteria are prokaryotes, i.e. species without membranes or real cell nuclei. This allows the researchers to differentiate between the genes of the protozoan and its food in the gene sequencing.

Klaveness has a number of vats of the protozoan in the laboratory. The algae mixture sinks to the bottom. The protozoan dives down when it wants to eat.

In optimum conditions they divide every second day. However, with blue green bacteria on the menu, which is just as boring as if you only got carrots for several months and nothing else, the protozoan grows much more slowly.

When the protozoa have reproduced enough, they are centrifuged out and gene sequenced. The genes are then compared with equivalent gene sequences from other species. "We have gene sequenced 300,000 parts of the genome (the total genetic material), but we still do not know how large the genome is. We are currently only looking for the most important parts," explains Kamran Shalchian-Tabrizi.

Traces from primordial times

The problem is that DNA sequences change a lot over time. Parts of the DNA may have been wiped away during the passing of the years. Since the protozoan is a very old species, an extra large amount of gene information is required.

"It is often the case with such ancient organisms that features they share in common with other known species have been wiped away from the DNA sequence because of long-term mutations. You can compare it with tarmacing. If you tarmac a road enough times, you will no longer see the cobblestones. Therefore, you have to collect large gene sequences to find common traces from prehistoric times."

Research fellow Sen Zhao was responsible for the extensive, statistical calculations. In order to calculate the family link they have used information from the research group's own Bioportal in cooperation with the high performance computing group at the University of Oslo.

Resolving evolutionary mysteries

Kamran Shalchian-Tabrizi explains that the tree of life can provide fundamental answers to great evolutionary mysteries.

"In order to understand what a species is today, we have to understand how they have changed genetically. The tree of life allows us to explain cellular change processes by connecting the genome and morphology (appearance) with its way of life."

Among other things, Shalchian-Tabrizi wants to use the protozoan to investigate when photosynthesis arose among eukaryote organisms. Photosynthesis takes place in chloroplast.

Chloroplasts were originally free-living, blue green bacteria. If the researchers find genetic residues of these bacteria in the protozoan from Ås, this may indicate that photosynthesis arose earlier than supposed.

"There are many likely scenarios, but we still do not know the answer," acknowledges Shalchian-Tabrizi.

The researchers also want to question when other characteristics arose, e.g. mitochondria, which are the energy motors of our cells.

Purifying drinking water in Japan

In recent years researchers have found some apparently matching examples of the protozoan from Ås in Japan and South East Asia. A researcher from Japan arrived in Oslo with a glass of the species solely so that Klaveness could breed them.

"We are now going to gene sequence these organisms, because it is not certain that the genes are the same, even if the morphology is similar," says Klaveness.

The Japanese hope that the protozoan can be used to purify drinking water by removing toxic, blue green bacteria.
http://www.sciencedaily.com/releases/20 ... 104853.htm
---
Constabul wrote:

Iamthatiam wrote:

Const, by now I can only say thank you!

Im downloading some of the vids to my collection!


Glad you are enjoying the material, honestly i haven't had much opportunity lately to indulge in the subjects i enjoy due to taking an emergency medical technician course, getting closer to the end so able to relax a bit, and started looking up articles and videos again, and have posted what i was viewing. Pretty much as i view em. No real direction or motive other then sharing information i was either hearing again, or for the first time in many cases.

Look forward to contributions of future posts


Glad you made it back to dtv too
Good to hear, my friend...Very cool to be hier amongst you, thinkers!!!

This will be DTV's science news thread, then! Keep us posted
"The Heaven's Lights are fed by the energy generated inside the furnaces of Hell; I AM One Conductive Wire! "
---
ScienceDaily (Apr. 27, 2012) — The most transparent, lightweight and flexible material ever for conducting electricity has been invented by a team from the University of Exeter. Called GraphExeter, the material could revolutionize the creation of wearable electronic devices, such as clothing containing computers, phones and MP3 players.





University of Exeter researchers Dr Monica Craciun and Dr Saverio Russo. (Credit: Image courtesy of University of Exeter)



GraphExeter could also be used for the creation of 'smart' mirrors or windows, with computerised interactive features. Since this material is also transparent over a wide light spectrum, it could enhance by more than 30% the efficiency of solar panels.

Adapted from graphene, GraphExeter is much more flexible than indium tin oxide (ITO), the main conductive material currently used in electronics. ITO is becoming increasingly expensive and is a finite resource, expected to run out in 2017.

These research findings are published in Advanced Materials.

At just one-atom-thick, graphene is the thinnest substance capable of conducting electricity. It is very flexible and is one of the strongest known materials. The race has been on for scientists and engineers to adapt graphene for flexible electronics. This has been a challenge because of its sheet resistance, which limits its conductivity. Until now, no-one has been able to produce a viable alternative to ITO.

To create GraphExeter, the Exeter team sandwiched molecules of ferric chloride between two layers of graphene. Ferric chloride enhances the electrical conductivity of graphene, without affecting the material's transparency.

The material was produced by a team from the University of Exeter's Centre for Graphene Science. The research team is now developing a spray-on version of GraphExeter, which could be applied straight onto fabrics, mirrors and windows.

Lead researcher, University of Exeter engineer Dr Monica Craciun said: "GraphExeter could revolutionize the electronics industry. It outperforms any other carbon-based transparent conductor used in electronics and could be used for a range of applications, from solar panels to 'smart' teeshirts. We are very excited about the potential of this material and look forward to seeing where it can take the electronics industry in the future."

The Centre for Graphene Science brings together the Universities of Exeter and Bath in internationally-leading research in graphene. The Centre is bridging the gap between the scientific development and industrial application of this revolutionary new technology.

This research was funded by the EPSRC and Royal Society.
Wearable electronics:Transparent, Lightweight, Flexible Conductor Could Revolutionize Electronics Industry
"The Heaven's Lights are fed by the energy generated inside the furnaces of Hell; I AM One Conductive Wire! "
---
NIST physicists benchmark quantum simulator with hundreds of qubits
Published: Wednesday, April 25, 2012 - 23:34 in Physics & Chemistry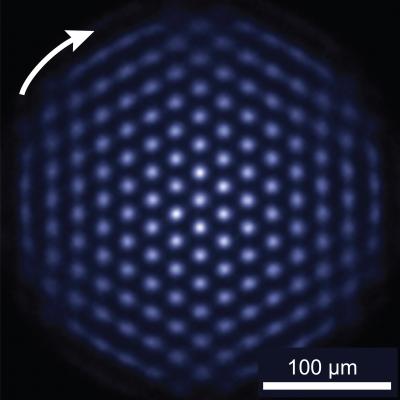 The NIST quantum simulator permits study of quantum systems that are difficult to study in the laboratory and impossible to model with a supercomputer. The heart of the simulator is a two-dimensional crystal of beryllium ions (blue spheres in the graphic); the outermost electron of each ion is a quantum bit (qubit, red arrows). The ions are confined by a large magnetic field in a device called a Penning trap (not shown). Inside the trap the crystal rotates clockwise. The NIST quantum simulator permits study of quantum systems that are difficult to study in the laboratory and impossible to model with a supercomputer. In this photograph of the crystal, the ions are fluorescing, indicating the qubits are all in the same state. Under the right experimental conditions, the ion crystal spontaneously forms this nearly perfect triangular lattice structure.




Physicists at the National Institute of Standards and Technology (NIST) have built a quantum simulator that can engineer interactions among hundreds of quantum bits (qubits) -- 10 times more than previous devices. As described in the April 26 issue of Nature, the simulator has passed a series of important benchmarking tests and scientists are poised to study problems in material science that are impossible to model on conventional computers. Many important problems in physics -- especially low-temperature physics -- remain poorly understood because the underlying quantum mechanics is vastly complex. Conventional computers -- even supercomputers -- are inadequate for simulating quantum systems with as few as 30 particles. Better computational tools are needed to understand and rationally design materials, such as high-temperature superconductors, whose properties are believed to depend on the collective quantum behavior of hundreds of particles.

The NIST simulator consists of a tiny, single-plane crystal of hundreds of beryllium ions, less than 1 millimeter in diameter, hovering inside a device called a Penning trap. The outermost electron of each ion acts as a tiny quantum magnet and is used as a qubit -- the quantum equivalent of a "1" or a "0" in a conventional computer. In the benchmarking experiment, physicists used laser beams to cool the ions to near absolute zero. Carefully timed microwave and laser pulses then caused the qubits to interact, mimicking the quantum behavior of materials otherwise very difficult to study in the laboratory. Although the two systems may outwardly appear dissimilar, their behavior is engineered to be mathematically identical. In this way, simulators allow researchers to vary parameters that couldn't be changed in natural solids, such as atomic lattice spacing and geometry. In the NIST benchmarking experiments, the strength of the interactions was intentionally weak so that the simulation remained simple enough to be confirmed by a classical computer. Ongoing research uses much stronger interactions.

Simulators exploit a property of quantum mechanics called superposition, wherein a quantum particle is made to be in two distinct states at the same time, for example, aligned and anti-aligned with an external magnetic field. So the number of states simultaneously available to 3 qubits, for example, is 8 and this number grows exponential with the number of qubits: 2N states for N qubits.

Crucially, the NIST simulator also can engineer a second quantum property called entanglement between the qubits, so that even physically well separated particles may be made tightly interconnected.

Recent years have seen tremendous interest in quantum simulation; scientists worldwide are striving to build small-scale demonstrations. However, these experiments have yet to fully involve more than 30 quantum particles, the threshold at which calculations become impossible on conventional computers. In contrast, the NIST simulator has extensive control over hundreds of qubits. This order of magnitude increase in qubit-number increases the simulator's quantum state space exponentially. Just writing down on paper a state of a 350-qubit quantum simulator is impossible -- it would require more than a googol of digits: 10 to the power of 100.

Over the past decade, the same NIST research group has conducted record-setting experiments in quantum computing, atomic clocks and, now, quantum simulation. In contrast with quantum computers, which are universal devices that someday may solve a wide variety of computational problems, simulators are "special purpose" devices designed to provide insight about specific problems.

This work was supported in part by the Defense Advanced Research Projects Agency. Co-authors from Georgetown University, North Carolina State University and in South Africa and Australia contributed to the research.
IST physicists benchmark quantum simulator with hundreds of qubits
"The Heaven's Lights are fed by the energy generated inside the furnaces of Hell; I AM One Conductive Wire! "
---
Related topics

Replies
Views

Last post