Constabul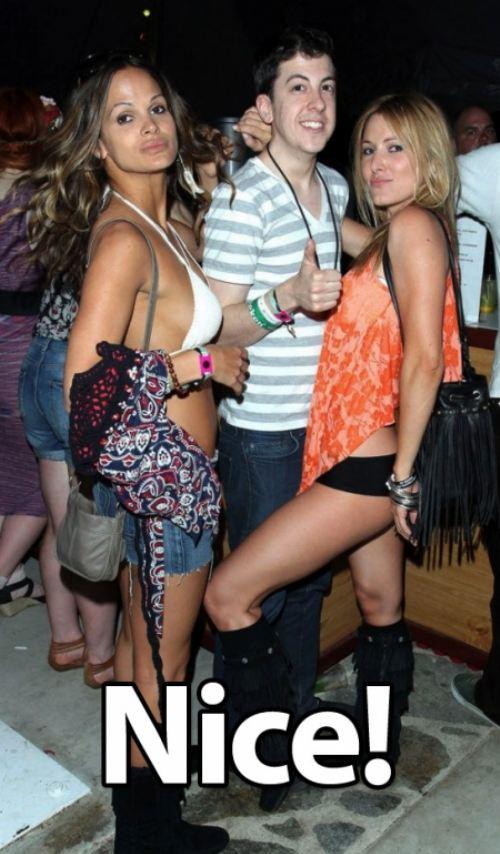 One
The Higgs Boson Explained
---
Demobe
Insect Protein Inspires New Materials to Treat Vocal Disorders

UD researchers are developing new materials, modeled after the protein resilin found in insects such as the cicada, which may be useful in treating vocal fold disorders. Photos by Duane Perry and Kathy F. Atkinson

Superpowers aren't unheard of in the world of insects. Feats of strength, sound and leaping ability are all made common by the naturally occurring protein called resilin. Now researchers at the University of Delaware believe resilin may be a key to unlocking the regenerative power of certain mechanically active tissues in humans.

A one-inch long grasshopper can leap a distance of about 20 inches. Cicadas can produce sound at about the same frequency as radio waves. Fleas measuring only millimeters can jump an astonishing 100 times their height in microseconds. How do they do it? They make use of a naturally occurring protein called resilin.

Resilin is a protein in the composite structures found in the leg and wing joints, and sound producing organs of insects. Highly elastic, it responds to exceptionally high rates of speed and demonstrates unmatched resilience after being stretched or deformed.

Kristi Kiick, professor of materials science and engineering and biomedical engineering at the University of Delaware, believes this unusual protein may also be a key to unlocking the regenerative power of certain mechanically active tissues.

Through support from the National Science Foundation and the National Institutes of Health (NIH), the Kiick research group has developed new cell-interactive resilin-like materials that have mechanical properties similar to the natural protein and that are engineered to support the growth of multiple types of cells.

Kiick has teamed with Xinqiao Jia, associate professor of materials science and engineering and biomedical engineering, to explore the potential of these resilin-like materials for treating vocal fold disorders in humans.

Vocal folds vibrate more than 100 times a second at very high frequencies, enabling humans to form words and speak. Damaged vocal folds can impair voice production, resulting in an expensive health care problem. According to NIH estimates, the societal cost of voice problems in teachers alone is on the order of $2.5 billion annually in the United States.

Development of new materials to treat vocal fold disorders, however, have been hampered by the stringent mechanical requirements of the vocal fold, which include the ability to both sustain deformation at frequencies as high as 1,000Hz, and also to completely recoil after stretching up to 200 percent.

Through the support from National Institute on Deafness and Other Communication Disorders (NIDCD), the Jia research group has made significant progress towards engineering artificial vocal folds via the strategic combination of multipotent cells, biomimetic and bioactive hydrogel matrices and external high frequency vibratory stimulations.

Sophisticated equipment, such as a torsional wave apparatus, has enabled her group to analyze the mechanical properties of various vocal fold tissues and the replacement materials at phonation frequencies.

To complement this work, Kiick's research group has developed a new polypeptide hydrogel that displays characteristics and capabilities similar to its natural resilin counterpart. The hydrogel not only mimics the mechanical properties of naturally occurring resilin, it has also been engineered to contain modules that support cell adhesion and permit degradation, important factors in permitting the growth of native tissue into the gel.

A critical element of the project is the collaborative work of the Kiick and Jia groups, which "will enable us to design new materials, develop methods to characterize and culture materials at high frequencies, and then test this new class of materials for healing vocal fold tissue," explained Kiick, principal investigator on the NIH grant funding the work.

Now, Kiick and Jia are studying these materials to determine if they can be used in vocal fold regeneration. The research team plans to culture human mesenchymal stem cells (hMSCs), taken from the bone marrow of adult patients, in these matrices under vibrations like those experienced in the vocal fold to determine if the cells become the kinds of cells found in the vocal fold. They will also investigate whether the cell-gel matrices exhibit biochemical and mechanical properties like those of healthy vocal fold tissue.

As a final step, the researchers will work in collaboration with vocal fold specialists Susan Thibeault and Timothy McCulloch, at the University of Wisconsin Madison, to test the ability of these new materials as injectable therapies to heal vocal fold scarring in laboratory models.

"In addition to their potential use for vocal fold disorders, we are excited that these novel polypeptides may ultimately be useful as a general platform in the design of materials for mechanically demanding regenerative medicine applications," added Kiick.

Source: Karen B. Roberts, University of Delaware

Image: Photos by Duane Perry and Kathy F. Atkinson
http://scitechdaily.com/insect-protein- ... disorders/
DNA Jumps Directly from the Cell's Chloroplasts into its Nucleus

Fast-forwarding evolution. A gene's jump from the chloroplast genome into that of the nucleus is made visible here through the development of antibiotic resistance. In the two green shoots, the resistance gene has migrated into the cell nucleus, where it can be correctly read, thus allowing the plant to grow on an antibiotic-containing medium. Max Planck Institute of Molecular Plant Physiology

By subjecting cells to high selection pressure in a laboratory setting, researchers at Max Planck Institute were able to fast-forward gene transfer from the chloroplasts into the nucleus and found that DNA jumps directly from the cell's chloroplasts into its nucleus without the involvement of RNA.

Chloroplasts, the plant cell's green solar power generators, were once living beings in their own right. This changed about one billion years ago, when they were swallowed up but not digested by larger cells. Since then, they have lost much of their autonomy. As time went on, most of their genetic information found its way into the cell nucleus; today, chloroplasts would no longer be able to live outside their host cell. Scientists in Ralph Bock's team at the Max Planck Institute of Molecular Plant Physiology have discovered that chloroplast genes take a direct route to the cell nucleus, where they can be correctly read in spite of their architectural differences.

Cyanobacteria are among the oldest life forms, and appear to be the forerunners of green chloroplasts in plant cells. They do not possess a true cell nucleus, but their genetic substance is made up of the same four building blocks as that of humans, plants and animals. Therefore, the genes encoded in the chloroplast DNA can also be read in the cell nucleus; indeed, many genes that were still found in the cell organelles during early evolution are now located exclusively in the genome of the nucleus. How they made their way there has previously been unclear. Two mechanisms appeared likely: either direct transport in the form of DNA fragments from the chloroplasts to the nucleus or transport in the form of mRNA, which is then transcribed back into DNA.

The direct transfer of DNA appears to predominate in the chloroplasts, but this pathway raises two problems. The first problem lies in the promoters, the DNA sequences which ensure that genes are recognized as such. They are located upstream of the genes and recruit proteins that are required for transcription of the genes. However, promoters from chloroplasts are not recognized as such by the proteins in the nucleus, so that the DNA reading machinery should overlook these incoming genes.

The second difficulty is in the correct processing of the gene sequence. Genes consist of several modules, separated by non-coding DNA regions (introns). Since the introns obstruct protein synthesis, they need to be removed from the mRNA, a procedure described as splicing. The whole process, ending in synthesis of the correct protein, can resume only once this has taken place. Once again, however, the mRNA is processed differently in the cell nucleus than in the chloroplasts, and for a long time, chloroplast introns seemed to have been an insurmountable hurdle for the correct reading of chloroplast genes in the nucleus.

"But they are actually nothing of the sort", stresses Ralph Bock, head of the research group. "Our trials have shown that the introns are recognized in the cell nucleus and spliced out, even if not always at exactly the same sites as might have been the case in the chloroplasts." Functional proteins are formed despite this. It is thought that the introns even help the splicing enzymes by folding themselves into stable RNA structures, thus directing the enzymes to the right locations. At the same time, the RNA structure seems to help the ribosomes find the correct starting point for protein synthesis.

Since the transfer of genes into the cell nucleus is an extremely slow evolutionary process, which has taken nature millions of years, it has not been possible to investigate the underlying mechanism to date. However, researchers have now managed to fast-forward this gene transfer in the laboratory. Because the cells were subjected to high selection pressure, the transference of genes from the chloroplasts into the nucleus became essential for survival, so that it could be made readily visible. It was found that the transfer takes place without the involvement of RNA and that the DNA apparently jumps directly from the cell's chloroplasts into its nucleus.

Source: Max Planck Institute

Image: Max Planck Institute of Molecular Plant Physiology
http://scitechdaily.com/dna-jumps-direc ... s-nucleus/
---
Relationships of Male Dolphins from Shark Bay Determined by Slow Swimming

In Shark Bay, Australia, the male dolphins are well known to marine biologists for their messy social entanglements. These relationships are so unique, that they're more like intricate webs of the way that the Cosa Nostra and the Mafia work than the typically vertical hierarchies of chimpanzees. A team of scientists argues in a recent article, published in the journal ( http://rspb.royalsocietypublishing.org/ ... .2012.0455 ) Proceedings of the Royal Society B, that this social system is unique among mammals.

These complex, and sometimes cooperative, relationships might stem from one simple and somewhat unexpected factor. These dolphins tend to swim at low speeds. Two or three adult males will form a tight alliance and cooperate to herd a female for mating purposes. Female dolphins don't form strong alliances. The males in the first-level alliance form partnerships with other first-level alliances, creating a larger second-level alliance to protect the females, especially if they are in estrus.

The larger, second-level alliances, can have as many as 14 dolphins and can last more than 15 years. They can even marshal troops from other groups, leading to huge battles and skirmishes over the right to keep or steal a single female.

Researchers wanted to discover if these dolphin battles were similar to chimpanzee battles, where the males are fighting over territory. The team, led by Richard Connor, a cetacean biologist at the University of Massachusetts, Dartmouth, tracked 12 of the second-level alliances in Shark Bay, a 13,000-square-kilometer bay in western Australia.

The team tracked the dolphins over six years during the peak mating periods. It was discovered that unlike chimps, dolphins weren't interested in territory. They lived within a mosaic of overlapping ranges, that were patrolled by males and females. The dolphins live in an open society, with groups teaming up and splitting apart, while continually measuring who stays on top and deciding whether to stay friends or foes.

None of the other mammals with complex relationships are able to go outside their immediate community to form alliances. Only elephant society comes close, but they live in matrilineal groups and they aren't as changeable as dolphin alliances.

Female dolphins give birth to single calves every few years, which means that the males cannot form alliances with close kin. This pushes male dolphins to learn how to make and maintain friendships, demanding social skills that might have contributed to the dolphins' larger brains.

Connor thinks that their high level of social cognition, which is a convergence for not only dolphins, but humans and elephants as well, may be due to the minimal amount of energy these species expend when moving at slow speeds. The slow speeds force these dolphins to forge new alliances whenever they meet other groups.
http://scitechdaily.com/relationships-o ... -swimming/
---
Runaway Planets at 30 Million MPH

In this artist's conception, a runaway planet zooms through interstellar space. New research suggests that the supermassive black hole at our galaxy's center can fling planets outward at relativistic speeds. In this illustration, a glowing volcano on the planet's surface hints at active plate tectonics that may keep the planet warm. Credit: David A. Aguilar/CfA

It's hard to imagine planets that zip around at 30 million mph, but it was only a few years ago that astronomers found a "flying star" and now new research confirms that these runaway planets could be the fastest objects in our galaxy.

Seven years ago, astronomers boggled when they found the first runaway star flying out of our galaxy at a speed of 1.5 million mph. The discovery intrigued theorists, who wondered: If a star can get tossed outward at such an extreme velocity, could the same thing happen to planets?

New research shows that the answer is yes. Not only do runaway planets exist, but some of them zoom through space at a few percent of the speed of light — up to 30 million mph.

"These warp-speed planets would be some of the fastest objects in our galaxy. If you lived on one of them, you'd be in for a wild ride from the center of the galaxy to the universe at large," said astrophysicist Avi Loeb of the Harvard-Smithsonian Center for Astrophysics.

"Other than subatomic particles, I don't know of anything leaving our galaxy as fast as these runaway planets," added lead author Idan Ginsburg of Dartmouth College.

Such speedy worlds, called hypervelocity planets, are produced in the same way as hypervelocity stars. A double-star system wanders too close to the supermassive black hole at the galactic center. Strong gravitational forces rip the stars from each other, sending one away at high speed while the other is captured into orbit around the black hole.

For this study, the researchers simulated what would happen if each star had a planet or two orbiting nearby. They found that the star ejected outward could carry its planets along for the ride. The second star, as it's captured by the black hole, could have its planets torn away and flung into the icy blackness of interstellar space at tremendous speeds.

A typical hypervelocity planet would slingshot outward at 7 to 10 million mph. However, a small fraction of them could gain much higher speeds under ideal conditions.

Current instruments can't detect a lone hypervelocity planet since they are dim, distant, and very rare. However, astronomers could spot a planet orbiting a hypervelocity star by watching for the star to dim slightly when the planet crosses its face in a transit.

For a hypervelocity star to carry a planet with it, that planet would have to be in a tight orbit. Therefore, the chances of seeing a transit would be relatively high, around 50 percent.

"With one-in-two odds of seeing a transit, if a hypervelocity star had a planet, it makes a lot of sense to watch for them," said Ginsburg.

Eventually, such worlds will escape the Milky Way and travel through the intergalactic void.

"Travel agencies advertising journeys on hypervelocity planets might appeal to particularly adventurous individuals," added Loeb.

The research will be published in the Monthly Notices of the Royal Astronomical Society, in a paper authored by Idan Ginsburg, Avi Loeb, and Gary Wegner (Dartmouth College).

Source: Harvard-Smithsonian Center for Astrophysics, Harvard Gazette

Image: David A. Aguilar/CfA
http://scitechdaily.com/runaway-planets ... llion-mph/
---
Constabul wrote:

@IAM

seems like we are not that far away from bioengineering the next leaps in human evolution. With a number of the things already posted in the thread on that subject, and you throw this article in too, it really opens the door to the imagination, as fathomable manifestations of humans in the next hundred years.

Think of the people in the 1900s, vary few cars, no planes, all the "advancements" of then, and what it is now. Is mind boggling.
Oh, yeah, my friend...Don't be surprised if humankind get to the point of creating themselves, with exactly the very same specifications!
"The Heaven's Lights are fed by the energy generated inside the furnaces of Hell; I AM One Conductive Wire! "
---
Let's not forget some prerequisites!!!















And how to save 'em...


http://download.cnet.com/YouTube-Downloader/3000-2071_4-10647340.html
"The Heaven's Lights are fed by the energy generated inside the furnaces of Hell; I AM One Conductive Wire! "
---
"The Heaven's Lights are fed by the energy generated inside the furnaces of Hell; I AM One Conductive Wire! "
---
"The Heaven's Lights are fed by the energy generated inside the furnaces of Hell; I AM One Conductive Wire! "
---
Potent Protein Heals Wounds, Boosts Immunity and Protects from Cancer

ScienceDaily (Apr. 30, 2012) —

Lactoferrin is an important iron-binding protein with many health benefits.

The major form of this powerful protein, is secreted into human biofluids (e.g. milk, blood, tears, saliva),

and is responsible for most of the host-defense properties. Because of the many beneficial activities associated with it, researchers are starting to use lactoferrin as a potential therapeutic protein. And, in contrast to many other therapeutic proteins, which need to be injected into patients, lactoferrin can be orally active. Lactoferrin is the subject of the upcoming June issue of the journal Biochemistry and Cell Biology.

"We now know that lactoferrin is a protein that has many functions in innate immunity and that it plays a role in protecting us from bacterial, viral, fungal, and protozoal infections. It can even protect us from some forms of cancer," says special issue guest editor Dr. Hans Vogel, a professor at the University of Calgary. "Some people describe this protein as the 'Swiss army knife' of the human host defense system. In part it does all this by binding iron, but many other properties of the protein contribute to its function."

This special issue comprises 27 articles and review papers contributed by leading international researchers. The role of lactoferrin on skin wound healing; impacts of lactoferrin on small intestinal growth and development during early life; and use of bovine lactoferrin on the inhibition of influenza and in the prevention of preterm delivery associated with sterile inflammation are among the studies presented.

One important contribution, already published online, is from a Chinese research group led by Professor Ning Li in Beijing. It shows that consumption of milk containing increased levels of the lactoferrin protein modulates the composition of the gut microflora, which in turn promotes health. This research relies on extensive biochemistry and molecular biology to produce the protein and to analyze the changes in the composition of the gut flora. While the article describes an animal model study, the results can probably be extended to humans.
http://www.sciencedaily.com/releases/20 ... 164353.htm
---
EcoAlert: Satellite Images Reveal an Ancient Network of Rivers in Arabian Desert




Satellite images have revealed that a network of ancient rivers once flowed through the sands of the Arabian Desert, leading scientists to believe that the region experienced wetter periods in the past.
The images are the starting point for a major potentially ground-breaking research project led by the University of Oxford into human evolutionary heritage. The research team will look at how long-term climate change affected early humans and animals who settled or passed through and what responses determined whether they were able to survive or died out.

Until now this part of the world has been largely ignored by scholars despite its critical location as a bridge between Africa and Eurasia. In a project funded by the ERC (European Research Council), a multidisciplinary team of researchers will study the effects of environmental change in the Arabian Peninsula over the last two million years. The systematic study of the Pleistocene to Holocene periods will be unique in its length and level of detail.

Over the course of five years the researchers will study the landscape features and excavate sites of likely archaeological interest, using the network of water courses as a map. They will use the latest dating techniques to pinpoint the ages of fossils of animals, plants and different stone tool technologies and compare the similarities and differences displayed in the region's rock art.

The team's main focus will be the Arabian Desert, but the work will also cover the wider Peninsula. One key question they will attempt to answer is when the first early modern humans are likely to have first arrived in the Arabian Peninsula from Africa and perhaps surrounding regions. They will also look for evidence that suggests how early modern humans were able to survive, or not, in arid and extreme conditions.




Project leader Professor Michael Petraglia, Co-Director of the Centre for Asian Archaeology at Oxford University's School of Archaeology, said: 'From NASA images (above) taken of the Arabian Desert we can see physical landscape features that are visible from space that denote a whole network of former river valleys and lake basins. These lines and dips in the sand provide us with a map of the region upon which we will focus our research activity. The presence of water is an accurate indicator of where early humans and animals migrated to or settled.

'The Arabian Peninsula has a wealth of archaeological sites and spectacular deposits of former rivers and lakes. Yet despite its significance as a bridge between two continents, surprisingly very little is known about its early prehistory. This project draws on many disciplines: the sum of which should reveal a hitherto untold but very important story about the effect of climate change on early humans.'

The researchers will identify key excavation sites, including sites where work has already been done, and where stone tools and the fossils of animals, such as wild cattle, have been found. The researchers will also conduct field studies in former lake basins, where fossils of fish of up to a metre long were discovered.

A variety of dating techniques will be used by the researchers to pinpoint the ages of fossils and stone tools to set out the chronologies of archaeological sites. Dating work on animal and faunal fossils could provide new information about possible food sources of early humans, as well as the timing of environmental changes.

The project will examine marine cores, caves, existing wide water wells and quarry pits to view the stratigraphy. They will also examine deposits between 30 to 60 metres deep to measure the effects of environmental change, observing any changes from plant fossils and rocks and strata indicating when the climate was wetter or drier.

The scientists will extract the DNA of animals derived from the Arabian Peninsula. The DNA acts as a molecular clock which can tell the researchers more about that animal's most recent common ancestor and when it is likely to have arrived. They will examine the DNA of a number of species from museum collections, such as ostrich, oryx, ibex, hyena, and honey badger to establish their origin, their demographic histories, and likely dispersal patterns.

The Daily Galaxy via Oxford University
"The Heaven's Lights are fed by the energy generated inside the furnaces of Hell; I AM One Conductive Wire! "
---
Related topics

Replies
Views

Last post