Search found 253 matches
Nilm33 wrote:How old is this story? Im 15 mins from Tropicana and Decatur. I could go investigate lol
I live off Blue Diamond, I'm in!
@ Spock, Thanks, love stories that are close to home.
Registrant Phone:+1.5707088780

Mon Nov 07, 2011 6:37 pm
Forum: Spirituality
Replies: 21
Views: 1759
If our calendar was based on natural cycles it would actualy mean something (perhaps), but our calendar is man made so not in harmony with nature. I agree svaha. But why have we followed such a flawed calender for so long? Possibly created as a countdown (or count up) to something humans would natu...
Sat Nov 05, 2011 2:20 pm
Forum: Spirituality
Replies: 0
Views: 120
As of recent, I have made some big life altering decisions. Until now, I seemed to be on a fairly smooth path. Now, every single thing seems to be challenging my patience and tolorence. Call it bad luck or just testing me, but suddenly the world seems against me. BTW, My biggest personal challenges ...
The "proof" is in the motivations of your actions. Look at your "self" 10 years ago and then now. Do you have the same motivations? Do you still exist for the same reasons you did before? To me, that is plenty of proof. I no longer find myself on the emotional roller coaster of m...
As always, Disclaimer: Apologies if this has already been posted SO MUCH FOR DOOMSDAY: Comet Elenin (C/2010 X1), widely known for inaccurate reports of its threat to Earth, appears to be breaking apart. Observations by amateur astronomer Michael Mattiazzo of Castlemaine, Australia show a marked dim...

Love it. Anyone know how these guys go about finding these shamans? I would love to travel to Peru and look at my true self guided by a professional.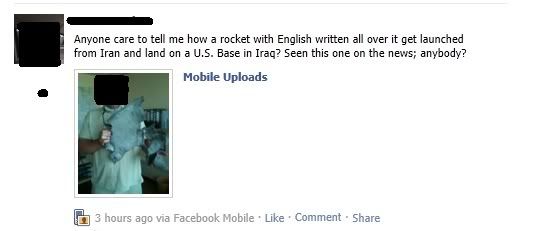 I agree nothing new, no smoking gun, but props to him for sharing.