Posts: 10120
Joined: Wed Jul 01, 2009 9:10 pm
Location: Packing my stuff and moving to Denver like you should be doing
A Lithuanian riding school has been named as the site of a secret location used by the US Central Intelligence Agency to interrogate individuals during the War on Terror.
An American television channel, ABC, reported on Thursday that a previously unidentified CIA prison was situated at a riding academy and cafe not far from the capital, Vilnius, where up to eight al Qaeda suspects were held for over a year until late 2005.
Council of Europe map of alleged secret prison sites and flight paths of 'extraordinary rendition' missions (Photo: Council of Europe)
Print
Comment article
The report cites unnamed Lithuanian officials and an ex-intelligence agent from the US who were either involved with the "black site" or had been briefed on its existence.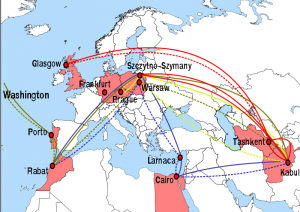 The officials said that the prison was one of eight such facilities around the world used to house al Qaeda suspects.
The US TV crew viewed flight logs of aircraft used in the operations, which detailed flights transporting individuals to and from secret prisons in Lithuania, Afghanistan, Morocco, Poland, Romania, Thailand and Guantanamo Bay.
False flight plans were submitted to European aviation authorities, according to one interviewed official.
In Lithuania, pilots were told to hand in flight plans that described destinations in neighbouring countries.
"Finland and Poland were used most frequently" with the Baltic nation, the ex-CIA officer told the programme.
An official also said that Lithuania had agreed to hosting the secret prison without demanding anything in return from the US.
"We didn't have to," the individual said, "They were happy to have our ear."
The revelation comes as Vilnius this month launched an investigation into whether the US programme operated out of the former Soviet Bloc nation.
The government however hit out at the US television station, slamming the report as "gossip".
"There are more important things in Lithuania than spending two days denying the gossip of ABC journalists," said foreign minister Vygaudas Usackas, according to the Baltic News Service.
"We have to follow hard facts rather than rumours and wild tales," he added.
"Therefore it is vital that we conduct an investigation and clear any doubts."
VILNIUS — Lithuanian officials are denying accusations in the American media of hosting one of eight CIA secret prisons for al-Qaida suspects, calling the information a "myth" and purposeful provocation.
Raimondas Šukys, minister of the interior from 2004 to 2006, announced today that there were no such arrangements were either undertaken or planned at the ministry or government level under his stewardship.
"An independent parliamentary investigation might give clear answers to alleged suspicions, at the same time preventing the discrediting of Lithuania's name and spread of unnecessary rumors about our country in the world" Šukys, presently the Seimas deputy parliamentary speaker, said.
The accusations started when the US television network ABC announced on Aug. 20 that it has identified the third European country as providing the CIA with facilities for a secret prison for high-value al-Qaida suspects.
Poland and Romania were identified in 2007 in a Council of Europe report, which also said prisoners in these facilities were subjected to "interrogation techniques tantamount to torture."
Anonymous former CIA officials told ABC News that the now-closed prison was allegedly situated outside Vilnius. Eight suspects were held for more than a year until the end of 2005, when they were moved due to growing public awareness in the world.
The CIA refused to comment on the story's accuracy.
"The CIA does not publicly discuss where facilities associated with its past detention program may or may not have been located," CIA spokesman Paul Gimigliano told ABC, warning of the potential danger that these accusations imply. "The dangers of airing such allegations are plain. These kinds of assertions could, at least potentially, expose millions of people to direct threat. That is irresponsible."
The former Lithuanian President Valdas Adamkus, former prime minister Algirdas Brazauskas, former minister of foreign affairs and other officials deny consenting to a secret CIA prison.
"I don't know whether it is a myth or a deliberate provocation" said Adamkus.
Current Lithuanian President Dalia Grybauskaitė regretted that Lithuania is mentioned in this context and said she only has the data showing that no such prison ever existed.
Meanwhile Amnesty International USA Policy Director for Terrorism & Counter-terrorism, Tony Parker, said Lithuania must start an immediate investigation to find out what really happened. So far, only the formation of a parliamentary investigatory committee has been suggested by Šukys.
Lithuanian legal scholars claim a secret prison would constitute an infringement of the Lithuanian Constitution and obligations undertaken by Lithuania under international law.
FAIR USE NOTICE.
Section 107 of the US Copyright Law. In accordance with Title 17 U.S.C. Section 107, . http://www.law.cornell.edu/uscode/17/107.shtml

---
Related topics

Replies
Views

Last post