Thursday, August 02, 2012
A exciting new discovery, biologists have identified six unattractive blind snakes each a meter long at the bottom of a river-bed in Brazil.
Engineers working on hydroelectric dam in Rondonia on the Madeira river connected to the Amazon, found this unique creature christened 'atretochoana eiselti', a newspaper reported.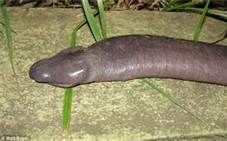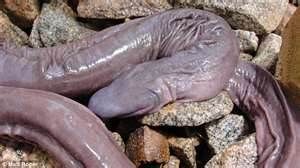 The creature neither has eyes nor colorful scales like other snakes, and scientists believe it is closely related to salamanders and frogs family.
"Of the six we collected, one died, three were released back into the wild and another two were kept for studies," Biologist Julian Tupan was quoted as saying by the paper.
Found near the mouth of Amazon river, this snake-like reptile survives in warm and fast-flowing water, and scientists confirmed that this rare creature has only been spotted sporadically since it was first spotted in 1968.
"Despite looking like snakes, they aren't reptiles and are more closely related to salamanders and frogs," he confirmed.
It was first discovered in South America in 1968, but was only discovered on the island of Mosquiro last year.
"We think the animal breathes through its skin, and probably feeds on small fish and worms, but there is still nothing proven," Tupan said.
HONORI­FICABILI­TUDINI­TATIBUS

Remiel
VULCANIC PNEUMONO­ULTRA­MICRO­SCOPIC­SILICO­VOLCANO­KONIOSIS
---
---
---
---
---
Posts: 5788
Joined: Sat May 14, 2011 10:00 pm
Location: Arulu
Vulcanic wrote:lol i know it just don't look right

If dog is mans best friend then this will be womens new best friend lol
Boondox681 wrote:GO TEAM MERMAID

Do you believe in the existence of Mermaids?
---
---
Posts: 8735
Joined: Fri May 14, 2010 7:03 pm
Location: I'll Drive You Crazy and I'll Kill You All!
Thats my cock!
________
________
---
Posts: 3948
Joined: Thu Nov 05, 2009 6:11 am
Location: Earth
WTF!
Is this a screen cap from some porn?
---
Related topics

Replies
Views

Last post