---
Posts: 4463
Joined: Thu Nov 05, 2009 6:11 am
Location: Earth
Mob 2,0 wrote:awesome


Very cool, I remember Myth busters testing Archimedes Death Ray. They did not do a very good job. Along with some others they fail full representation.
A parabolic mirror may come in handy. Just remember it when you are desperate and have the means at hand to make one. Thank you for the post.

Star watchers,Sun,Moon or just space in interest.
https://www.darkskywatcher.com/dsw74.html
---
---
I can't say I have seen a laser with this kind of power, that is, how quickly it heats the surface of X. Of the most powerful lasers, the power they require makes this very appealing. The con? It appears the focal length is about +\- 2 feet in front of the mirror. Put this in the military's hands and they could have every one of those mirrors on an adjustable base each with a motor, connect that to a computer....adjustable focal length! Making this quite a powerful weapon.
---
Posts: 899
Joined: Fri Sep 17, 2010 6:52 am
Hitman wrote:Really cool, but I could never understand why someone would want this or what the purpose of it would be for besides starting a campfire in 3 seconds!!! Looks cool thu!!
What about as a portable water heater/shower?
Basicaly like this....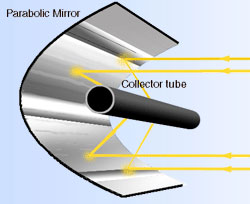 ... but layered with 5 mirrors/water lines, on wheels, standing about 5x3 feet and about 2 feet depth. Heat the water temp enough that thermal convection Should (with gravity asissted reserve) able to raise/push/thermaly pump the hot (nearly boiling) water above head hieght. where it cools slightly before use.
Rough sketch:
Few other ideas come to mind but not so basic
Yaaa... Can post again

Was locked out.....
Hey trolls.... If you want to rip me a new one, You better have a sharp set of nails.
▲Not an invitation peeps..... It's a warning.
---
---
Related topics

Replies
Views

Last post