Right now it looks like a big street party. Fireworks and singing...until the police come back with real bullets.
---
Posts: 11855
Joined: Wed Apr 22, 2009 2:08 am
the only thing better than live stream of violent uprisings is a good elephant rampage.
---
Posts: 5
Joined: Tue Feb 18, 2014 3:29 am
This is tough to watch......I don't think this will ever end. Considering the tight grip Russia has over the Ukrainian Government.
---
In case you are wondering what they are protesting...

The protesters are upset with President Viktor Yanukovich, and specifically his decision to reject a free-trade deal with the EU. The decision was seen not only as a rejection of Europe, but an embrace of Russia. Many Ukrainians worry that Yanukovich, despite repeated denials, has struck a deal with Vladimir Putin to form a customs union with Russia.
---
Posts: 5
Joined: Tue Feb 18, 2014 3:29 am
Boondox681 wrote:the only thing better than live stream of violent uprisings is a good elephant rampage.
Dude......People are losing their lives and you think it's good entertainment.
Last edited by
croppedlock
on Tue Feb 18, 2014 9:10 pm, edited 1 time in total.
---
Posts: 11855
Joined: Wed Apr 22, 2009 2:08 am
Fireworks
maybe our definitions differ....
i'd say...inferno?
---
Posts: 14844
Joined: Thu Jul 31, 2008 3:45 pm
Location: Chicago
Quit telling me what to do, Will.
Not gonna do it...
---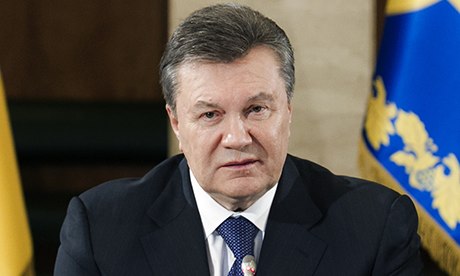 It's hard to forecast precisely what will come of Ukraine's protests. The demonstrations seem to have reached a tipping point: Yanukovich is now in full-scale crisis mode; significant political change in Kiev is a real possibility. However, it's far from certain this will bring down the government and orient Ukraine's foreign policy toward Europe. Too few remember that Yanukovich has significant support not only from Russia, but also from roughly half of the population (east Ukraine) that believes Ukraine belongs in Russia's orbit. (More than 30 percent of Ukrainians speak Russian.)
Ukraine's opposition leader urges Yanukovich to take riot police off streets...
Feb 18 (Reuters) - Ukrainian opposition leader Vitaly Klitschko, responding to clashes between police and protesters near parliament, on Tuesday urged President Viktor Yanukovich to take riot police off the streets to head off further "conflict in society".

"I am appealing to the president. Take the Berkut (Ukrainian riot police) and interior forces off the streets. Do this and it will provide a way out. It will be the decision of a real man," Klitschko said speaking to journalists inside parliament.

Clashes broke out on Tuesday when protesters confronted police about 100 metres from parliament. Protesters torched three police trucks with petrol bombs but were forced back by police firing rubber bullets, and stun and smoke grenades.
http://www.reuters.com/article/2014/02/ ... EC20140218
---
domdabears wrote:Quit telling me what to do, Will.

Not gonna do it...
---
*WillEase* wrote:A different live stream...


Whatever the outcome, events in Ukraine highlight three important geopolitical realities...
First, Ukraine reveals the regional supremacy of Vladimir Putin. Russia's president, more than anyone else, is responsible for Yanukovich's refusal to sign the trade pact with the EU. Prior to Ukraine's November summit with the EU, Putin made it clear to Yanukovich that there would be ruinous consequences—tariffs on Ukrainian exports to Russia and its allies, steeper energy prices—if Kiev reached out to Europe. Putin schmoozed Yanukovich too, promising Ukraine lower energy prices, debt forgiveness and lower tariffs if it rejected Europe and joined Russia's customs union.
Yanukovich was in an unenviable position. When it comes to Russia's periphery, Vladimir Putin doesn't mess around. Just ask Georgia, the Chechens, and Ukraine's former pro-EU opposition leader, Viktor Yushchenko. Imagine you were Yanukovich and Putin was pressuring you like this. What would you do? For Yanukovich, and in some ways for Ukraine, rejecting the free-trade agreement with the EU was the safest, most logical move.
But it seems millions of Ukrainians disagree. Today, in spite of the brutally cold weather, Ukraine's pro-Europe demonstrators don't appear to be ready to give up. Opposition leaders continue to demand major concessions, including Ukraine's reorientation toward Europe. Unless President Yanukovich clears the protesters, either by agreeing to their demands or cracking down hard (which would likely get violent), his government could soon be in serious jeopardy. If Ukraine isn't experiencing a revolution, it's on the cusp of one.
The man to watch right now is Vladimir Putin. What's his next move?
---
Related topics

Replies
Views

Last post