Boondox681 wrote:hey...guess what the Ukrainians DON'T have in their water supply?
fluoride.
If you don't wake up, Your the problem, not the thief...www.cattledum.com
---
clowns to the left.............
....... Jokers to the right
and stuck in the middle ........
- - -
"If we take eternity to mean not infinite temporal duration but timelessness, then eternal life belongs to those who live in the present.
Ludwig Wittgenstein.
---
Tensions high in Ukraine after at least 21 die in fiery clashes.
Kiev, Ukraine (CNN) -- Downtown Kiev was aglow in fire early Wednesday, as demonstrators undeterred by a bloody day on the streets staked their claim to the heart of the Ukrainian capital and, they hope, the heart of the country itself.
Such flames have been a constant for three months, acting as fiery barricades all around Kiev's Maidan, or Independence Square, for protesters. Yet the flames grew more ominous on Tuesday as at least 21 people died in fresh clashes between government forces and activists.
What began with protests over President Viktor Yanukovych's backpedaling from a trade pact with the European Union -- a move that the opposition maligned, accusing Yanukovych of trying to cozy up to Russia rather than the West -- has spawned into something much larger.
http://www.cnn.com/2014/02/18/world/eur ... -protests/
---
For cropped -- what Boon was trying to say to you is this -- take care of you... everyone else has to take care of themselves... and yep, that IS how it is and should be -- besides you don't have the ability nor power to do anything else but that..........



and yes, I am an asshole... but those that know me call me "Mister ..."
---
Ukraine Health Ministry: 25 Killed In Kiev Clashes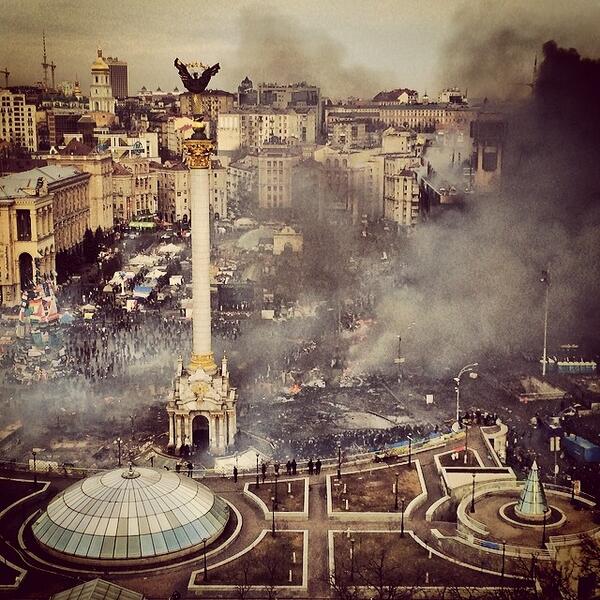 As thick black smoke rose from the barricades encircling the protest camp in central Kiev on Wednesday, the Ukrainian president blamed opposition leaders for the deadly violence that erupted between riot police and protesters in the capital in which at least 25 people died and 241 were injured.
The violence on Tuesday was the worst in nearly three months of anti-government protests that have paralyzed Ukraine's capital in a struggle over the identity of a nation divided in loyalties between Russia and the West, and the worst in the country's post-Soviet history.
continued here:
http://www.npr.org/2014/02/19/279374343 ... um=twitter
---
Posts: 11827
Joined: Wed Apr 22, 2009 2:08 am
Bravo69...like minds
and yes, I am an asshole... but those that know me call me "Mister ..."
welcome to the playground
---
---
live ammo being used , dozens of casualties according to swedish foreign minister


Carl Bildt ✔ @carlbildt

Follow

Talked with a European observer by the Maidan in Kiev. No doubt live ammunition used. Many casualties. Need for fast medical help.
better to die on your feet than live on your knees
---
better to die on your feet than live on your knees
---
n Traynor ✔ @traynorbrussels

Follow

#ukraine 12 corpses in lobby of ukraina hotel. Docs say all gunshot
10:45 AM - 20 Feb 2014
better to die on your feet than live on your knees
---
Related topics

Replies
Views

Last post