Over the last few days i have been searching google maps for abything that looked strange out of place and the first place i decided on looking at was Area 51.I was not expecting to find anything to be totally honest with you but i was stumped when i came across a few things.
Now when you look at Area 51 on google maps there is some big white spots (which looks like snow on google maps) I was intrigued and decided to look a little more at the main on at Area 51 i could not really make much out unfortunatly.
It was at this point i thought why not have a look at some of the other white spots in the surrounding area and i really was not expecting to see theses i put the picture up in order if ound them.
First: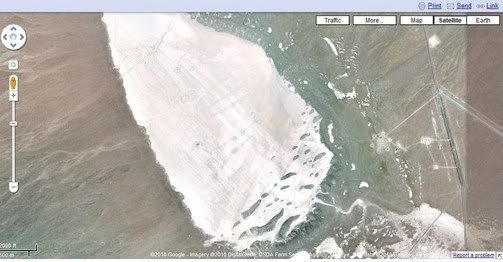 Second: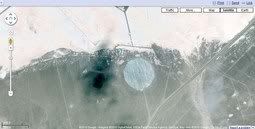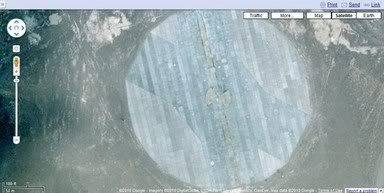 And finally i found a interesting image from Area 51 that is not under a white spot have a look tell me what you see because i know what i see lol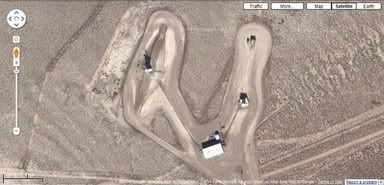 Now that mound has a strange look of a saucer stuck in the ground but that could be just me
Your thoughts welcome on the subject
---
You know it looks like it could just be a mind fuck but i do see what you are talking about. Google tends to throw alot of random stuff in there maps, reason? I would like to know as well!
Hi, how are you today? Would u like a tall glass of SHUT THE F*CK UP!!!!
---
Posts: 8839
Joined: Fri May 14, 2010 7:03 pm
Location: THE DARKNESS BETWEEN WORLDS
The white surrounding is a dried lake bed.
" Toss another limb on the fire squire. "

Troll2rocks
---
I have also looked in and around area51 on google earth.
I did notice what I would describe as a triangular shaped landing pad, for the tr3b one would assume.
And the classic disc shaped landing pad.
West of the area is pocketed with craters from what I assume are underground tests of nuclear bombs.
In Lak'ech

May the force be with you, always.
---
Related topics

Replies
Views

Last post