Posts: 10120
Joined: Wed Jul 01, 2009 9:10 pm
Location: Packing my stuff and moving to Denver like you should be doing
Approaching COMET HARTLEY the blue star of Hopi Prophecy
The Hopi Prophecy is below but could this be it? Look at the approaching Comet it looks a blue/green and it looks like a star...
COMET HARTLEY 2 UPDATE: Some observers are reporting that comet 103P/Hartley 2 has reached the threshold of naked eye visibility. "I was able to see the comet last night under very dark and transparent skies," says Kevin Koski of Cascade, Wisconsin. Veteran observer Mike Holloway of Van Buren, Arkansas, adds that "the comet was almost 'naked eye' with averted vision on Oct. 2nd." In the nights ahead, telescopic observers are encouraged to lift their eyes from the optics to attempt a sighting.
APPROACHING COMET
: Green comet 103P/Hartley 2 is approaching Earth for a close encounter on Oct. 20th. At that time, the comet will be only 11 million miles from Earth and should be dimly visible to the naked eye from dark sky sites. It already looks great through backyard telescopes: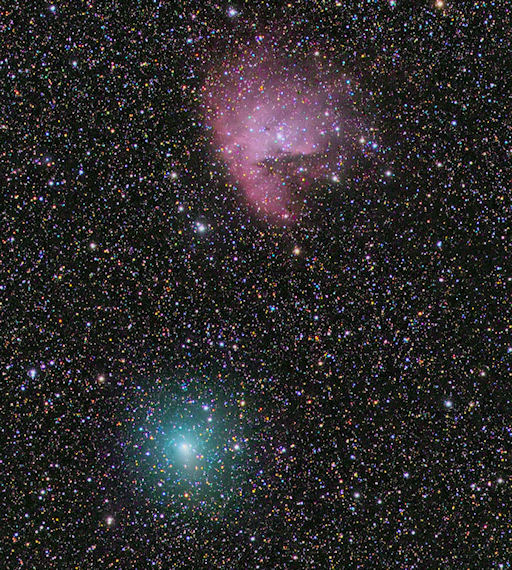 Amateur astronomer Rolando Ligustri took this picture on Oct. 2nd using a 14-inch Global Rent-a-Scope in New Mexico. It shows Comet Hartley beside the spectacularPacman Nebula (NGC 281), a star-forming cloud some ten thousand light years from Earth. "This is a very nice comet for telescopes and binoculars," says Martin Gembec who took a similar picture from his backyard observatory in the Czech Republic last night. "It has a [green atmosphere] almost 0.5 degrees wide and shines like a 7th magnitude star."
Two weeks after Comet Hartley has its close encounter with Earth, NASA will have a close encounter with the comet. The EPOXI spacecraft (formerly known as Deep Impact) is hurtling toward Comet Hartley now, and on Nov. 4th it will fly 435 miles from the comet's active icy nucleus. The encounter will mark only the fifth time in history that a spacecraft has been close enough to image a comet's core.
Until then, amateur astronomers can monitor the comet as it glides through the constellation Cassiopeia in the evening sky. A finder chart from Sky and Telescopeshows the comet passing by a variety of stars and deep-sky objects, offering many photo-ops in the nights ahead.
more images: from Mike Holloway of Van Buren,
http://www.spaceweather.com/submissions ... 037656.jpg
Hopi Elders pass warnings and prophecies from generation to generation
through oral traditions and reference to ancient rock pictographs and tablets.
Hopi Blue Star or Blue Kachina Prophecy
An ancient Hopi Indian prophecy states, "When the Blue Star Kachina makes its appearance in the heavens, the Fifth World will emerge". This will be the Day of Purification. The Hopi name for the star Sirius is Blue Star Kachina. It will come when the Saquasohuh (Blue Star) Kachina dances in the plaza and removes his mask.
[Note: Reality is a metaphor in which we quest to find answers to the greater truth of who we are and why we are here. Something in our souls tells us that change is happening on a global consciousness level. The blue frequency is part of that. Sirius is Isis - Return to the feminine of higher frequency energies - Rebirth of Consciousness. Blue links to higher/future frequencies of consciousness as we spiral up through the patterns of Sacred Geometry. Blue - electricity - our reality as an electromagnetic energy grid program. Blue: Indigo children, the blue alien lady, Isis, the Pleiades, Sirius, blue galaxies, blue chakra, blue ray and ascended master, and much more that will come 'out of the blue'. Use search engine to discover more about 'blue'.]
Classification: Jupiter-family Comet [NEO] SPK-ID: 1000041
103P/Hartley 2 2010-Oct-20 0.1209 47.0 1.6 km 0.0 11.88
http://ssd.jpl.nasa.gov/sbdb.cgi?sstr=103P;orb=1
FAIR USE NOTICE.
Section 107 of the US Copyright Law. In accordance with Title 17 U.S.C. Section 107, . http://www.law.cornell.edu/uscode/17/107.shtml

---
11 million miles, it's not really that far at all, i hope nothing gets nudged out of it place. It would not take a paturbed object to long to travel 11 million miles in any dirrection. Just sayin no, no i just wanted to be the first doomtard to reply. chuckle chuckle
---
Posts: 574
Joined: Thu Nov 26, 2009 1:13 pm
---
"This is the Seventh Sign: You will hear of the sea turning black, and many living things dying because of it."

"This is the Eight Sign: You will see many youth, who wear their hair long like my people, come and join the tribal nations, to learn their ways and wisdom.

"And this is the Ninth and Last Sign: You will hear of a dwelling-place in the heavens, above the earth, that shall fall with a great crash. It will appear as a blue star. Very soon after this, the ceremonies of my people will cease.
well didn't we miss the eight sign?!
---
Related topics

Replies
Views

Last post