The day I saw 248 girls suffering genital mutilation
In 2006, while in Indonesia and six months pregnant, Abigail Haworth became one of the few journalists ever to see young girls being 'circumcised'. Until now she has been unable to tell this shocking story
During the morning, 248 Indonesian girls undergo the same ordeal. Suminah is the oldest, the youngest is just five months. It is April 2006 and the occasion is a mass ceremony to perform sunat perempuan or "female circumcision" that has been held annually since 1958 by the Bandung-based Yayasan Assalaam, an Islamic foundation that runs a mosque and several schools. The foundation holds the event in the lunar month of the Prophet Muhammad's birthday, and pays parents 80,000 rupiah (£6) and a bag of food for each daughter they bring to be cut.
It is well established that female genital mutilation (FGM) is not required in Muslim law. It is an ancient cultural practice that existed before Islam, Christianity and Judaism. It is also agreed across large swathes of the world that it is barbaric. At the mass ceremony, I ask the foundation's social welfare secretary, Lukman Hakim, why they do it. His answer not only predates the dawn of religion, it predates human evolution: "It is necessary to control women's sexual urges," says Hakim, a stern, bespectacled man in a fez. "They must be chaste to preserve their beauty."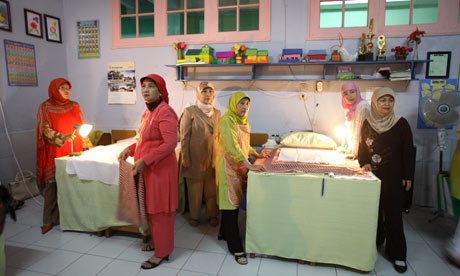 http://www.guardian.co.uk/society/2012/ ... -indonesia
"The third-rate mind is only happy when it is thinking with the majority.
The second-rate mind is only happy when it is thinking with the minority.
The first-rate mind is only happy when it is thinking."
A. A. Milne
---
sad
---
How sad...Where is the women's voice on this subject? Why aren't you out on the streets protesting about this type of abuse. Well it might upset their world of the comfort zone. It's easy to complain about how women have been o-pressed as long as you are living in the comfort zone. It's quite another thing to get off your arse and do something about it girls. Yes. I'm talking to you. The few that are on this site with some sort of brain. What the fuck would you think if it was acceptable to cut off your nipples so you could't enjoy sex. Lets just turn it around. Ok lads how long would it take us to stop women cutting off our balls to stop us enjoying sex......Not more than a week. Ouch!!!Or even less.
A black-hole is not a hole it's a sphere. As will be the universe when compressed into the smallest unit it can be.
---
Posts: 2388
Joined: Mon Apr 16, 2012 8:16 am
um shit, very disturbing, wickedly wrong too, someone should cut hakims nuts off for this. backward animal.
the story of life is quicker than the blink of an eye, the story of love is hello and goodbye, until we meet again my friend.
---
Related topics

Replies
Views

Last post