KURGAN CULTURE
The Kurgan people were an Indo-European culture existing during the fifth, fourth, and third millennia BC; they lived in northern Europe, from Russia across Germany, and various authorities have mounted a case for them being THE proto-Indo-European culture, from which all Indo-European cultures descend. Other researchers think it likely that later-day Kurgans were the "Sea People" who laid waste to the Holy Land around 1200 BC - traveling south along the Mediterranean in ships, with their women following them in wagons along the shore. The word kurgan means barrow or grave in Slavic and Turkic; Kurgan culture is characterized by pit-graves or barrows, a particular method of burial. They are also called the Pit-grave people, or Barrow people.

The earliest Kurgan sites are in the Ukraine and southern Russia, from which they spread by about 2000 BC to Europe, crossing the Dnieper River. Wherever Kurgan culture spread, it was marked by common elements unlike those of the surrounding Bronze-Age cultures. These are the characteristics of the Kurgan people:

They practiced animal husbandry; in rubbish dumps at Kurgan hill-forts and villages are found the bones of lots and lots of horses, many cattle, and a few pigs, sheep and goats. Few bones of wild game (such as deer) were found, so Kurgans were not a hunting culture. Horse-heads carved in diorite were found, with harness-marks cut into them to indicate bridles.

Kurgan horse-herders may have been like the Scythians, who rode geldings only, their main herds being kept wild under stallions, and controlled through the mares which were hobbled near the settlements and milked regularly. Both wild-horse bones and bones of domesticated horses were found in Kurgan sites; modern bone-analysis specialists can apparently tell the difference between the two types.

Kurgan people typically lived on flat steppe grasslands, near wooded areas and watercourses. There were mixed forests of oak, birch, fir, beech, elder, elm, ash, aspen, apple, cherry and willow. There were aurochs, elk, boar, wild horses, wolves, fox, beaver, squirrels, badgers, hare and roe deer. Their ornaments were made from elk antlers, cattle and sheep bones, and boar tusks; one of the most common implements found at their settlements was a hammer-hoe made from elk antler. They had bone awls, chisels, and polishers, and wooden bows with flint-tipped arrows which were carried in skin quivers, Scythian-style. They fished: in their villages were bone harpoons, points, fishhooks, and also fish bones. They had wool and flax. They didn't raise much grain (that is, they were not heavily into farming) - only a few sickles were found in their villages, though archeologists found grindstones, pestles, and saddle-querns; also found was millet grain and melon seeds. One object which may have been a ploughshare was discovered. Beneath one Kurgan barrow-mound, a stretch of ground protected by the mound itself showed unmistakable plough-furrows.

They did use two- and four-wheeled wagons with big wheels of solid wood, unspoked. Examples of these have been found, along with of clay images: toy wagons, buried with royalty (maybe?). Also found were copper figurines of yoked oxen in pairs, so oxen probably drew these solid-wheel carts - which were of about the same proportions, wheel to cartbed, as a child's toy cart with a low rim around it.

Metal objects, early Kurgan period: copper awls plus tanged, leaf-shaped copper knives or small daggers. Late Kurgan period: daggers, awls, flat shaft-hole axes. The Kurgan people of the northwest Caucasus mountain region (a center for metallurgy from way WAY back) at about 3500 BC and afterward possessed gold and silver vases, beads, and rings; also bull, goat and lion figurines; also copper axes, adzes, daggers and knives. No bronze objects were found; this means they either had no knowledge of alloying, or no access to tin. The last is unlikely; tin was available to the Persians and Greeks in later days, though the sites of the ancient tin mines are not now known; the major known site was in England, of course. The Kurgans would have panned their gold from rivers in the Caucasus mountains: gold, copper and silver can be found raw in their pure form, ready for use.

The lion figurines at first sound odd; there are certainly no lions in Europe or Asia today. But the Greeks also left artwork depicting lions, and wrote of wild lions in the mountains of Macedonia and Asia Minor, which came down into settled lands and preyed upon livestock. So the Kurgan artisans in the Caucasus mountains, north of Asia Minor, were probably also familiar with lions. Equally, there were wild bison in Latvia and Russia right up to modern times.

A note: the early Russian naturalist P. S. Pallas ("The Southern Provinces of the Russian Empire", originally published 1812) remarks that in the steppes of the lower Volga lived a giant land reptile called the Coluber Jaculator lizard, which the Russians named the courageous Sheltopufik; he wrote that it "is not venomous, is often six feet long; it moves about with erect head and breast, and when pursued defends itself by darting against the horse and his rider. There are likewise two other species of reptiles, the Berus, and the Halys, both of a poisonous nature." Large lizards like those of the species mentioned by Pallas inhabited the fringe lands of Asia from the Russian steppe all the way to the Persian Gulf. It is probably not a coincidence that the earliest dragon legends come from the same place!

Kurgan pottery: this was very primitive, made from clay mixed with crushed shells and sand. The pots were decorated with incision-marks made by a triangular stick, with pit impressing (?), cord impressing and impressing with a stick wound with cords.
---
The Apocryphal books of Enoch, 2 Esdras, Genesis Aprocryphon and Jasher support the Genesis story, adding that the sin of the angels grew to include genetic modification of animals as well as humans.
The Book of Jasher, mentioned in the Bible in Joshua 10:13 and 2 Samuel 1:18, says, "After the fallen angels went into the daughters of men, the sons of men taught the mixture of animals of one species with the other, in order to provoke the Lord"(4:18).
This clear reference to the Genesis 6 record illustrates that "animals" were included in whatever cross-species experiments were being conducted, and that this activity resulted in judgment from God.
The Book of Enoch also supports this record, saying that after the fallen angels merged their DNA with women, they "began to sin against birds, and beasts, and reptiles, and fish" (7:5,6). The Old Testament contains associated reference to genetic mutations, which developed among humans following this activity, including unusual size, physical strength, six fingers, six toes, animal appetite for blood and even lion-like features among men (2 Sam 21:20; 23:20).
---
Amazons - Real Warrior Women or Ancient Myth?


Stories of beautiful and bloodthirsty female warrior women thundering across arid battlefields have been told, re-told and speculated over for thousands of years and by many cultures. Greek myths are filled with tales of the Amazons and their exploits, love affairs and battles with

Olympian gods like Zeus, Ares and Hera. Amazon warriors fought and died in the Trojan war. Homer and Hippocrates speculated over or wrote of these fierce fighting women, as did Greek historian Herodotus. The West African kingdom of Dahomey employed a legion of so-called Amazons who conquered cities for King Agaja during the 1600's. Spanish adventurer, Francisco de Orellana, is said to have named South America's greatest river, the Amazon, after a fierce tribe of warrior women he encountered along its banks.




Greek mythology describes the Amazons as descendants of the god of war, Ares, and the sea nymph, Harmonia. They worshipped Artemis, goddess of the hunt and exactly where the Amazons territory was has always been disputed. Herodotus believed they may have occupied the sweeping steppes of Southern Russia. Other stories claim they lived in Thrace or along the lower Caucasus Mountains in northern Albania. The Thermodon River, in Asia Minor, known today as the coast of Turkey, seems to be the most frequently mentioned territory of the Amazons.


Amazon society was stringently matriarchal. Males were of no use other than for mating purposes and as slaves, doing work that was traditionally performed by women. Mens' outer extremities were often mutilated to prevent them taking up arms against their captors or escaping. Male babies were either given away at birth to neighbouring tribes or killed.


From an early age Amazons were trained in the arts of war. Some myths and stories say that during adolescence a young Amazon's right breast would be cauterised or entirely removed by her mother so that once the girl reached adulthood she could wield bows and throw javelins more accurately. Experts disagree, claiming that the Amazons would not have had the medical know how to prevent massive haemorrhage or infection if such drastic mutilations actually occurred.


The Amazons were said to be the first humans to tame and ride horses. They were fearless and expert warriors, on horseback or as foot soldiers, and the Greeks fiercest enemies. They dedicated themselves to endless hours of training in the art of combat, their favored weapons, bows, spears and doubled-sided battle axes.


One of the most enduring Greek Amazon myths tells of King Eurytheseus dispatching Hercules to steal Queen Hippolyte's golden girdle, a gift from Ares. Rather than attacking the army standing outside their city, the Amazons showed curiosity and welcomed them. Hippolyte and Hercules fell in love. Jealous goddess Juno spread lies about the Greeks ulterior motive to kidnap the Amazon queen and hold her for ransom. A bloody battle ensued and there were great losses on both sides, Hercules eventually victorious and returning to Greece with Hippolyte's girdle.


Yet despite such tales and myths very little concrete archaeological evidence has ever been unearthed to prove that a race of Amazons actually existed. Most stories about them have been dismissed as pure conjecture or wishful thinking, including Herodotus's writings of Amazons in Russia and their possible connection with the ancient Scythian race. Recent excavations by Russian archaeologists, however, have produced new evidence that suggests Herodotus may have been right.


The Scythians were a race of mounted nomadic warriors whose early origins are still a mystery and who lived in Central Asia around the 7-8th centuries BC. Their generals were said to be more cunning military tacticians than Genghis Khan, who, centuries later conquered half the world. Yet the Scythians were illiterate, they left no language and history, other than their large round burial mounds, or kurgans, plundered ruins that are found all over the Russian steppes. Russian archaeologists have found some kurgans that are still intact, a few of them containing the remains of what they believe were Scythian royalty or aristocrats. These tombs also contained a breathtaking array of golden artefacts: jewellery, chalices, weapons, breastplates and other finely crafted masterpieces depicting Scythian life.


Herodotus wrote of the Scythians as being an extremely barbaric and bloodthirsty race,skinning and beheading slain adversaries and shaping their skulls into drinking cups. Funerals were highly ceremonial and even more blood-drenched. A fallen warrior's wife and entire household were often killed and placed inside the kurgan to serve in the afterlife. Dozens of the finest horses were sacrificed and staked upright around the outside of the burial mound.


New burial mounds recently opened outside the town of Pokrovka contained the remains of women, some thought to be of great station. They were buried in full battle dress and with a assortment of weapons and other items of war lying beside them. One young woman's leg bones were signifi

cantly bowed suggesting she spent most of her life on horseback. Another skeleton had an arrowhead lodged in the upper chest, indicating she might have died in battle.


This startling evidence seems to confirm Herodotus's early theories that certain cultures held women in higher esteem, some even riding alongside men into battle. Other mysterious burial sites have also been recently unearthed in China dating back 2000 years or more, the remains and artefacts suggesting that within other extinct cultures women may have held powerful social and perhaps even military positions as well. Whether any of these long-dead women found in the Pokrovka kurgans or in other recent digs could actually be the mythical Amazons of Greek legend has yet to be confirmed - or may never be proven. For the foreseeable future, research and speculation continues.
---
We do know from ancient texts that fallen angels and nephilim did like to experment and create new forms of life and even our modern storys of the greys are supost to be created to be workers emotionless wich makes them better workers then humans.... not to mention a 3-4foot tall worker can be more hidden then say a 36 foot tall nephilim or anunnaki.

Some would claim that so called alien abductions are just nephilims trying to find there family genes within us.

i also would imagine the science used by them is far beyond the science we know seeing they are the ones to teach us it in the first place and much of what we learned from them is lost or only known by a very few today.

I been waiting for the connections to the inner earth to come out in this thread seeing its very well connected to the ancient storys of the inner earth not new age stuff but the acient texts and religions based apon the inner earth.

We hear alot about the male giants of the earth and very little about the women giants, some are claimed to be the amazon tribe of women the warriors but that is only 1 small area of the earth and the giants were everywhere on the globe...

not to mention the amazon women did use normal mortal men to breed with so as generations went on it would have water down the bloodline and today you never know or tell difference in them..

also the amazon women did kill males born but it's also said they gave away baby boys to other tribes wich would have hidden them and they were not looked at as a bloodline from nephilims...

but in other places around the world i'm sure these nephilim women would have been more exsepted then the warrior men or warrior women because they posed no threat to mortal man...

plus you very rarely will here of a nephilim breeding with a nephilim on earth so by our science it would tell us these races of giants were breeded back down to the size of mortal men. they are more human then angel now adays.

So i have to agree with you and very great question wich can link even more mysterys of today into our roots and ancients.

if you just take the story of nephilims angels annunaki to inner earth you can find the answers to some of the greatest mysyerys we have.today.

as i said before the answers are here on earth if we just look (deeper)


---
Some believe that the "sons of God" are the male descendants of Seth, and that the "daughters of men" are the female descendants of Cain.

In the Old Testament terminology angels are called sons of God while men are called servants of God. In the New Testament this is reversed. Angels are the servants and Christians are the sons of God.

"sons of God" in the Bible is limited to three categories of beings: angels, Adam and believers. All three are special and specific creations of God. As for the use of the term in Genesis 6, since it cannot possibly refer to Adam nor believers in Christ, So it's concluded that it has to refer to the angels whom God had created.

With so many beliefs it's hard subject to grasp.

Jude 6-7 states:

"And the angels which kept not their first estate, but left their own habitation, he hath reserved in everlasting chains under darkness unto the judgment of the great day. Even as Sodom and Gomorrah and the cities about them in like manner, giving themselves over to fornication, and going after strange flesh..."

"Nephilim" is a Hebrew word translated in the Authorized King James version as "giants." "There were giants in the earth in those days" (Genesis 6:4). It is true that they were giants in more senses than one. However, the word Nephilim does not mean "giants." It comes from the root "naphal," meaning "fallen ones," and most modern versions of the Bible have left the word "Nephilim" untranslated.

When the Greek Septuagint was made, "Nephilim" was translated as "gegenes." This word suggests "giants" but actually it has little reference to size or strength. "Gegenes" means "earth born." The same term was used to describe the mythical "Titans" -- being partly of celestial and partly of terrestrial origin.

No evidence exists in Scripture that the offspring of mixed marriages (believers and unbelievers) were giants, excelling in great strength and might. No evidence can be found anywhere in history for that matter. Such an interpretation poses impossible assumptions.

When the word "Nephilim" is used in Numbers 13:33, the question of size and strength is explicit. Here we are left in no doubt as to their superhuman prowess. When Joshua's spies reported back from Canaan, they called certain of the inhabitants of Canaan "giants." "And there we saw the Nephilim, the sons of Anak, which come of the Nephilim, and we were in our own sight as grasshoppers, and so we were in their sight."

Some commentators have speculated that the Nephilim of Numbers 13 belonged to a second eruption of fallen angels, since the earlier Nephilim had been destroyed in the Flood. And they see an allusion to this in Genesis 6:4, where it states that "there were Nephilim in the earth in those days; and also after that, when the sons of God came in unto the daughters of men." Could it be that the "after that" was a reference to the Nephilim found in Canaan during the Israelite entry into the land? If so, it could explain why the Lord commanded the total extermination of the Canaanites, as He had earlier ordered the near annihilation of the human race.

The Book of Isaiah says that the Nephilim and their descendants will not participate in a resurrection as is the portion of ordinary mortals. Isaiah 26:14 reads: "They are dead, they shall not live; they are deceased, they shall not rise." The original Hebrew word translated "deceased" here is the word "Rephaim." It would have saved a lot of misinterpretation if the translators had left the word as it was in the original. The verse actually reads: "Dead, they shall not live; Rephaim, they shall not rise." The Rephaim are generally understood to be one of the branches of the Nephilim, and God's Word makes it clear that they are to partake in no resurrection. But with humans it is different: all humans will be resurrected either to life or to damnation (John 5:28-29).
---
A. The Tribe of Dan
1. Samson
And there was a certain man of Zorah, of the family of the Danites, whose name was Manoah; and his wife was barren, and bare not...And the woman bare a son, and called his name Samson: and the child grew, and the LORD blessed him. Judges 13:2, 24

2. Aholiab
And I, behold, I have given with him Aholiab, the son of Ahisamach, of the tribe of Dan: and in the hearts of all that are wise hearted I have put wisdom, that they may make all that I have commanded thee. The tabernacle of the congregation, and the ark of the testimony, and the mercy seat that is thereupon, and all the furniture of the tabernacle. Exodus 31:6,7

3. Hiram/Huram
And now I have sent a cunning man, endued with understanding, of Huram my father's, The son of a woman of the daughters of Dan, and his father was a man of Tyre, skilful to work in gold, and in silver, in brass, in iron, in stone, and in timber, in purple, in blue, and in fine linen, and in crimson; also to grave any manner of graving, and to find out every device which shall be put to him, with thy cunning men, and with the cunning men of my lord David thy father. II Chronicles 2:13,14

"But neither Athelstan and his son, nor the Comacine Masons, serve to account for one of the most salient aspects of later Freemasonry -- the fact that it contains a major skein of Judaic tradition filtered through Islam. The corpus of legends central to Freemasonry -- including, of course, the building of Solomon's Temple -- derives ultimately from Old Testament material, both canonical and apocryphal, as well as from Judaic and Islamic commentaries upon it. It is worth looking at the most important of these legends -- the murder of Hiram Abiff -- in some detail. The Hiram story is rooted in the context of the Old Testament. It figures in two books, I Kings and II Chronicles." [Baigent, The Temple & The Lodge, p. 124]

B. The Merovingians may be descendants of Dan
"Merovingian geographical place-names and personal names were sometimes Jewish. In the 6th Century a brother of King Clothair was named Samson while Miron "Le Levite" was a count. 'Sion' and 'Le Levite' were Merovingian towns in France. Scholars have even traced Merovingian 'Salic Law' back to Judaic law." [Bradley, p. 179]

"The Merovingian's...tradition of long hair and the name Samson among the Royal House would indicate the descent from Samson and thus the Tribe of Dan." [Bloomer]

"The Merovingian kings...were called the long-haired Monarchs because they placed great value on their long hair and believed that it gave them strength. One wonders whether Samson was a Merovingian ancestor!" [Van Buren, p. 30]

C. Danaus (a Danite?)
1. Arcadians/Spartans are possibly from the Tribe of Dan
"Now, the question remains, how do we know the Spartans were the offspring of the tribe of Dan? ... Aside from the fact that the Spartans wore long hair as a symbol of their power (like Samson) there is a legend written about the son of Belus, king of the Spartans -- in which is given the story of one named 'Danaus,' who arrived in Greece with his daughters by ship. According to the legend, his daughters called themselves Danades. They introduced the cult of the mother goddess, which became the established religion of the Arcadians and developed over the years into the worship of Diana...The Spartans so loved their king that they called themselves Danaans -- long before they adopted the name of Spartans. Also in the legend is a record of the arrival of 'colonists from Palestine.' Please note, the man who headed the expedition was named Danaus. He may well have been of the tribe of Dan, and thus would have been the progenitor of the ancient Spartans." [Church, p. 120-21]

"In Greek myth...[is] the legend of King Belaus, one Danaus, who arrives in Greece with his daughters, by ship. His daughters are said to have introduced the cult of the mother goddess, which became the established cult of the Arcadians. According to Robert Graves the Danaus myth records the arrival in the Peleponnesus of 'colonists from Palestine.' Graves states that King Belus is in fact Baal, or Bel -- or perhaps Belial from the Old Testament." [Baigent, Holy Blood, p. 275]

"At that particular time Arcadia was ruled by Spartans... The Spartans placed a special magical significance on their long hair ...associated with their great strength. There appears to have been a relationship between the Spartans and the Jews. In the Apocryphal we read: 'It has been found in writing concerning the Spartans and the Jews that they are brethren and are of the family of Abraham.' (Maccabees I 12:21)" [Van Buren, p. 45]

2. Celts may be of the Tribe of Dan
"There are certain facts that suggest that the Celts might have derived from a Jewish tradition from the East. The Celtic body of ecclesiastical and civil knowledge was Druidism. Their system can be traced to about 1800 B.C... . It is recorded in 'Welsh Triads' that Hugh Gadarn synthesized the wisdom of the ancients for those whom he led west from...Sumer and Mesopotamia... In 'The Psalter of Cashel' it states that: 'The Tuatha de Danaan' ruled in Ireland for about two centuries, and were highly skilled in architecture and other arts from their long residence in Greece.' The Tuatha de Danaan were the descendants of Danaus, the son of Belus, who went with his fifty daughters to Argos, the home of his ancestrous Io. In Irish legends the Tuatha de Danaan, who were considered to be demi-gods, ...were said to have possessed a ...Grail-like vessel... These teachers of wisdom ... were the founders of the Druidic priesthood." [Van Buren, p. 141-142]
---
Giants of Europe
But the seed of the giants was not destroyed completely. Deep in the depths of the heavily forested strongholds of Europe, the giants began to regroup, and form secretive alliances bound by blood and marriage. Over time, slowly and subtly, the old ways of the giants returned, as they used stealth, secrecy and subversion to slowly take control of the thrones of Europe. And one of the first and boldest of these giants was the infamous Roman emperor, Maximinus Thrax.
Maximinus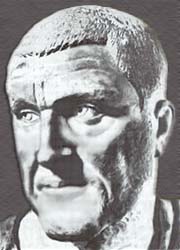 Born in AD 173 into a humble family of Thracian shepherds,
Maximinus proved his giant heritage by growing to the enormous

height of eight feet six inches

tall
. And Maximinus was no victim of pituitary disorder — he proved to be an exceptional athlete, as well as being incredibly strong and swift — and power hungry.
Maximinus was first noticed by Emperor Alexander Severus in AD 202, during a layover in Thrace on his way back from a tour of Asia. As his son's birthday had come around during his time in Thrace, the emperor sponsored some games for the occasion, matching the local Thracians against his Roman retinue. Maximinus then proceeded to defeat sixteen of the emperor's best in wrestling matches and other feats of strength, which so impressed the Romans that they immediately conscripted him for the army. Maximinus even took the bold step of racing against the emperor's horse, keeping pace with the horse even at full gallop. For this and his exceptional wrestling ability, Maximinus was immediately made part of the emperor's personal guard.
Herodian says Alexander's new commander not only stood to a huge height but possessed a frightening look. Statues of Maximinus and coins minted with his image bear this out. Another Roman historian, Julius Capitolinus, described his hands as so large that he used the bracelet of his wife, Caecilia Pauline, for a thumb-ring. The shoes he wore also measured a foot longer than the footwear of other men. Besides the feats of strength already mentioned above, Maximinus reportedly could, with one blow of his fist, knock out a horse's teeth. On occasion he also demonstrated he could outpull a chariot team. Capitolinus says that he daily ate forty pounds of meat and usually drank six gallons of wine.14
Besides Maximinus' exceptional physical abilities, he also had exceptional intellectual abilities, proving to be a superior leader, strategist and tactician. As a result, he rose rapidly up through the ranks, the emperor soon promoting him to the rank of tribune, senator, and even supreme commander of all the armies of Rome. The soldiers were in awe of him due to his extreme competence, diligence and discipline, and they rarely if ever failed under his leadership. As a result, they soon came to prefer him over their own emperor and, in a sudden coup, assassinated Alexander and placed the purple mantle on Maximinus, effectively crowning him emperor.
However, his sudden ascension to emperor brought out Maximinus' limitations, and his dark side. Although grateful to his men for giving him such a great honor, promising them lavish gifts and double pay, he made a critical mistake in not first checking if Rome could in fact afford to pay such an exhorbitant amount. He made another critical mistake by ransacking the treasury, stealing from the wealthy of Rome, and even pillaging the temples of the gods in order to raise the necessary revenues. Maximinus had essentially made the decision to turn Rome's entire economy towards funding the army, in effect turning Rome into a military state, to the exclusion of all else, even going against the gods.
In reaction to rumors of an assassination plot, Maximinus then turned extremely paranoid, killing not only everyone who involved in the plot, but anyone who opposed or offended him in any way. He even killed off those who had been his early supporters, as they knew him before his ascension to emperor and thus knew "too much". As a result, he began to receive the unflattering informal titles of "the Cyclops", "the Busiris", and even "the wild beast". A song was even composed by his own men that spoke of his death. Aware of this and his extreme unpopularity in Rome, and since they had never completely accepted him, the Senate used the excuse of a tax revolt in a distant African province to replace the increasingly unpopular Maximinus with one of their own, Gordian. Enraged by their betrayal and his now certain doom, Maximinus "behaved like a huge, tormented bear. Convulsed with rage, he dashed himself against walls, threw himself on the ground, bellowed, lashed out at his servants, tried to claw his son's eyes out, and finally drank himself into a stupor." He then martialed his forces to put down the tax revolt, but his mutinous army refused and he was finally dispatched by a unit of the Praetorian Guard as he slept.
Maximinus, like all giants, believed himself to be superior to all, including the gods. However, when things had turned against him, his true, beastly nature emerged. Magnifying himself above even the gods of Rome, he attempted to turn the entire economy of Rome towards war, turning Rome itself into a war machine, to the exclusion of all else. Magnifying himself in his own heart, Maximinus attempted to make war against all mankind, and even the gods themselves, but in the end he was cast down and destroyed by his own arrogance — the fate of all giants past, present and future.
Charlemagne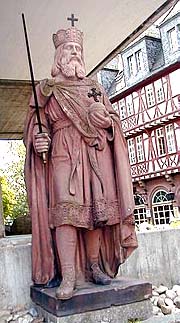 "Charlemagne (Charles the Great) was born on April 2, 742 in Northern Europe. 'By the sword and the cross,' he became master of Western Europe."16 Charlemagne had inherited the kingdom of the Franks, modern France, from his father in AD 768 and then proceeded over the next thirty years building what would remembered by history as "the Holy Roman Empire", which ecompassed at its peak France, Switzerland, Belgium, the Netherlands, half of Italy and Germany, and even parts of Austria and Spain. Unlike his giant cousins, who were pagan through and through, Charlemagne promoted Christianity aggressively throughout his empire, and was even crowned by the Pope himself. His systematic evangelization of the continent of Europe, his enforcement of standard weights and measures throughout the region, and fair treatment of all those in his empire earned him the admiration of all, including those he had conquered. His work to unite Europe formed the basis of the modern European culture.
Charlemagne was a powerful, imposing figure, his height in legend being close to
eight feet
tall, or "
seven times the length of his foot
". He was also a great warrior and athlete, and had a strength like that of Maximinus. "In ballads that contemporaries sang in his praise he was so hardy 'that he would hunt the wild bull single-handed, so strong that he felled and horse and rider with the blow of his fist. He could straighten four horseshoes joined together, and lift with his right hand a fully equipped fighting-man to the level of his head."17 Charlemagne was also of the Merovingian family, of which we will learn more later.
Maximilian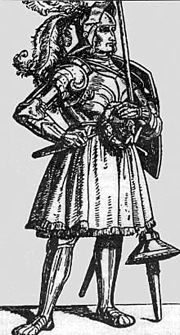 Though Charlemagne represented a brief retreat of the anti-Christian beliefs of the ancient Aryan pagan giants, the old Aryan "master race" philosophy soon returned, in the form of Emperor Maximilian. Maximilian took the rule over the old Holy Roman Empire in 1493, taking the rule by right of descent rather than election, as had been the custom up to that time. Maximilian appears to have been a throwback to the ancient giant Gomerian Cimbri who had proved to be such a challenge for the Romans, a badge that he wore with great pride. Standing at
over eight feet
tall, and having the extraordinary strength and physical attributes that have been the trademark of the giants, Maximilian indeed had reason to be proud.
He was tall, finely formed, with remarkably handsome features,
clear blue eyes
, and
blond hair falling in ringlets
upon his shoulders; he possessed great muscular strength, his body was developed by constant exercise and he was one of the boldest, bravest and most skillful knights of his day. But the giant's daring sometimes bordered on rashness — some described it as almost a madness — as when, for some examples, he 'followed a bear to his den, and fought him there; when he entered the lion's cage, and cowed him down; and, above all, when he chased the chamois and the wild-goat up to the highest peaks of the Tyrolese Alps.' In battle, Maximilian fought courageously. On many occasions, he proved himself to be a resourceful commander too, with a mind 'fertile in new devices and cunning modes of attack.' He also asked nothing of his men he himself would not do. Historians say that he even forged his own armor and tempered his own sword. Perhaps to give his horse a rest, the giant emperor often marched at the head of his men on foot, carrying an oversized lance on his shoulder. He further won the admiration of his soldiers for his ability 'not to be overcome by exertion and privation.'"
Maximilian, like Maximinus, was a typical giant — superior size, strength, intelligence and skill, as well as natural leadership ability and a mind well-suited to warfare. However, there was an innate madness to the giant homo artificialis breed which often manifested itself in a suicidal fury, as shown by Maximilian's barehanded defeat of both a bear and a lion, as well as his hunting down of mountain goats unaided on the slippery slopes of the Tyrolese Alps. Like Og of old, Maximilian was a true giant — a being of great power and beauty, who was also possessed of a dark side. Beautiful yet cruel, the giants considered themselves to be a master race, superior to all other forms of mankind. And inherent to this sense of superiority was a need to prove this superiority, a test that they had been well equipped to fulfill. As such Maximilian, like his giant predecessors from ancient times, held to the racialist theory that they were superior to all other races. DeLoach explains,
Those who profess the Aryan theory hold that the Celtic race, particularly its Germanic branch, is vastly superior to all others. 'Only white peoples, especially the Celtic, possess true courage, love of liberty and the other passions and virtues which distinguish great souls,' proclaimed the German historian Christoph Meiners (1745-1810). Meiners is generally regarded as a founder of this racial theory. Julien-Joseph Virey (1775-1846), a disciple of Meiners, asks: "What would our world be without the Europeans? Powerful nations, a proud and and indomitable race, immortal geniuses in the arts and the sciences, a happy civilization. The European, called by his high destiny to rule the world, which he knows how to illumine with his intelligence and subdue with his courage, is the highest expression of man and at the head of the human race. The others, wretched horde of barbarians, are, so to say, no more than its embryo." In other words, the true Aryans see themselves as "supermen", and they regard "all the other species of men (for there are four or five different kinds) to be naturally inferior to the whites." All these peoples who are not light of skin and blond they classify as "subhumans". Where did such an idea come from? In its earliest written form, the Aryan concept predates both Meiners and Virey. The historian S.H. Steinberg traced it back to the humanistic historiographers who lived during the reign of the Holy Roman Emperor Maximilian I (1493-1519). "It was these forefathers of our contemporary journalists who supplied the copy for Maximilian's anti-French propaganda," he writes. "The French and, in fact, every other nation were, so they argued, inferior to the Germans because of the latter's pride of place in the pedigree of the Western nations: had they not for ancestors the Cimbri who made Rome tremble?... Were the Germans of Maximilian not the sons and heirs of the Lombards who gave their name to Upper Italy, the Franks who established their rule over Gaul, the Angles and Saxons who made themselves masters of Britain?
With Emperor Maximilian came the beginning of the revival of the old Aryan race myth that had been propagated by the Gomerian giants in ancient times. Despite the fact that the Gomerian Celts, Gauls, Germani, and numerous other tribes of the giant descendants of Gomer had been soundly defeated by the homo sapiens Romans, they still held doggedly to the belief that they were superior to all other forms of mankind. This belief has survived even into modern times until it came to fruition again in the 20th century, in Hitler's Germany, where Hitler once again attempted to revive the ancient herrenvolk, or "master race" of the Germani
-----------------------------------------------------------------------------------------------------------------------------Deuteronomy 2:20
(That also was accounted a land of giants: giants dwelt therein in old time; and the Ammonites call them Zamzummims;
hebrew source
20 That also is accounted a land of Rephaim: Rephaim dwelt therein aforetime; but the Ammonites call them Zamzummim,
---
---
1. The Archaeological History of Neanderthal Finds

In 1856 workers in the Neander Valley near Duesseldorf, Germany uncovered a skull and bones. The skull was unlike anything seen before, with a flattened cranium with a heavy ridge above very large eye sockets. Nearby, workers also uncovered an assortment of thick and heavily fossilized bones. In succeeding years many further specimens were found, not only in the German Neander Valley, but in France, Italy, Iraq and Israel.

Controversy surrounded the interpretation of these fossils. Initially a German Anatomist Rudolf Virchow examined the first discovery and concluded they were Homo sapien with rickets, caused by a deficiency of vitamin D. He considered that the flattened head was caused by repeated powerful blows (his examination was done pre Darwinism 1859 ).

When more finds came to light with what also appeared to be rickets, it was considered far too much of a coincidence and for lack of any other explanation they became relegated to a sub-human category. The French paleontologist Marcellin Boule, concluded Neanderthals walked stooped forward which fitted in with the then new current thinking of Darwin's evolutionary theory of the origin of man (the new assumptions were made post Darwinism 1859). For the next fifty years this created the popular image of an ape-man intermediary to man. Science thought it had the conclusive evidence it badly needed showing the missing stage between ape and man.

Over one hundred years after first being found Boule's skeleton was re-examined in 1957 and it was now determined that Neanderthals walked upright and that the stooped posture suggested by Boule's skeleton was caused by arthritis. More evidence from various caves and digs have shown that Neanderthals wielded tools and weapons, wore ornaments, had cultural and religious rites, ceremoniously burying their dead.



2. The Neanderthal Brain Size

The greatest enigma found with Neanderthal is their brain size, which is more than 13% larger than our own brain size. The average Neanderthal brain measured 1,500 milliliters in volume compared to less than 1,400 milliliters for humans current worldwide average. This brain size allowed for large cerebral hemispheres. Neanderthals were intelligent thinkers. Yet they left almost no permanent record of their presumed intelligence or culture. Some say he could walk the streets today in a suit collar and tie and be unrecognised, well maybe in New York, but about as unrecognisable as the incredible hulk without his green paint, would be a fairer reflection. Yet today study books continue to be full of illustrations of Neanderthals as subhuman ape-men. Out of date TV documentaries go on wrongly depicting Neanderthals as the evolutionary ape-man link.



3. The Physical Features of Neanderthal

Neanderthals were physically very strong and unquestionably tough, a physically impressive race. Males averaged about 1m 75 cm; females 1m 60 cm, Neanderthals were considerably stronger and tougher. Their joints, were larger; their bones thicker. The fossils indicate they were substantially more muscled including the children. Neanderthal fossils lack the predominant chin of humans and a last set of molars. They had well muscled chests, long bodies, with shorter legs. Some fossil specimens (not all), have hip sockets more splayed than modern humans. The size of the skull eye sockets would have carried very large eyes.

Through examining the attachment points at which muscle binds to their bones it has been illustrated that their calves and biceps were extremely well developed as well as their pectoral chest and back muscles. A Neanderthal, because of this greater muscle mass, would weigh some ten kilos more than a modern human of equivalent height. They were regular Mr Universes.



4. Neanderthals Possessed Advanced Skills

Neanderthals used fire for heating, cooking and manufacturing. They probably crafted leather and fur garments of various types. Had a relatively advanced tool and weapon making culture manufacturing a large variety of finely-edged, sophisticated flint tools and weapons. This industry is characterised by the many tool types found, including spear points, stone lances and wooden spears with fire hardened points. Neanderthals made these different types of implements, for both "military" and domestic use, it provides evidence of their ability to plan, think and scheme.



5. Their Language

Almost certainly, the Neanderthal race possessed advanced language. Fossil remains indicate Neanderthal voice boxes were capable of making the same sounds as modern humans. As they lived alongside humans it is reasonable to conclude they spoke the same language or if not learned to speak it becoming bi-lingual.



6. Their Command and Appreciation of Music

In a cave in Slovenia Yugoslavia, archaeologists consider they have unearthed the world's oldest true musical instrument, a flute which appears to have been made by Neanderthals. Broken at both ends, the 12 cm long instrument is made out of the leg bone of a young bear still retaining its four finger holes. Apart from being considered the oldest musical instrument in the world, this flute's greatest significance lies in its association with Neanderthal man's ability to produce music, and make musical instruments. The Neanderthal race would have composed music, sung to it and probably danced to it no differently than humans today. The ability to create music on a multiple note instrument reveals evidence of imagination and abstract thought. It would therefore be reasonable to conclude that these same qualities would have also been put to use in other skills such as reading and writing.



7. Neanderthal Culture

There is evidence indicating that Neanderthals possessed a sense of community spirit by performing ritual burials and caring for the old and sick. Remains of several physically impaired individuals have been uncovered. Some recovered skeletons display old, healed injuries suggesting their wounds or injuries were treated and cared for. In a cave in Iraq, archaeologists uncovered skeletons of a man, two women and an infant buried together in soil containing pollen of flowers. The flowers, being set there by survivors, strongly suggests that Neanderthals thought and cared for their dead.

Analysis of the sediment pollen concentrated in batches, implied that possible bunches of flowers had been placed on the grave. Closer examination of the pollen enabled scientists to identify many flowers that were present, all of which had some therapeutic properties. Were they part of an aromatic preparation, a kind of pot-pourri for the dead, or perfumed oils used in ointment preparations? If so an appreciation of the cosmetic appearance of flowers and perfumed fragrances existed, much the same as today with our embalming of the body with fragrances and the use of flowers at funerals. These flowers also testify to the warm climate and abundant floral varieties availability at the time.



8. Neanderthal Burial Tombs

It is possible Neanderthals chose certain caves to use as burial 'tombs' this would account for the fact that so many of the remains of Neanderthals have been found buried in caves. This practice would be similar to more recent human cultures who in certain parts of the world used memorial tombs often carved out of the inside of a natural caves using a stone rolled in front of the entrance to seal shut the tomb cave.

Evidence showing Neanderthal skeletons buried in excavated graves in the ground suggests concern over the concepts of life and death. Value being placed on the dead person, funerals being a part of the social and psychological practices for dealing with death.



9. Neanderthals Exercised Abstract Thinking Concepts

Neanderthals show signs of being a social race in which the old and the injured were taken care of instead of simply left to die. Individuals of well advanced years, have been found supporting the idea that they exercised "humanity" the exercise of mental thought principles over physical actions. Religion is a characteristic of the human species. In order to have religion, one must be capable of abstract thought and reasoning. Without such abilities, the concepts of life and death or a G-d could not be imagined. It appears the Neanderthal race possessed some of these attributes.

Unlike humans however, there is evidence presented by the scientists that the male/female role interplay as practised by humans in family activity was not carried out by Neanderthals. There is no evidence of couples or family oriented activities among Neanderthals such as taking meals together. This stands out in contrast to their closeness in so many other ways to humans.



10. Cruel Warriors

There is evidence however that Neanderthals were cruel warriors and fighters suffering and inflicting battle wounds, mutilations, torture and maiming, they may also have practiced cannibalism. In France Archaeologists uncovered 2 fragments of leg bones and 3 arm bones. Some scientists believe that these bones show signs of being fractured while still fresh. Another Neanderthal site containing human bone fragments shows signs of cuts and burns. The presence of burns on the bones is significant since no animal, other than humans, makes deliberate use of fire. These burnt and intentionally broken human bones have been interpreted as being evidence of some form of cannibalism. They could equally be evidence of torture and or mutilation by dismemberment as has often been the case within certain human cultures who engage in cruel battle blood lust.



11. Neanderthals Lived Side By Side With Humans

Researchers working in caves in Israel have unearthed skeletons of both Neanderthals and modern humans. These Neanderthal remains have been dated back some 60,000 years (see following information on dating); the accompanying "modern" humans skeletons back 92,000 years.

If the dates are correct, modern type humans were around for a long time 'before' the Neanderthals appeared. After they did arrive on the scene "modern humans" appear to have coexisted with Neanderthals, sharing living space together with them for some time, until they the Neanderthals went extinct. Although it appears that Neanderthals and modern humans were contemporary, inhabiting the same geographic areas and living space Neanderthals did not interbreed with humans.



12. Scientists' Dating for the Extinction of the Neanderthal Race

There is evidence that both 'human types' exchanged ideas, at least in how to make tools. As a result, the idea that Homo Neanderthalensis directly evolved into Homo sapiens now seems wildly improbable.

According to present scientific thinking the fossil record of Neanderthals abruptly ends about 30,000 to 35,000 years ago (see following information on dating). After this time only Homo Sapiens dominate the scene. Researchers make the comment that "Why Neanderthals suddenly went extinct is a topic of much question we may never know the true reason."

Radiocarbon analysis puts the later Neanderthal sites as being c 32,500 years old. So some 32,000 years ago, Neanderthals disappeared completely they simply vanished for no clear reason.

Today Neanderthal is classified as totally human – Homo sapiens humankind. What happened to them? Some scientist theorise that the Homo sapien race; 'us humans', killed off the Neanderthal race. So did a physically and mental inferior race; humans (Homo sapiens) exterminate a physically and mentally superior race Neanderthals?? Logic dictates that if one race extinguished the other, the Neanderthal race with their superior strength and mental abilities should have exterminate the inferior human race.

This, of course, is the ultimate question, one that continues to divide and baffle experts, one I shall endeavour to provide rational explanations for in this paper, covering all the above criteria.



13. How Science Determines Neanderthal Dating

The scientists as we have seen date the period of the Neanderthals to end 32,500 years ago. How do they arrive at this date what scientific processes do they use to come to this conclusion. Well surprisingly as it may seem it is all based on 'relative' methods "guess work". Ridiculous! Have a look at the facts. When we do we are faced with an unusual situation that exists no where else in the sciences.

The scientists have created a theoretic "geological column chart" on which the theory of evolution is hung. The most recent chart, now used in most museums and universities is that drawn up by Van Eysinga in 1975. This chart covers some 600 million years dividing time into periods, ie. Cretaceous 65 to 140 million year ago; Jurassic 140 to 195 million years ago etc etc. The complete chart cannot be found in nature, it is imaginary pieced together from various inter-related strata from all over the world. The vast time periods that have been allocated in the chart to facilitate the slow burying of fossils which formed the sedimentary rock layers cannot be proved or illustrated in any deposits being formed today it is all calculated and based on estimated guess work.

When a geologist has difficulty dating a rock stratum he requests the evolutionists opinion on the date of the fossils the rock contains, this then becomes its 'established' age date. When an evolutionist has difficulty dating a fossil he requests the geologists opinion on the age of the rock containing the fossil which then becomes its 'accepted' age date. A case of two theories being cross referenced in order to establish a so called fact??



14. Using the Carbon Dating Clock (C14)

Technically the carbon dating process is very accurate, making precise calculations according to a set formula. The clock itself works very well; like a stop watch with meticulously manufactured cogs and wheels. The problems come with the set up data fed into it, unless the calibrations are realistic and accurate the clock is no good. For example if an extremely accurate clock is set to the wrong time to start with no matter how accurate it is, the time it shows will always be wrong. Or if a clock has its mechanism set to a 25 hour day calibration with accuracy down to one thousandth of a second, the time it shows will always be useless to its owner.

So how has the important Carbon dating clock been set for dating Neanderthal man? We shall examine the evidence which shows that this C14 dating process as it is presently calibrated, is only good for dating things back 2-3,000 years.

Scientists claim they have accurately calculated the age of Neanderthal bones by using this Radio Carbon C14 method. C14 is a type of carbon formed in the upper atmosphere when cosmic radiation particles bombard it. It forms radioactive carbon dioxide and from the atmosphere in minute quantities through photosynthesis passes into plants and animals and so is absorbed by all living things along the food chain. Natural carbon C12 is also present in all living things but in much greater quantity. The ratio of C12 to its minute cousin C14 is constant in all living things (today one C12 atom to one billion C14 atoms).

The scientists have accepted the assumption that C14 has been forming in the atmosphere constantly and continually for millions of years and that its build up which they calculate would have taken 30,000 years has reached its constant saturation point (the radiocarbon reservoir) and that as much C14 is now decaying as is being formed. C14 absorbed into any living thing during its life time starts to decay once it dies. Half its amount of C14 decays away in about 5,700 years, half of the remaining half decays away in a further 5,700 years and so on until immeasurably small. Once a plant or animal dies it stops taking in C14 and it starts to decay at the above rate while C12 stays the same.
---
In 1766 the Dolphin, a ship commanded by Commodore John Byron (nicknamed "Foul-Weather Jack" and grandfather of the poet Byron) returned to London from circumnavigating the globe. While it lay in dock, a rumor leaked out that the crew of the Dolphin had encountered a tribe of nine-foot giants in Patagonia, South America. This rumor first appeared in print on May 9, 1766 in the Gentleman's Magazine. Other newspapers, such as the London Chronicle, then picked up the story.

The rumor soon gained widespread acceptance. Its credibility was helped by the fact that it built upon a large number of earlier accounts of Patagonian giants. For instance, Antonio Pigafetta, who sailed with Magellan in the 1520s, had written of an encounter with a race of South American giants. According to Pigafetta, Magellan referred to these giants as 'Patagons' because of their big feet, and so the southern tip of South America came to be known as Patagonia.

In 1578, Sir Francis Drake's ship chaplain, Francis Fletcher, also wrote a manuscript that described meeting very tall Patagonians. In the 1590s, Anthonie Knivet, who had sailed with Sir Thomas Cavendish, claimed that he had seen dead bodies in Patagonia measuring over twelve feet in length.

A long-running scientific debate also gave fuel to the rumors of a race of South American giants. The great French natural philosopher, Georges-Louis Leclerc, Comte de Buffon (1707-1788) had argued that animals and plants of the New World were small and degenerate in comparison to their European counterparts (this was before Europeans had done much exploring in the Americas). Buffon's opponents seized upon and promoted the rumors of South American giants in order to prove Buffon's theory of New World degeneracy wrong.
---
Related topics

Replies
Views

Last post