Bes statue from Egypt in the Musée du Louvre, Paris....Bes statue from Amanthus (Cyprus) in the Istanbul Archaeological Museums
---
Close up of necklace (showing Bes). Silver. From Meroe. Harvard University-MFA Boston Exhibition. Khartoum, National Museum. Source: Wildung, Dietrich. Sudan: Ancient Kingdoms of the Nile.
Vase in the form of Bes
Vase in the form of Bes
Attribution: that_james Vase in the form of Bes is one of several idiosyncratic artefacts depicting the unconventional dwarf god. Here he is depicted sitting down, balancing his weight on his enormous pot belly. Both of his hands clench the remnants of what used to be metal snakes. Though it does not look like a vase, and was most probably intended for decoration, there is a thick, flat rim above Bes's head.
The vase is made of pale green faience, with several features decorated with inlaid stone and glass; Bes's protruding tongue is a red stone, while his eyes -- now missing -- were once of black glass.
---
This Bes was a very important figure to have so many depictions of him...I wonder how a little person could gain so much attention?
---
I need some feedback people...This "Character" need's more investigation into his origins!
---
i forgot about this post.
Excellent job, ill look into it.

Really interesting.
warløckmitbladderinfection wrote:blasphemous new gehenna inhabitant makes god sad...
---
Faience kohl pot in the form of the god Bes. Note the pendulous breasts and leonine features, including ears, mane and tail. Musée du Louvre N 4469.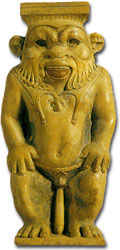 God Bes in the Efes Museum in Selcuk. No special effects. (Location: Selcuk)
---
Standing Figure of Bes, part of the Brooklyn Museum's exhibition of Egyptian artifacts called To Live Forever, February 12-May 2, 2010
Berlin, Germany: Altes Museum: God Bes (who protects pregnant women and newborn babies) (Egypt, 650-350 BC)
---
Making up for something else?
Master Raphael wrote:what you call the law of attraction was missing a vital aspect to the theory that I call the law of repulsion ...it is clear I drove the two of you together...using my repulsion not attraction
---
Some things just don't add up
---
Somethings dont add up??? How about ALOT of things do not add up? The farce has gone on long enough, the veil must be lifted so we can see.
Master Raphael wrote:what you call the law of attraction was missing a vital aspect to the theory that I call the law of repulsion ...it is clear I drove the two of you together...using my repulsion not attraction
---
Related topics

Replies
Views

Last post