---
althought im not a big fan of we come from apes its a very good vid
---
take away the hair and its amazing how much we look alike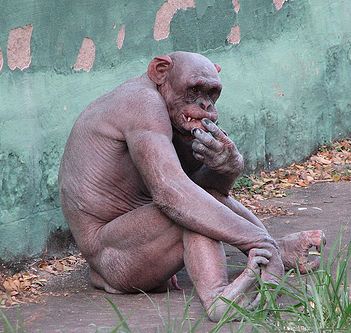 ---
Posts: 20363
Joined: Thu Jul 22, 2010 3:20 am
Location: ....at the Shady Rest Hotel
zangazanga75 wrote:take away the hair and its amazing how much we look alike
.
....again..?....you are easily amazed , aren't you..?
.
.
...intolerance will not be tolerated...
.
---
zangazanga75 wrote:take away the hair and its amazing how much we look alike
You may look like that ahaha ,have you researched why this poor wee crater has no furr?
In a wee tribe ,these delightful being's can

feel every heartbeat of each other.




Nice thread though.
Last edited by
Malogg
on Tue Dec 18, 2012 10:56 pm, edited 2 times in total.
---
i remember reading about that female awhile back but i dont remember what she had exactly
---
---
it was a male...... i read this a long time ago, thanks for that
---
Ufosarus wrote:althought im not a big fan of we come from apes its a very good vid
Wait a minute---how could we have come from the apes? The apes are still here.
---
Posts: 464
Joined: Mon Oct 26, 2009 12:33 am
Location: USA
Have you guys ever seen this freaky video?



---
Related topics

Replies
Views

Last post