Has to be one of the strangest close encounter stories I've come across
Enjoy
Eagle River Close Encounter (man given 'pancakes' by UFO occupants)
Wisconsin 's strangest close encounter of the third kind must surely be the incident during which Joe Simonton was given three pancakes by "Italian-looking" aliens.
A close encounter of the third kind is an actual meeting between humans and extraterrestrials, and Simonton's is easily the state's best known. Despite the unlikely manner in which the story unfolded, the episode survived a rigorous assessment by the U.S. Air Force and is carried in their files as "unexplained."
In 1961, Joe Simonton was a plumber; auctioneer and Santa Claus - annually, for the Eagle River Chamber of Commerce. He reported his age as 55 or 60, depending on the interviewer: At 11 a.m., April 18, Simonton was having a late breakfast when he heard a sound like that of a jet being throttled back, something like the sound of "knobby tires on wet pavement." He went into the yard and saw a flying saucer drop out of the sky and hover over his farm. It was silver and "brighter than chrome," 12 feet in height and 30 feet in diameter. On one edge were what appeared to be exhaust pipes, 6 or 7 inches in diameter.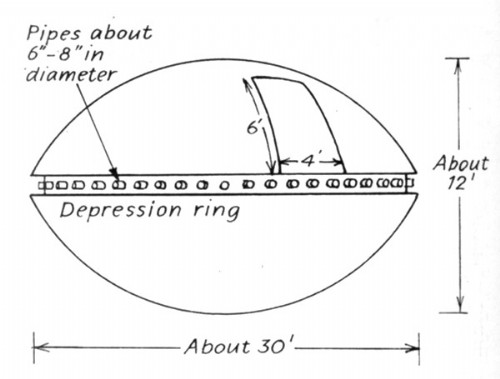 Sketch of the UFO, based on a drawing supplied by Joe Simonton.
The disc landed and a hatch opened. Inside were three dark-skinned aliens, each about 5 feet tall and weighing about 125 pounds. They appeared to be between 25 and 30 years old and were dressed in dark blue or black knit uniforms with turtleneck tops, and helmet-like caps. They were clean-shaven, Simonton said, and "Italian-looking."
The aliens did not speak in his presence, but they had a silvery jug with two handles, heavier than aluminum but lighter than steel, about a foot high. It seemed to be made out of the same material as the craft. Simonton said it was "a beautiful thing, a Thermos jug-like bottle quite unlike any jug I have ever seen here [on Earth]."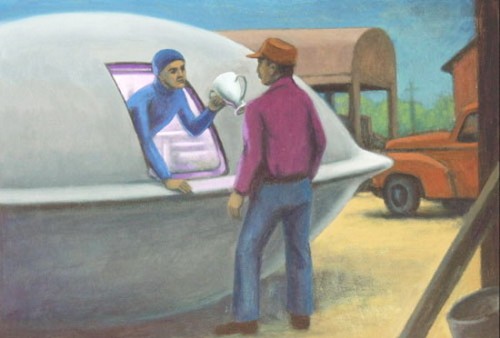 Artist's impression of the Eagle River encounter, by Michael Buhler.
Through ESP or something, Simonton got the idea that the aliens wanted water. He left the visitors, filled the jug from the water pump in his basement, then returned to the craft and gave the jug back. To do this, he had to brace himself against the UFO's hull and stretch up. From the subsequent Air Force report: "Looking into the [saucer] he saw a man 'cooking' on some kind of flameless cooking appliance." The alien was preparing pancakes.
The interior of the UFO was dull black, even the three "extremely beautiful" instrument panels, and had the appearance of wrought iron. The contrast between the dark interior and shiny exterior so fascinated Simonton that he later said that he "would love to have a room painted in the same way."
In return for the water, one of the aliens - the only one with narrow red trim on his trousers - presented Simonton with three of the pancakes, hot from the griddle. As he did so, the alien touched his own forehead, apparently a salute in thanks to Simonton for his help. Simonton saluted back. Each of the pancakes was roughly 3 inches in diameter and perforated with small holes.
The head alien then connected a line or belt to a hook in his clothing and the hatch closed. The saucer rose about 20 feet and took off to the south, at a 45-degree angle. Its wake left a blast of air that tossed the tops of nearby pine trees. The craft took only two seconds to disappear from view.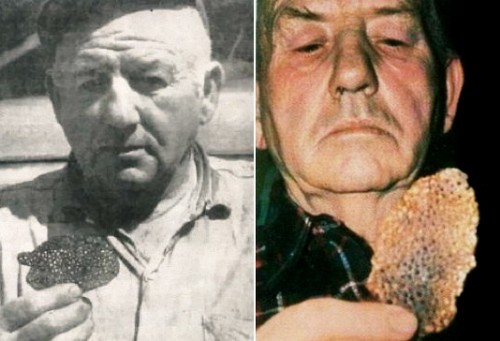 Two photographs of Joe Simonton with one of the "alien pancakes". (source of first photo: Vilas County News-Review, April 27, 1961)
Continue Reading
http://www.ufoevidence.org/cases/case708.htm
---
Nice. First time I've heard of this incident. Pancakes? Hell of a long way to come for delivery, non?
I tell you once, I tell you three times, don't make me tell you twice!!!
"Sober Quebecer"
---
Posts: 3624
Joined: Thu Oct 28, 2010 7:43 pm
Location: Avin a barbecue on Mercury
What no syrup, came half way across the cosmos and forgot the bloody syrup
We live a one directional life in an omnidirectional existence

---
Phoenix rising wrote:What no syrup, came half way across the cosmos and forgot the bloody syrup
I tell you once, I tell you three times, don't make me tell you twice!!!
"Sober Quebecer"
---
Related topics

Replies
Views

Last post