@iwanaci: Here's aformmation that to my knowledge has not yet been decoded:
[img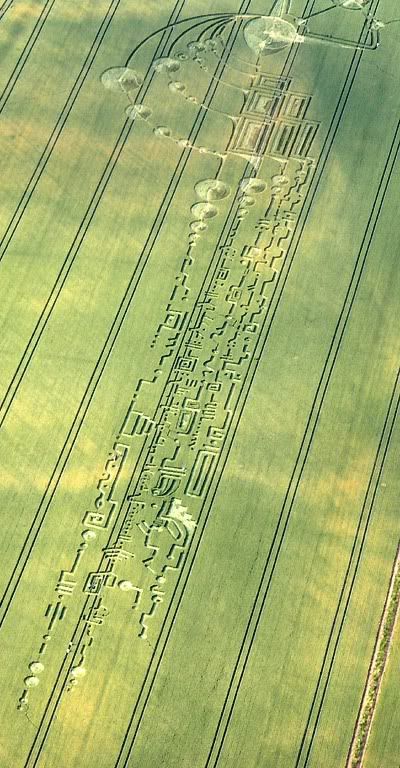 ][/img]
Consider these ideas: What form of communication can you imagine that humans won't immediately be suspicious of as being hoaxed? No electromagnetic format, given today's capabilities of photoshop and CGI can realiably be accepted as true. Several mass UFO sightings have occured around the world, the most convincing to me being the Phoenix lights of 1997. What was the official response? Military test flares...What was humanity's response to Orson Well's radio broadcast of War of the Worlds in 1938? There was actual mass panic among the citizens all along the Eastern seaboard of the United States. How does the media portray the appearance and intent of actual alien craft? Think about Independence Day, District 9, etc...the public has been conditioned to think of such events as the threat of extermination. Think about the reaction of humans to the presence of a landed craft as portrayed in the 1953 movie The Earth Stood Still. An excellent movie for the thinking man in my opinion--one you should watch if you haven't. In this movie there was an immediate military attack.
ET, to be here defines an intelligence beyond that of humanity. Therefore it is ridiculous to assume that they will think like humans and do things the way we think they OUGHT to. This is extemely simplisitic and limited thinking.
For few generations, I'm sure people went to their graves still believing the world was flat even after Magellan's circumnavigation of the globe was completed in 1522. I realize there are people like you on earth today who will never accept the truth of crop circles as a manifestation of communication from an advanced non-human intelligence. The evidence for such is overwhelming for the intelligent, open-minded and well- informed; thus the debate rages to bring the unconvinced up to speed. Sorry you are in that group. For others, who have a more flexible mind we press on- presenting the evidence.
Consider this too, could you leave your job and devote yourself to landscape art from which you can neither derive financial gain or artisitc recognition, year after year, with complex works of immaculate execution for at least the last 30 years? 10,000 formations in at least 30 countries in the last 30 years? No compensation, no recognition? Don't get me wrong there are certainly human circle makers, and Team Circlemakers is a well known human circlemaking organization. Who funds them? Richard Hall has substantial evidence they are funded by the British government agency MI5. Why?
---
Bump for iwanci, want to make sure you see this, and interested in your reply
---
Cognoscenti I will reply to your question with one simple one in kind. And please do not get offended.


Where exactly is your proof of anything that you have written?


Photos you see on the internet do not (in my simplistic mind as you say) amount to evidence.


Now, what YOU say makes as little sense as what you state that I say.... you are saying that people need to give up their jobs and dedicate their lives ful time to landscape art? Really? One person you think? or could their be a lot of people globally treating this in a similar way to grafiti artists, the outsider never knows who is tagging, but amongst themselves they are aware.

Also, please show me (us) 10,000 crop circle photos, and state the countries and locations for me.

Show me this my friend and you may actually achieve something, you may actually become convincing.

Don't get me wrong, I would LOVE to know that ET's were responsible for all this, it would not only enlighten me, but it would actually vindicate me in so many ways. However, what my eyes don't see needs questioning, and then again may also still be incorrect.


So... yes please, convert me my freind... show me the proof.

Nice pic btw, where was that one taken, when exactly, who discovered it and how? Do you have other photos of the same circle from different angles, or perhaps one taken from the ground? Could you also see if you can find one with some point of reference in it, so we can compare and size it?

I will wait, so take your time.....
Fortes fortuna iuvat
---
@ iwanci. You have taken an important step in becoming open minded about the truth. Obviously I cannot post 10,000 images of all the reported formations, and photos of all lof them do not exist but there are some large databases. I have had a geat deal of trouble posting any images, and I hope there is an easier way. You can go to
http://www.cropcircleconnector.com
to see all the latest images including ground shots, but you will have to join the site to be able to access the archives of images including the very important but not often seen ground shots which show the intricacy of lay.
The formation I posted above was appeared below Milk Hill alton Barnes Wiltshire on June 21 2009.
Here is one image of the end of one of the long "data strings".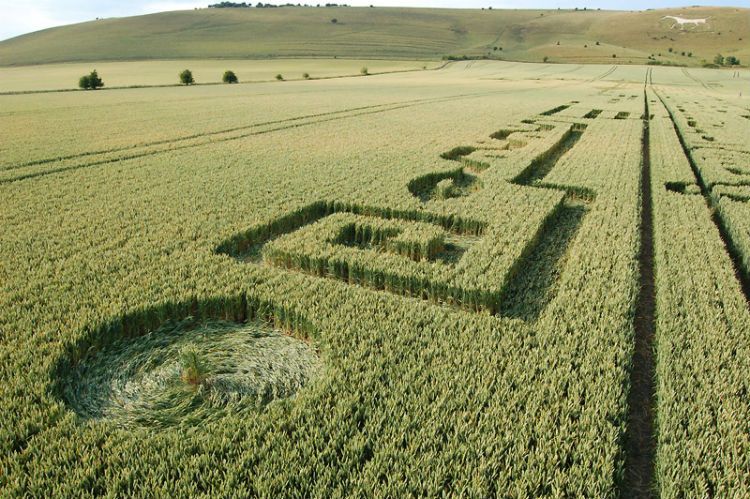 ---
@ inwaci; I think you misunderstand my point about being a human crop circle artist. The conceptualization, design, and the production of the dozens of complex formations that appear in the fields each year would necessarily be quite time consuming, and have to be carried out at night to avoid detection. How many people have the time and energy and effort to invest in such an effort? Could you engage in such an enterprise which grants no financial compenstaion and no artistic recognition and still go to your day job day in and day out? Again, don't get me wrong some crop formations are being made by people but most certainly a significant proportion of them are not, recognizable by such features as multiple layering in different directions, bent plant stem nodes, etc.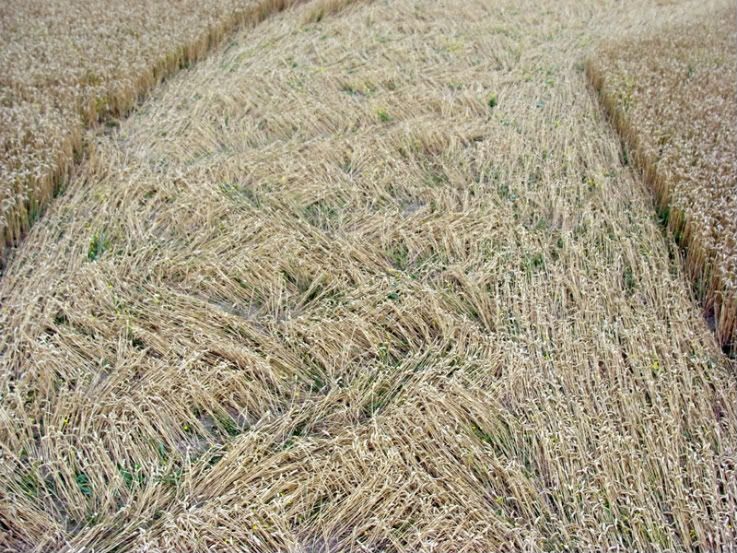 ---
Posts: 472
Joined: Fri Nov 05, 2010 11:07 pm
It seems this one took more than a day, just showing what I saw.
"There was madness in any direction, at any hour. You could strike sparks anywhere. There was a fantastic universal sense that whatever we were doing was right, that we were winning"
---
Posts: 10609
Joined: Sun Mar 22, 2009 10:11 pm
Switchtrip wrote:It seems this one took more than a day, just showing what I saw.
I can interpret this one.
It shows the monkeys that were supposed to fly out of my ass today.
Dirty, lying sylphs...
Where's the beer and when do I get paid?
- Jimmy Carl Black (the Indian of the group)
---
To answer your question.... YES, there are many people who create art who do NOT have a full time job and they dedicate most if not all of their time to their passion, more than often they live a meek existence with the help of friends and social welfare. Surprisingly enough, they also seem to be able to afford holidays; ie; travel. I know this to be true because I have many such friends. Many artists' work go unrecognised (like wall art, tag art etc), and these artists spend vast amounts of their time and no one is ever the wiser about who created the work, however, if you are in the circle you will know by a sign who it was, the vast majority of people will never know. This is true of many artists.
In terms of 'complex' shapes? This is all relative. I am a pathetic drawer for example, so show me a quality painting and I will ogle it in amazement, show the same painting to an artist and they will copy it in no time with ease. Circles and squares and lines are NOT complex, on the opposite, they are the most basic of shapes.. sure slap them together and imagine a 'design' and you have the semblance of intelligence, but this too is all relative. If I was to draw you a circle, you would think of it as simplistic.. but if a monkey drew you a circle, you would be amazed. The same is true for the medium and size, if I draw a circle on paper, basic and boring, if I cut a circle in my lawn at home it would be quite fun, if I cut a circle 100 times bigger in a field and you could only see it from a satellite, wow amazing.. the reality is that it is always the same thing, a circle, nothing fancy.
The 'time' it takes for these things to 'appear' is also questionable. How long exactly do they take? I do not believe I have ever seen/read anything from any credible witness who has seen these formations appear and documented the time or better again recorded them being formed. Amazing how they almost always seem to just 'be there' the next day. And who discovers them? The farmer? The land owner? How do you know that they are not seeking publicity, or that they have not colluded with the artist in some form? Simple truth... You do not know.
Now, show me my 10,000 crop pictures. But you cannot, because you will never find 10,000 pictures of crop circles, they do not exist. Since there are dozens created each day? You should have no problem finding at least dozens say per month? So that equates to around 300 odd per year? Times say 10 years? About 3000 of them? Forget 10,000 photos, show me 1000 of them, with respective detail. You will not find them. It is like any other conspiracy my friend, it is a conspiracy! It ceases being a conspiracy when it becomes a fact, and that requires something called 'proof', which you will never find. But there you have my challenge.. find it and convert me, be the first.
Now, why don't these intelligent 'ET's' appear during the day at a football field when a match is on and cut out some pretty picture in front of people? Too shy ya think?
Or what about they do it on the White House lawn? You think they would be conscious of the security cameras?
Or is the real reason for all of this just too simplistic?; Ie, maybe, just maybe, some people are going to great lengths to create these just to cause a stir and just to keep the mysticism and conspiracy alive... too easy?
Why keep it simple when you can complicate it?
As for me taking my 'first' step to an open mind?? You will find through your travels that just as you think you know something, you will be proven wrong, the truth in life is often in the contradiction my friend, your mind is open? Or is it just simply closed from the opposite side? The door swings both ways.
Fortes fortuna iuvat
---
@iwanci, The figure for 10,000 formations worldwide ver the last 30 years is commonly reported, but you are correct it is probably an overestimate, see here:
http://ccdb.cropcircleresearch.com/index.cgi
Below is the crop formation created by Team Circlemakers for theNational Geographic documentary. Superficially, it looks pretty good, but notice these things: All of the elements are simple circles whose origin is at the geometric center. It is easy to see the concentric bands of "stomping, and it is easyto see the regular spacing of the forward motion of the stomp marks. Additionally there is a good trail in the immediate vicinity from which the location was easily accessible.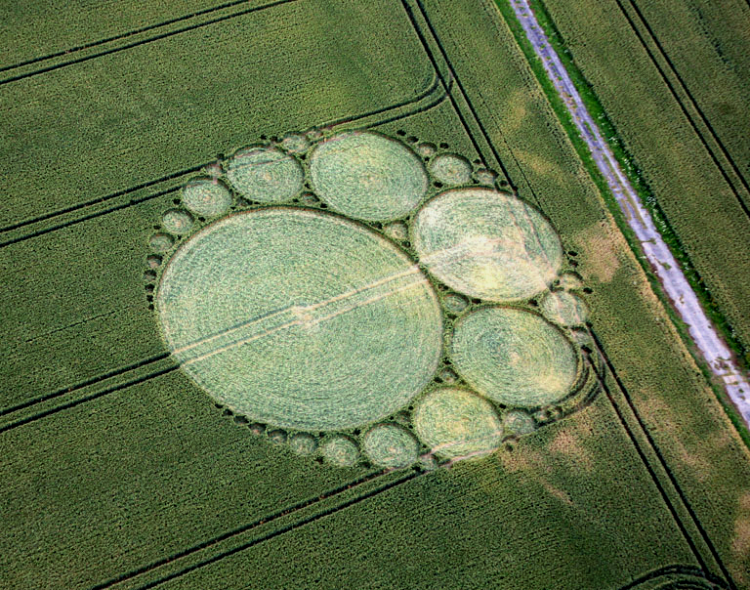 Here is the crop circle from yesterday in Wiltshire . Notice the intricacy of the ground lay. Better ground shots yet to come will display this even clearer, and further below are other examples of fluid ground lay,d multilayering and other exotic effects seen in paranormal formations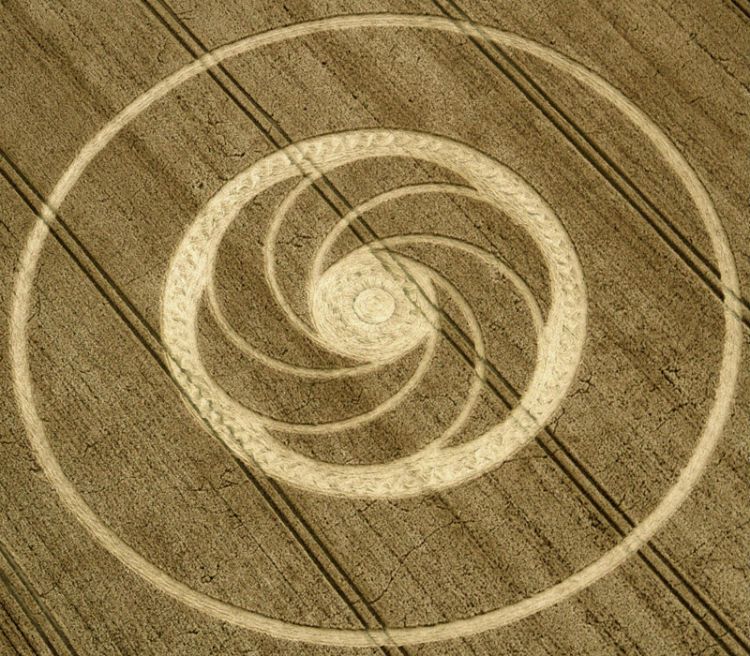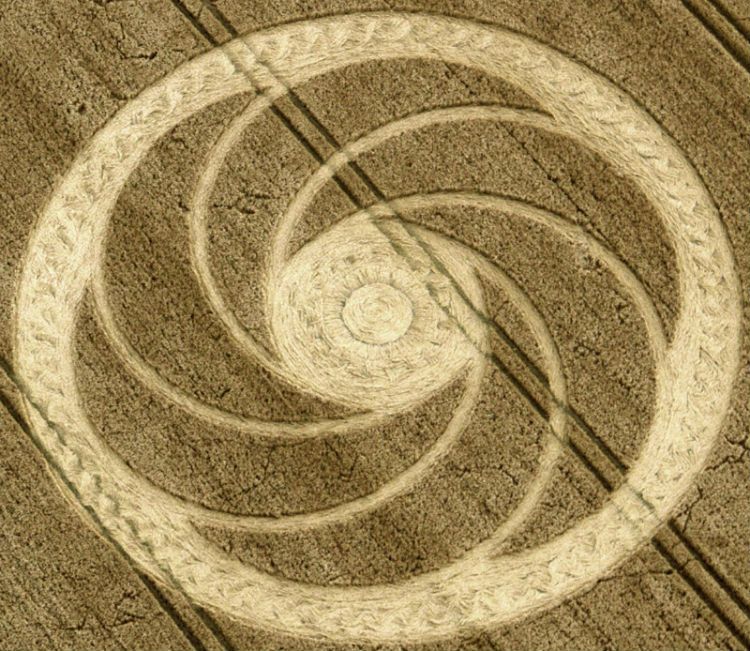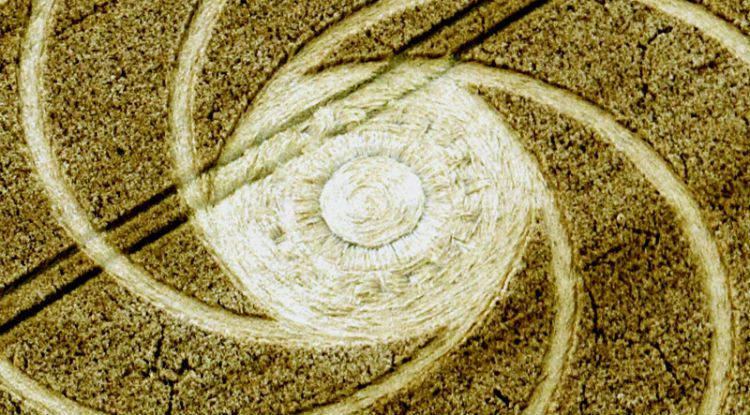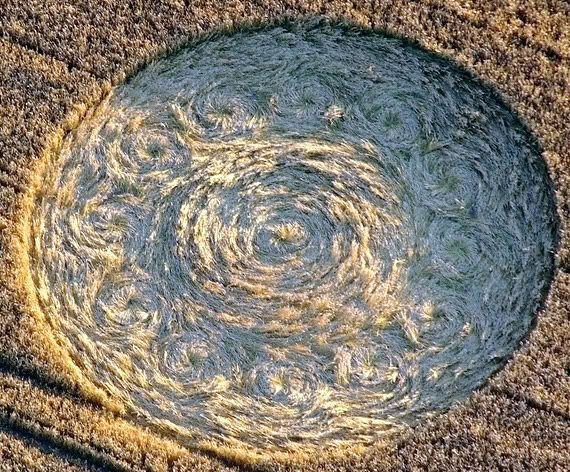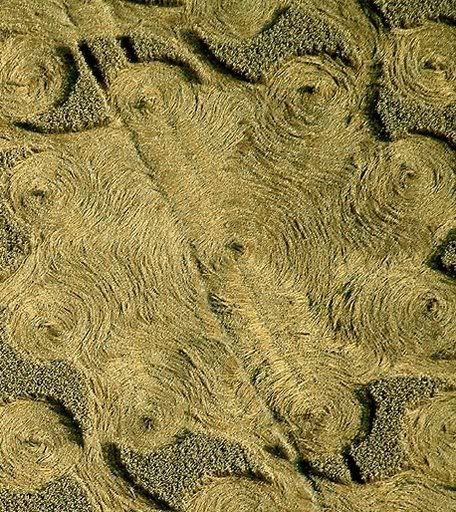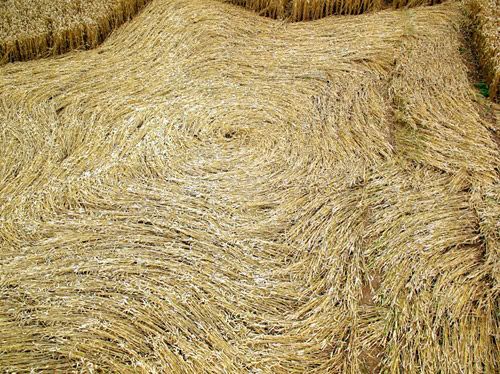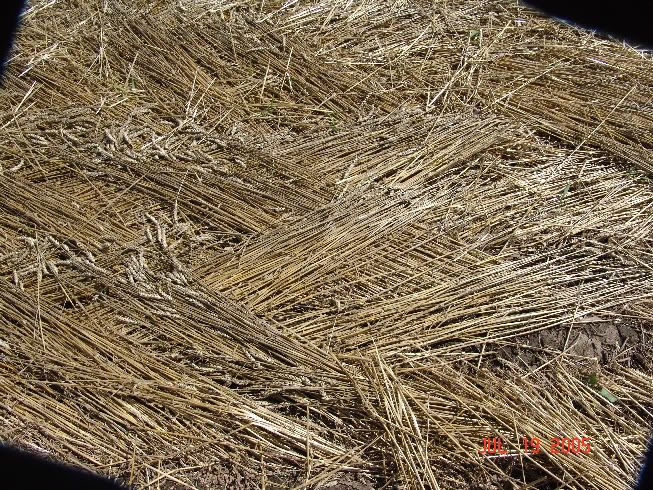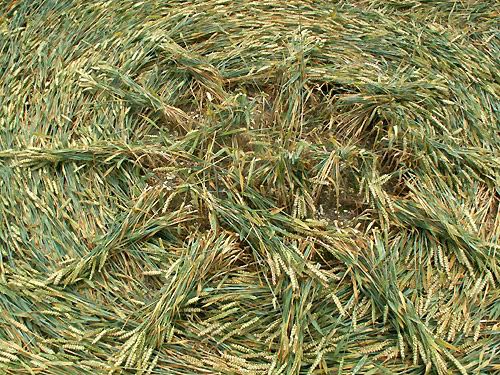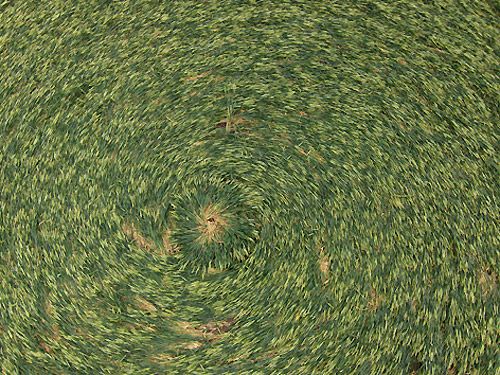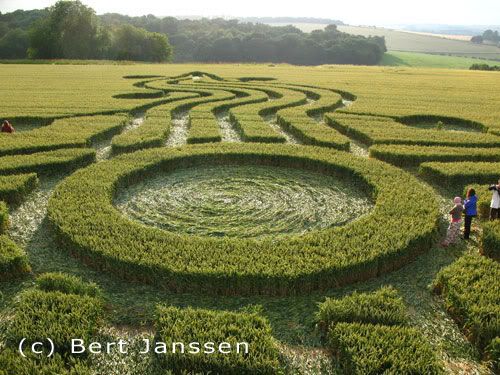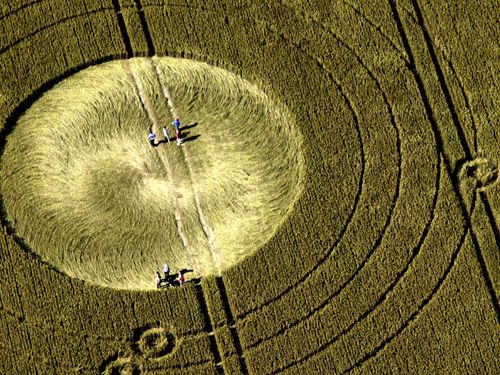 ---
I must admit it is pretty intricate work and I couldn't do it even with time on my hands. Interesting, but I still have this feeling that someONE is doing it.
Fortes fortuna iuvat
---
Related topics

Replies
Views

Last post