When Catelijne Brokke in Hammerfest drank morning coffee, she see a special light in the sky.
Catelijne Brokke jobs as bus driver in Hammerfest, and explains that she woke up at 04 o'clock Sunday. As usual, she started the day with a cup of coffee while she peered out the window. Suddenly she saw a light in the dark sky, first as a spiral that was larger and larger.
- It was big as a full moon, and became larger and larger as a kind of explosion. I've never seen anything like that before, "she says.
Brokke is also a photographer and ran in and picked up the camera, and had captured the phenomenon. She estimates that lasted a total of between three and four minutes before it was gone.
- At first I was just surprised by what I saw. Afterwards I thought that I could wish me something big, "said Brokke.
- And you wished you something?
- Yes, a girlfriend perhaps, "she says and laughs.
- Comets behave not so
.
For the astrophysicist Knut Jørgen Røed Ødegaard is the light over Hammerfest bit of a challenge.
- In the form that resembles that of a comet, but a comet behaves not like that. Comets may well be visible for several minutes, hours, days or maybe even in months, "he says.
He said that the bright head and the movement is similar to a fireball or heavy meteor.
- But when the tail is straight and tangle not appear in the same way. In addition, they are not visible for so long that she had managed to pick up the camera, "he says.
Must sign passport
He says he first thought that it could have been light reflection in the clouds, but can not see from the pictures which may explain such a reflection.
Finally, he simply report pass:
- It was hard on there, and I do not know what it can be.
Røed Ødegaard, however, been curious about the phenomenon and want feedback from others who may have seen the same phenomenon of Hammerfest.
- Such things are always a bit curious spire rendering, for we can usually explain mostly relatively okay, but not always, "he says.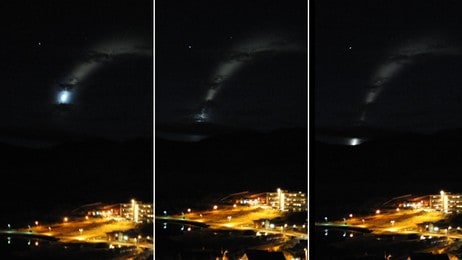 ---
Good find
Are there any close-ups available? Cause to me it is nog clear. It could be anything for that matter.
We are not human beings having a spiritual experience.
We are spiritual beings having a human experience.
---
Posts: 293
Joined: Sat Oct 24, 2009 2:32 pm
Nope, not clear. To me it looks like refracting light off high altitude clouds.
By and large, language is a tool for concealing the truth.
George Carlin
"Dont ever lose your sense of humor".
John Belushi
---
Related topics

Replies
Views

Last post