I thought I would make a page for ufos in art, but Ive been looking at the Sistine Chapel ceiling, painted by Michelangelo between 1508 and 1512 apparently , it is a cornerstone work of High Renaissance art.
I found some anomaly's I would like to share as crazy as they probably sound its hard to get good close pictures that fit this screen.
Above where Gods hand nearly touches Adams in the creation of Adam how long has the little round object been there the saucer/wheel shape one and above that another one to the top and right in front of the Cherubim / Orphanim with its bent elebow directly pointing at it, above Adam if your looking at it with God on the left and Adam on the right.
Larger picture
http://en.wikipedia.org/wiki/The_Creati ... %C3%81ngel
).jpg
how many of these are there if there original are they ufos or a star map?
Large picture
http://en.wikipedia.org/wiki/Sistine_Ch ... eiling.jpg
[
Also God looks like hes in an ophanim on fire or lite up if thats right or a chariot ufo and the whole portion of the creation on of Adam on its side if we turn to the right with Adam below God looking at it from the way it is in the picture above.
There is the 3 pillars of creation and the Jewish Kabbalah hidden or not so and the the two triangles one above god and one below could make either a diamond shape or the 2d star of David when put together, but also could be the 3d star of David which could be two pyramids interlocking , or two pyramids together making a diamond shape, this is like a merkaba the green scrarf is spiraling and so is the red blanket/flame behind God like spiral vortex energy. or two different dna strands, also there is giants with smaller people if that makes cents.
http://en.wikipedia.org/wiki/Sistine_Ch ... f_Adam.jpg
"There was madness in any direction, at any hour. You could strike sparks anywhere. There was a fantastic universal sense that whatever we were doing was right, that we were winning"
---
Theres more circles every where on the Sistine Chapel ceiling Have they have covered them up? they are different in old photos!! and after repairs, newer photos! they are different. Either they didnt know or there hiding something, taking a masterpiece and adding there bit. Theres some thing up there.
Another painting,
http://upload.wikimedia.org/wikipedia/c ... nce_04.jpg
Pietro Da Cortona
"The Age of Gold"
(1637) Sala della Stufa, Galleria Palatina (Palazzo Pitti), Florence
I cant get a smaller picture, but in this one X marks the spot with the 2 trees in the middle one person is staring up looking at an x in the sky after the crossed trees. is this a record of 1637? UFO's in the sky?
Some old works of art I cant fit on with the picture sizes
:
http://lj.rossia.org/users/marinni/410637.html
"There was madness in any direction, at any hour. You could strike sparks anywhere. There was a fantastic universal sense that whatever we were doing was right, that we were winning"
---
Cropped
WELCOME TO THE D.D.C
DTV Doomtards Club
---
One-23 wrote::flop:

Cropped
Nice one thank you.
Heres another little one.
Lucas Cranach the Elder (1472-1553)
The Paradise
Oil on limewood
http://upload.wikimedia.org/wikipedia/c ... 28I%29.jpg
Last edited by
Trip
on Wed Jul 16, 2014 5:53 pm, edited 1 time in total.
"There was madness in any direction, at any hour. You could strike sparks anywhere. There was a fantastic universal sense that whatever we were doing was right, that we were winning"
---
Black triangle and possible satellite in
BOSCH, Hieronymus
Triptych of Haywain (left wing)
1500-02
Oil on panel, 140 x 66 cm
Monasterio de San Lorenzo, El Escoria
http://www.wga.hu/art/b/bosch/4haywain/15eleft.jpg
Did people see these things then and was it from the future or not? or did they see the future? or neither.
"There was madness in any direction, at any hour. You could strike sparks anywhere. There was a fantastic universal sense that whatever we were doing was right, that we were winning"
---
---
"There was madness in any direction, at any hour. You could strike sparks anywhere. There was a fantastic universal sense that whatever we were doing was right, that we were winning"
---
---
Note: For a laugh because ive read nothing on what I put up. For the record on the archive somewhere all theories were my own and original till now including the sistine chapel roof but below is some more known ones I borrowed and put together from a few old posts of mine. hey, ya never know.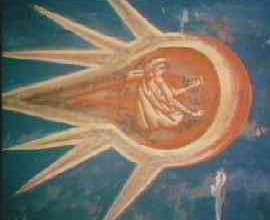 Yeah thats a good one, I heard a it was possibly an all powerful merkaba chasing a new age craft!
The two objects above are from part of a fresco entitled "The Crucifixion" and was painted in 1350. They are located above the altar at the Visoki Decani Monestary in Kosovo, Yugoslavia.
Personally im wondering if 'some' of these Triptych's or three section paintings are past present future paintings looking at a few pictures?
http://en.wikipedia.org/wiki/Triptych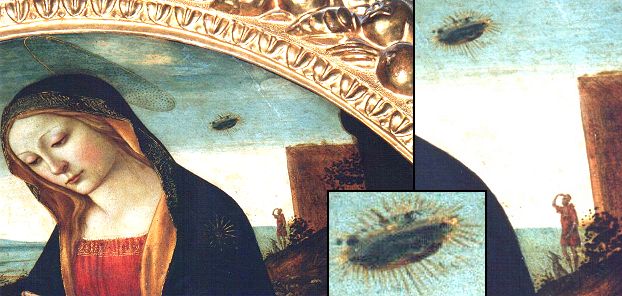 This painting is called "The Madonna with Saint Giovannino". It was painted in the 15th century by Domenico Ghirlandaio (1449-1494) and hangs as part of the Loeser collection in the Palazzo Vecchio. Above Mary's (left) shoulder is a disk shaped object. Below is a blow up of this section and a man and his dog can clearly be seen looking up at the object.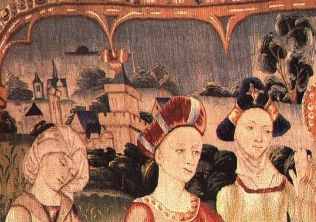 These two tapestries were created in the 14th century. Both depict the life of Mary. Hat shaped objects can be clearly seen in both tapestries. The one on the left was created in 1330. The one on the right is entitled The Magnificent. Both are located at the french basillica Notre-Dame in Beaune, Burgandy.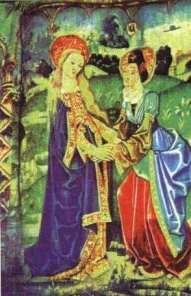 The above picture depicts Jesus and Mary on what appear to be lenticular clouds. The painting is entitled "The Miracle of the Snow" and was painted by Masolino Da Panicale (1383-1440) and hangs at the church of Santa Maria Maggiore, Florence, Italy.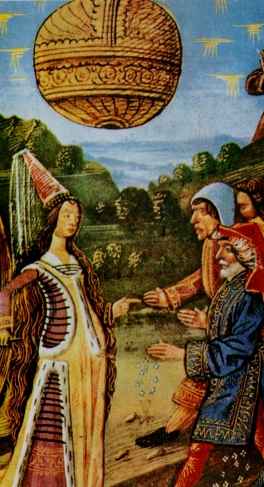 I don't know the titles/artists or where these two are displayed, but I know the one on the left is 15th century !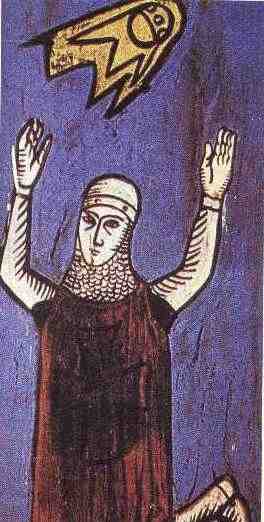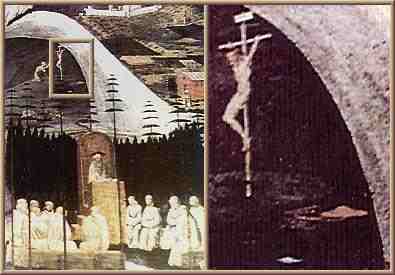 The above painting is by Paolo Uccello (1396-1475) and is entitled "La Tebaide" (painted c.1460-1465). The blown up picture on the right shows a red saucer shaped UFO seen near Jesus. It hangs in the Academy of Florence.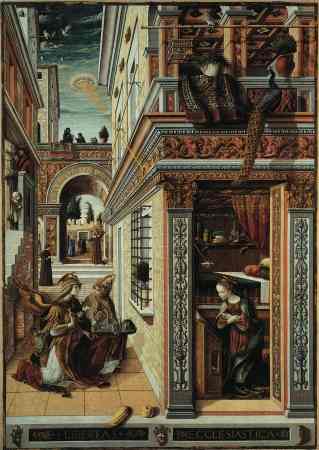 The above painting is by Carlo Crivelli (1430-1495) and is called "The Annunciation with Saint Emidius" (1486) and hangs in the National Gallery, London. A disk shaped object is shining a pencil beam of light down onto the crown of Mary's head. A Blow up of the object is next to the painting.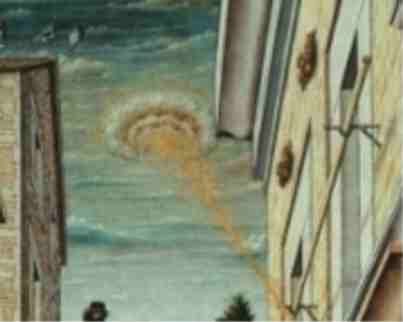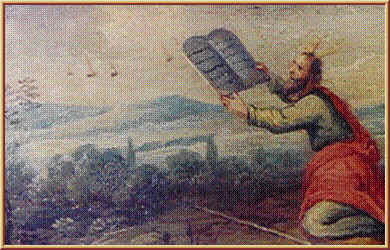 The above is a painting on wood near the castle Conti Dotremond, Belgium. Moses is receiving the tablets and several objects in the sky are seen near by. Date and artist unknown.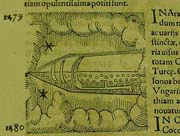 The above picture is from a book entitled Prodigiorum Ac Ostentorum Chronicon by Conrad Lycosthenes (1518-1561). Basel: Henricpteri, 1557. It depicts a UFO sighting in Arabia in 1479. The book is held at the Australian Museum Research Library.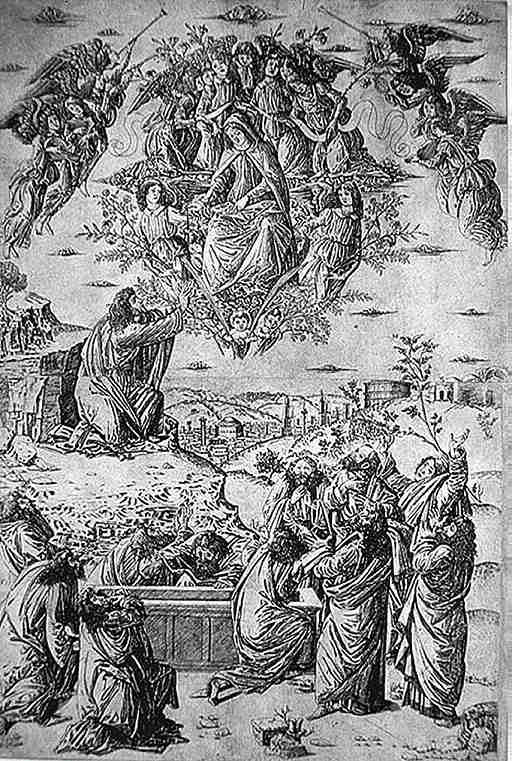 The above image is entitled "The Assumption of the Virgin" by ANON. Painted c.1490. Once again notice the discoidal clouds.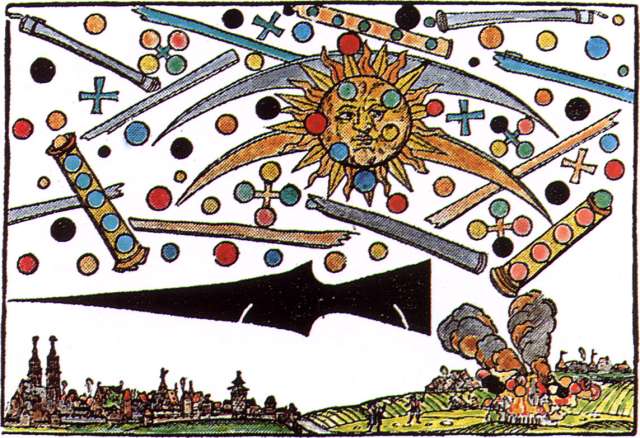 Woodcut from the Wickiana collection, Zurich
This picture is a woodcut made by Hans Glaser, 'a very frightful spectacle', seen in the morning sky over Nuremberg, Germany, on April 4, 1561.
A case from 1561:
Between 1561 and 1566 residents of Nuremberg, Germany and Basel, Switzerland witnessed spectacular displays of spheres, disks and tubes zooming about the sky and engaging in an aerial ballet.
Woodcut of an Aerial Battle Over Nurnberg, now Nuremberg, Germany on April 4, 1561 - Some planes have crashed. As a result of religious interpretation, medieval artists interpreted fuselages and wings as crosses, and rockets became tubes full of balls.
Note that two people seem to be witnessing a crash of at least one of these flying object.
At dawn of April 4, in the sky of Nuremberg (Germany), a lot of men and women saw a very alarming spectacle where various objects were involved, including balls "approximately 3 in the length, from time to time, four in a square, much remained insulated, and between these balls, one saw a number of crosses with the color of blood. Then one saw two large pipes, in which small and large pipes, were 3 balls, also four or more. All these elements started to fight one against the other." (Gazette of the town of Nuremberg).
The events lasted one hour and had such repercussions that an artist, Hans Glaser, drew a woodcut of it at the time. It describes two immense black cylinders launching many blue and black spheres, blood red crosses, and flying discs. They seem to fight a battle in the sky, it also seems that some of these spheres and objects have crashed outside the city.
A translation,
In the year 1561 on the 14th day of April in the morning between … [difficult special time phrase] … and … [difficult special time phrase], that is in the morning between 4 and 5 on the little clock, a very horrible vision showed at the sun when she rised and was seen at Nuremberg in the town and in front of the gate and at the countryside by alot of male and female persons. First the sun showed and was seen with two bloodcolored, halfround strokes like the diminishing moon right through the sun, and in the sun, above, under and on both sides stood bloodcolored and partly blueish or ironcolored, also blackcolored round orbs. The same on both sides and in circled plates around the sun – there were such bloodcolored and the other orbs in great numbers, standing three in a row, sometimes four in a quadruple, also alot as singles. And between such orbs alot of bloodcolored crosses have been seen, and between such crosses and orbs were bloodcolored strips, thick behind ["streyme hinden dick"] and to the front a bit smoother than … [ ? "hocken rho[?]"]. Mixed in between together with others stood two big tubes, one to the right and the other to the left [hand's side], in those little and big tubes were three, four and more orbs. This alltogether began to fight ["streyten"], the orbs first in the sun moved towards the ones standing at both sides, so the ones, which were outside, moved together with the orbs out of the small and large tubes into the sun.
Also the tubes moved towards each other like the orbs and everything fought and battled ["gestritten und gefochten"] with each other nearly one hour long. And after the battle, which moved for a while into and again out of the sun from one side to the other most violently, exhausted itself by each other, everything (as drawn above) fell from the sun and the sky down to the earth like burning alltogether and vanished ["vergangen"] down on the earth gradually [? "allgemach"] in a big smoke. After such events something like a black spear, the shaft from sunrise [east] and the head towards sundawn [west], has been seen with big thickness and length.
[It follows a lengthy phrasal standard passage from a typical christian viewpoint of that time, about warning signs of Godfather, the sin of the non-believers and the awaited day of judgement etc. Not very related to the event as such, but there is a hint by Hans Glaser, that the "signs" in the sky were significant in quality and numbers in the recent time.]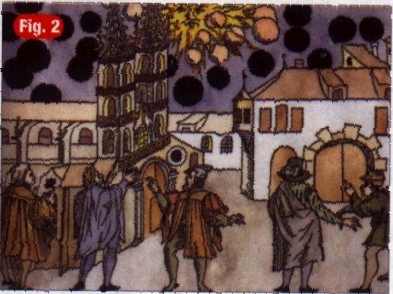 This picture describes a UFO sighting over Basel, Switzerland in 1566. It is held at the Wickiana Collection, Zurich Central Library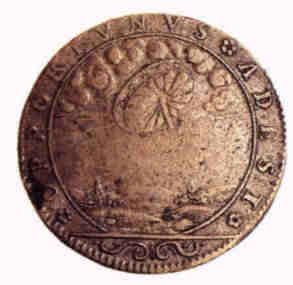 This is a French medal apparently commemorating a UFO sighting of a wheel like object in 1680. Artist/location unknown.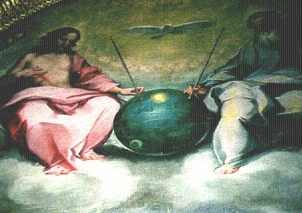 The above painting is by Bonaventura Salimbeni entitled "Glorification of the Eucharist", painted in 1600. Notice the Sputnik satellite device. It hangs in the church of San Lorenzo in San Pietro.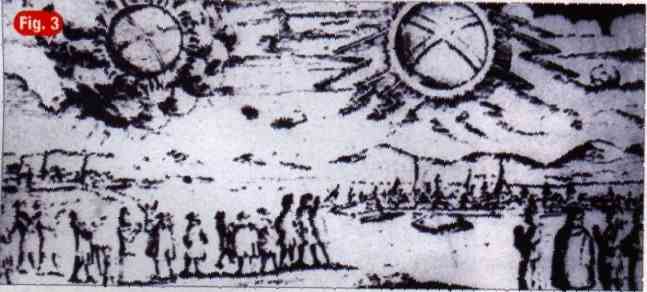 More wheels ! This picture shows a UFO sighting over Hamburg, Germany 4 November 1697. The objects were described as "two glowing wheels"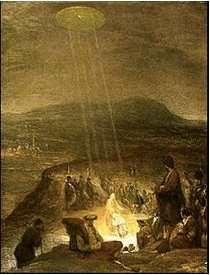 This image is by flemish artist Aert De Gelder and is entitled "The Baptism of Christ" It was painted in 1710 and hangs in the Fitzwilliam Musuem, Cambridge. A disk shaped object is shining beams of light down on John the Baptist and Jesus.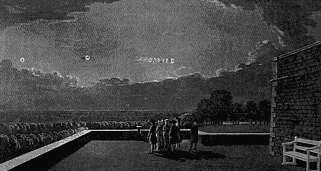 The above illustration depicts a sighting that occurred at 9.45pm on the evening of 18th August 1783 when four witnesses on the terrace of Windsor Castle observed a luminous object in the skies of the Home Counties of England. The sighting was recorded the following year in the Philosophical Transactions of the Royal Society. According to this report, witnesses observed an "oblong cloud moving more or less parallel to the horizon. Under this cloud could be seen a luminous object which soon became spherical, brilliantly lit, which came to a halt; This strange sphere seemed at first to be pale blue in colour but then its luminosity increased and soon it set off again towards the east. Then the object changed direction and moved parallel to the horizon before disappearing to the south-east ; the light it gave out was prodigious; it lit us everything on the ground." The image was captured in this by Thomas Sandby (a founder of the Royal Academy) and his brother Paul, both of whom witnessed the event.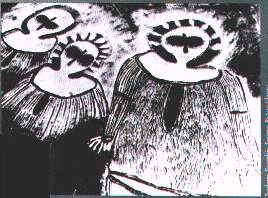 These a images from Kimberley, Australia. They are Australian Aborigine cave paintings, possibly 5,000 years old. It is believed they represent ET beings.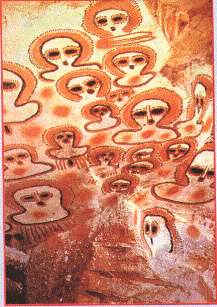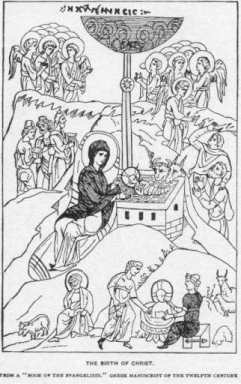 This is an illustration entitled "The Birth of Christ" from a 12th century greek manuscript "The Book of the Evangelists". If you look to the right of the picture there two figures looking up at a semi-circular object with figures inside. The object appears to be shining a beam of light down onto the birth. One of the pair of observers is shielding his eyes, possibly the artist was trying to convey the brightness of the object.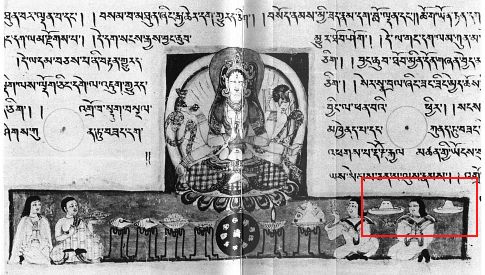 The above image comes from an ancient eastern text Prajnâpârâmita - Suna. In the enlargement you can see two objects that look like hats, but why are they floating in mid air ? also one of them appears to have port holes on it.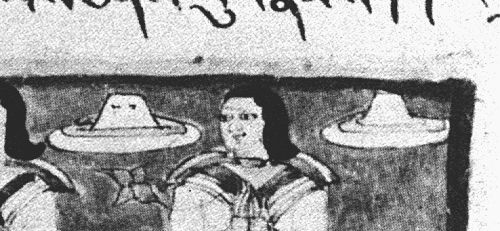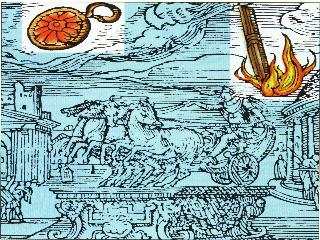 This is a renaissance illustration of a UFO sighting in Rome detailed in a book "Prodigiorum liber" by Roman historian Julio Obsequens.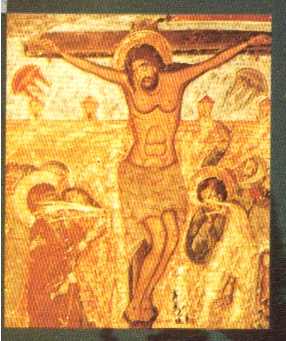 This is a 17th century fresco and is located in the Svetishoveli Cathedral in Mtskheta, Georgia. Notice the two saucer shaped craft either side of Christ.
.
Last edited by
Trip
on Fri Jul 18, 2014 1:15 am, edited 1 time in total.
"There was madness in any direction, at any hour. You could strike sparks anywhere. There was a fantastic universal sense that whatever we were doing was right, that we were winning"
---
Posts: 218
Joined: Wed Sep 16, 2009 7:35 pm
I never get tired of these. Awesome. Some of the Christian one's might be the 'wheels within wheels' from the bible but I think there's too much evidence from all around the world to support the ufo theory.

The cave paintings are great. They just fill me with wonder.
---