Here are the uncensored Moon Images taken by the Lunar Orbiter! According to Space Imaging expert Keith Laney, in a response to the images I posted on his web site, he says:
"Those particular LO images are from Prof. Robinson's collection, he's had them online for years and years.

They are uncensored.

I have found scores of anomalies on them, pretty devastating too.



But try and sell it to anyone other than us!"
Well, it has taken hours of poring over them to identify some very interesting anomalies. Considering the interest it may generate, I wonder if it would be yanked off the net soon. But before that happens, I hope some of you anomaly hunters post the best anomalies found in these images here on DTV.
All these images, as mentioned by Keith, are from Prof Robinson's collection and posted on the
Arizona State University's Space Exploration Resources
website, except the last three which are from Apollo.
How were these images obtained?
According to Arizona State University, the Lunar Orbiter images were all digitally scanned at 400 dpi at the Lunar and Planetary Institute in Houston. Whole images were too large to be scanned at once and were broken up into four sections.
From the data and resources about each lunar orbiter image found in Anderson and Miller (1971), they obtained information about the side length, altitude and emission angle of the images they scanned. To calculate the resolution of each image they followed several steps. They first calculated the resolution of images with an emission angle of less than 10° by dividing the side length of each image by the number of pixels, and then calculated the distance to the surface by dividing the altitude by the cosine of the emission angle. The resolution of low-emission angle images was plotted against their distance to the surface. From this was obtained the best-fit equation:
Corrected Resolution = -0.0023272 + 0.014376 * Distance to Surface
and applied it to the remaining images to get the corrected resolution.
And now for some of the interesting anomalies in the uncensored images:
Parallel Tacks!
Some had mentioned that the tracks seen in the three images above, were probably made by the Russian Lunakhod. But the Rover was about 160 cm (4 ft 11 in) in width. These 'tracks' seem to be much wider considering the distance the pic was taken from. And then there were NO Moon buggies on the Moon prior to 1967!
Ancient Ruins?
Pyramid? The top is near the center of the image
Note the strange parallel structures and objects within the 'D'.
Colorized:
Ruins at the edge of a crater?
Colorized:
'Towers'
Strange Structures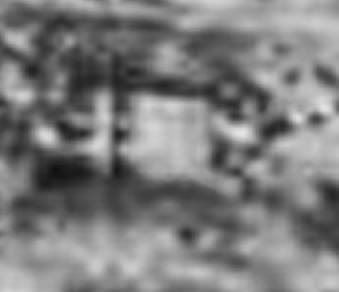 Crater Left of Shrodinger, colorized.
Source: NASA
Source: NASA
There are more but these will have to do for now! Keep posting more anomalies in this thread folks. The truth is out there!
Cheers!
http://ser.sese.asu.edu/LO/index.html
http://www.lpi.usra.edu/resources/lunar ... 73_med.jpg
---
---
---
taymour wrote:

GREAT FIND Mike!

Nice to see you again!
Hey taymour! You here too? Goody!
The world's pretty small, what?
Cheers!
---
---
There is need of experts and competent people like you, Mike!
You are lacked to me. Really!
I hope that you will want to see and to know us all your acquaintances, Mike.
I wait your next ones topics!
"Men occasionally stumble over the truth, but most of them pick themselves up and hurry off as if nothing ever happened."
Sir Winston Churchill
---
---
pindz wrote:

ASTONISHING FINDS MIKE ! NEVER SEEN THESE PICS BEFORE
Hi pindz! Wait till I show you stuff that'll knock yer socks off!
Ok, for starters, check out this vid of mine,
Alien Structures On The Moon And Mars?
The first part is about Mars. The second is about structures on the Moon, some of which are in the opening post of this thread. The first part has many intriguing 'faces' and structures. You may not have seen these before.
Here's the link.....Enjoy!
http://www.disclose.tv/members/action/v ... And_Mars_/
Cheers!
---
Great stuff
Mikes..
My particular favourite is the European space agency photos of The Martian Hale crater
' I'm leaving because the weather is too good. I hate London when it's not raining'.
Groucho Marx
---
Posts: 495
Joined: Thu Jun 11, 2009 2:44 pm
Nice post & vid thanks. I normally have trouble seeing anything in these sort of pics, but the ones which are titled ancient ruins are quite interesting. They do look like arial shots of ruins, so similar to ones on earth.
"At no time, when the astronauts were in space were they alone: there was a constant surveillance by UFOs." NASA Astronaut Scott Carpenter
---
Related topics

Replies
Views

Last post