Posts: 9330
Joined: Fri May 14, 2010 6:03 pm
Location: Inside You.
What follow is a collection of odd, weird, strange and disturbing images, enjoy
Good night out ?
Snake with legs
Big ass eel/fish/tadpole/godzillasemen
December 12, 1964, French photographer Robert Serrec was vacationing in Queensland, Australia. He was out off the coast in small row boats with his family and friends. They were in less than 6 feet of water when they noticed a giant snake like creature laying on the ocean's bottom. They describe it as a grayish tadpole like creature with a snake like head, approximately 75-80 feet long. There appeared to be a large wound on the creatures back. They took pictures of the creature before it became bothered and swam off.
Got wood!
Yes thats a tree with a cock, or an extremely rude old lava flow mwahahahaha
Toads found in geodes
Genuine picture of a toad found in a geode
According to official and reputable sources there have been over 90 recorded unexplained cases of amphibians being found alive but fully encased in coal pockets or stone geodes. Of these cases, 40 involved frogs or toads. The most well respected case is documented in the Reader's Digest book – "Mysteries of the Unexplained". There is a pattern to the various discoveries. In most cases the frog is discovered in a chamber full of mucous and is usually very pale or white in colour. After a few minutes exposed to air it comes-to-life and is usually quite active for a short while before turning grey and apparently developing respiratory difficulties. In most cases the animal dies within 24 to 72 hours but there are some references that when these poor creatures were quickly allowed into fresh pond water they seem to have survived indefinitely. Logically, these accounts of entombed amphibians seem impossible but it is worth noting that certain frogs do seem to have some ability to enter a state of suspended animation. Also, the most credible accounts of these incidents suggest that the "rocks" may have formed within the past thousands of years rather than millions. Finally, frogs and toads do burrow into soft "muds" that can appear to fossilise quite quickly and, in the correct environment, appear to turn to stone particularly if they are exposed to high levels of mineralised water such as the Petrifying Well of Knaresborough, England.
Big ass snake(s)
Photo taken near the jungle city of Iquitos Peru "apparently"
Another
and another
and another "apparently 100ft snapped from chopper"
Giant squid
New Nike's
oxygen ?
Aliens have nipples
The discovery of a strange creature in Cerro Azul, Panama, sparked controversy among the people, for what some say might be a creature from another planet, others simply believe that it si just an animal.
Two young men were having fun on the hill when they saw at the entrance of a cave a creature that was approaching them. They were frightened and stoned it to death. Panama's Channel 13 showed images of a strange creature that appeared last weekend in Cerro Azul, east of Panama City, and that alarmed local residents.
According to Telemetro, polemic unleashed between those who believe it is an animal and those who think it's an extraterrestrial creature. No authority said anything about the find. Telemetro said four children, aged between 15 and 16 , saw the "thing" out of the water fall of Cerro Azul and stoned it to death, afraid of being attacked.
Not related to apes my arse
Justin "im a talentless cunt" Bieber
De Loys Ape... aka, Justin Bieber's dad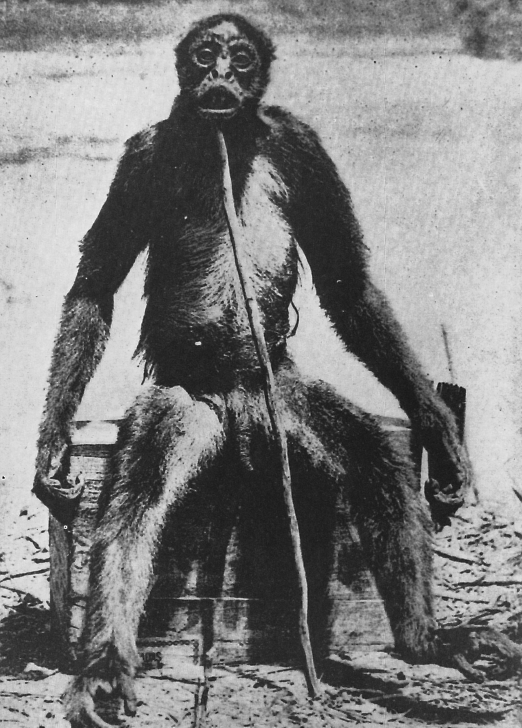 This creature was killed on the Venezuela/Colunbia border in 1917 by Francois De Loys and his party. This creature appears to be a very man-like ape. It has never been identified as a known species. De Loys group was attacked by a group of these creatures and they shot and killed one of them. The creature was about 5 ft tall and had a very human like appearance and movements. The size and shape of the creatures forehead show that it isn't even closely related to known primates of South America.
Lowsix ?
Dinosaur Tracks next to Early Human footprints
"apparently" Dinosaur and human footprints from the same geological strata?
The Paluxy Prints from Glen Rose in Texas - USA
Highly controversial! Apparently after digging under existing rock the footprints continued, widely thought to be total bullshit.
Ancient sunken city
Stone formations resembling a step pyramid lie just off the coast of Yonaguni Jima, an island in Japan's Ryukyu archipelago. These structures are the ruins of an ancient city that sank beneath the waves 2,000 years ago, according to a Japanese professor who has studied the site for 15 years. But other experts who have dived there are just as convinced that the site is almost entirely natural.
How about you, got any you want to share ?
Censorship debunking & disinformation, it's all in a days work.
---
don't know about unexplained,but the cow was deposited in the tree due to flooding,the giant eel is a school of fish and the alien with nipples is a dead water logged sloth.sorry your jealous of a kid,making tons of money from being talentless,now that's talent.
---
Lol'd at the cow. Be a little easier to milk it now, eh? The snakes...HHHNGGGGHHHHHHHHHHHHHHHH ITS CHOKING MEEEEEEEEEEEEEEEE
I don't think the snake man could wrastle a beast like that, unless there were high amounts of pcp involved.
as for the treecock, leave it to nature to give us a good laugh!
The True Sons of Liberty are alive and well.
Мое сердце, мой спаситель, да будет свет.
---
Posts: 441
Joined: Thu Nov 26, 2009 7:53 pm
Indeed...I had a book with photos of "phantom hands"...but someone stole it.
---
Posts: 6298
Joined: Wed Jul 22, 2009 3:06 pm
Location: coast
not this again,seen it all before haint we,dtv comic book,
with the power of soul,anything is possible
with the power of you,anything that you wanna do
---
pauldamo wrote:don't know about unexplained,but the cow was deposited in the tree due to flooding,the giant eel is a school of fish and the alien with nipples is a dead water logged sloth.sorry your jealous of a kid,making tons of money from being talentless,now that's talent.
The pic of the kid looks like it is for loads of young girls to fall in love with when it is a pic really for sick PEDO fuckers to wank off over and this kinda pics of children should be classed offensive as PEDO's will argue its natural when its not fucking normal. I kinda feel sorry for this kid as he has been exploited in this way but mayb he is to young and dumb to see this or mayb he is just wired WRONG! due to govermental nastys.
but Cow yeah stuck from flood school of fish yeah sloth poor fucker but the kid WRONG FUCKING WRONG.
It only takes that one person to go missing for the world to become empty
---
What?
------------------------------
canubis wrote:
a hill goes up not digs itself into a grave newbie.. lol i made the word LOL in 95 on ms CHAT orels ill be saying ROFLMAO fkn n00b
---
Check out the pic I took this morning,in photos.
---
------------------------------
canubis wrote:
a hill goes up not digs itself into a grave newbie.. lol i made the word LOL in 95 on ms CHAT orels ill be saying ROFLMAO fkn n00b
---
------------------------------
canubis wrote:
a hill goes up not digs itself into a grave newbie.. lol i made the word LOL in 95 on ms CHAT orels ill be saying ROFLMAO fkn n00b
---
Related topics

Replies
Views

Last post