Absolutely nothing.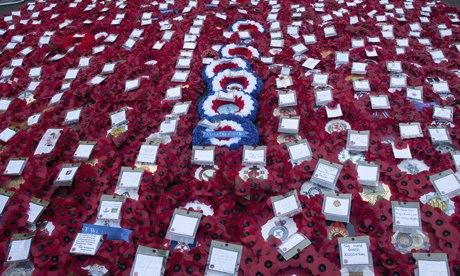 In remembrance of the ex-servicemen and women who ended up homeless
Rolfe had been in the military all his adult life. He had served in Bosnia and twice in Iraq. The second Iraq conflict left him disillusioned and traumatised, for reasons he wouldn't share and at which I could only guess. After leaving the forces, his life collapsed. The small resettlement grant he received lasted a very short time. He spoke of booze, anger, depression and family breakup. He spoke of his inability to cope with ordinary "civvy" pressures. Rolfe had spent all his life in the bosom of his family, then straight into the structured care of his unit. He had never dealt with rent or bills or finding a job or the local council; he had never chosen a utility or phone service; never made a household budget, shopped or cooked for himself; never negotiated the maze the rest of us navigate daily without thinking. He could survive in the desert under enemy fire, but was lost when it came to getting a TV licence. He ended up an alcoholic, sleeping rough.
Rolfe is, sadly, far from unique. Estimates suggest that, in London, former armed forces personnel make up 10% of homeless individuals. They are more likely than others to brave sleeping rough because of their training and less likely to seek help. In the past two years, in Scotland alone, more than 2,000 veterans are registered as homeless after leaving the military. Over a fifth of serving personnel report common mental disorders. A staggering 13% suffer from alcoholism. Roughly 10% of the prison population have served in the military, often jailed for violent crime. Young men leaving the armed forces have a suicide risk up to three times higher than the average population. In 2012, more soldier and veteran deaths resulted from suicides than fighting in Afghanistan. Thousands of service personnel have been, or are about to be, made redundant because of the programme of austerity cuts.
http://www.theguardian.com/commentisfre ... emembrance
Send these young men out to war to fight for their country
And what does their country do?
Shit on them.
"The third-rate mind is only happy when it is thinking with the majority.
The second-rate mind is only happy when it is thinking with the minority.
The first-rate mind is only happy when it is thinking."
A. A. Milne
---
---
---
---
---
Posts: 19564
Joined: Thu Jul 22, 2010 4:20 am
Location: underneath the circumstances
.
....WHAT IS IT GOOD FOR...?
...depends on which side of the ''boardroom'' you're on..
....to think that all wars are for profit$....just makes my blood boil.....
.
................................................... CHA-CHINGLE BELLS .................................................
---
---
---
Posts: 11163
Joined: Wed Apr 22, 2009 3:08 am
to all who serve,have served or are family member of either.....
thank you.
much motherfuckin clown love
"I wish i was there when the horse was stole,but I reckon I'll see the tracks when I get there"
-Abraham Lincoln
---
- - -
"If we take eternity to mean not infinite temporal duration but timelessness, then eternal life belongs to those who live in the present.
Ludwig Wittgenstein.
---
Related topics

Replies
Views

Last post