My boyfriend was walking down the street and a painting on the side of the road caught his eye so he brought it home.
Strange greyish colored girl with huge eyes and a spindly long neck with a bird...
The picture is kind of weirding him out now that he brought it home, thought I would share it with you all.
(Ignore the date on my digital camera, its the default date I must have hit something accidently and turned it on and I have not bothered to go figure out how to turn it off, I took the pictures today)
Click for high res version because the forum doesn't like large images...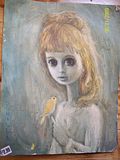 ---
Posts: 614
Joined: Sun Sep 19, 2010 1:27 pm
---
---
a battery,a capacitor then a spark...thats love.the spark lights a fire.thats passion.
a positive,a negative then a spark... thats you.the spark is electric.thats emotion
passion,emotion then a spark...thats us


---
Gustav Klimt's Mysterious Embryos
(Image: Gustav Klimt)
Zeus covertly impregnated Danaë, the legendary princess of Argos, by disguising himself as golden coins, which streamed into the princess's locked chamber and ran down her thighs like raindrops as she slept. Danaë's father had imprisoned the princess to shield her from men because of a prediction that his future grandson would one day kill him. The disguised Zeus gave Danaë a son, and destiny took its course.
Despite the richness of this entire myth, the erotic moment of Zeus's conquest has been a favourite among artists for centuries, as it symbolises the victory of passion and creativity over repression - or perhaps just because it's the steamiest scene.
Austrian painter Gustav Klimt's 1907 depiction, however, differs from the others in that it mirrors Zeus's stream of golden coins with another stream of circular forms that have eluded art historians for decades. It took the eyes of developmental biologist Scott Gilbert at Swarthmore College in Pennsylvania to identify these shapes as early embryonic forms drifting down the right side of Klimt's Danaë, over the naked, supine princess.
Art historians have called the circles "ovaloid shapes", "ornaments" and "gold filagree disks". Two analyses related them to biological forms, but oddly identified them as "chromosome-like" and "gilded spermatozoa". But the moment Gilbert laid eyes upon a reproduction of Danaë in an art book, he saw spheres of embryonic cells: blastocysts.
A blastocyst consists of a layer of cells surrounding a cavity that hovers above a lump of cells - the source of embryonic stem cells that will eventually divide to form the fetal anatomy. Comparisons of any textbook blastocyst with the painting's circular forms are likely to convince art historians of Gilbert's interpretation.
What really shocked Gilbert wasn't just that nobody had identified these blastocysts before, but that Klimt had painted the obscure objects in the first place. In a manuscript currently in press for an art journal, Gilbert and Sabine Brauckmann, a historian of science at Tartu University Library in Estonia, discuss the use of fertilization and embryos in the art of Gustav Klimt, Diego Rivera and Frida Kahlo. They say these artists painted biological images to symbolize creation.
To find out where Klimt acquired such knowledge, Brauckmann sifted through the Viennese archives and concluded that Klimt had soaked up embryology at soirees held by a leading anatomist in Vienna, Emil Zuckerkandl, and his wife Bertha. Bertha, a writer with a passion for the arts, would invite her talented circle of friends over in the evenings for scientific lectures accompanied by slides of blood vessels, brain cells and other microscopic wonders. Klimt was among the artists, musicians, writers and scientists in attendance.
"In these salons, there was this high level of integration between science and the arts that you just don't have today," says Gilbert. "And I think that high art today not only goes away from that, but almost rebels against science."
Each field offered the other new ways of seeing. Just as the language of embryology (symmetry, formation, rhythm, choreography) was largely borrowed from artistic discourse, Gilbert says, science once gave artists metaphorical bulbs from which to blossom.
"At certain times in history, science was a part of the artistic vocabulary," Gilbert says. "Cell biology was being used as an emblem. Diego Rivera paints cells in a mechanized context to show how technology might eventually regulate our biological proclivities, including reproduction. Frida Kahlo used fertilization to depict the creation of something new." Artists found beauty in science, and then made science beautiful.
______________________________________________________________________________
-= PREDESTINATION: Itz hard to be ze good guy when you turn into a fucking gun =-
---
---
pretty cool pic and explanation marduk
peace
a battery,a capacitor then a spark...thats love.the spark lights a fire.thats passion.
a positive,a negative then a spark... thats you.the spark is electric.thats emotion
passion,emotion then a spark...thats us


---
---
Was hoping someone would find and post something like this, thanks!
---
hailwood6 wrote:Haunting... I like it, what does the txt say on the pic? Artist name? Subject?
Artist name - "Gunilla"
Random to find in the middle of the road - the price tag on it makes me thing someone grabbed it at a yard sale.
It is not a print either, forgot to mention that. It is an original painting.
---
Related topics

Replies
Views

Last post