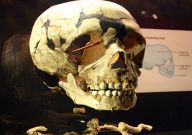 A controversial new theory has suggested that the Neanderthals may have died out 30,000 years ago because modern humans hunted and fed on them. The claim is based on a jawbone found in France with markings indicative of hunting tools.
"The mysterious disappearance of Neanderthals about 30,000 years ago has baffled scientists for centuries.But now, according to a leading fossil expert, it seems the race may have met a rather grisly end.They were eaten by our ancestors, the modern humans."

"Fear not the path of truth for the lack of people walking on it."
---
Related topics

Replies
Views

Last post