i rarely post but always read here at disclose.tv
i must make this very clear. i have no idea or knowledge of photoshop
or anything like it. I actually got this photo on this forum somewhere.
anyway was bored and played with the size and contrast and brightness
because something looked odd to me.
It seems to look like giant letters or writing on the moon.
If someone could pull up a different moon shot and check the same location
i would appreciate it. anyway
first untouched moon photo
second is same photo but larger and adjusted contrast etc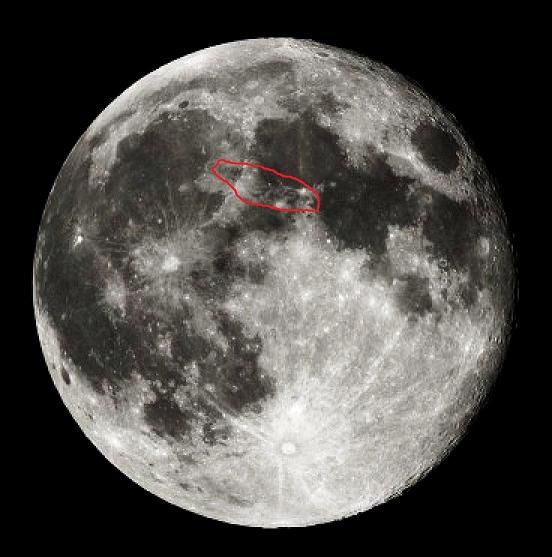 then close up
i hope i did the photos correct lol
so what do ya think?
---
Sorry I can't see what you see. Keep looking though you never know what you may find.
I question everything. I don't believe anything I'm told or anything I see. Prove it, or fuck off. And that's not me I see in the mirror in the morning.
---
---
Posts: 10110
Joined: Wed Jul 01, 2009 10:10 pm
Location: Packing my stuff and moving to Denver like you should be doing
Pretty damn interesting and thanks for the post
FAIR USE NOTICE.
Section 107 of the US Copyright Law. In accordance with Title 17 U.S.C. Section 107, . http://www.law.cornell.edu/uscode/17/107.shtml

---
Looks like a fucking rock to me....you know.. just like the rest of the Moon?
Master Raphael wrote:what you call the law of attraction was missing a vital aspect to the theory that I call the law of repulsion ...it is clear I drove the two of you together...using my repulsion not attraction
---
Posts: 18480
Joined: Thu Jul 22, 2010 4:20 am
Location: underneath the circumstances
Booboo wrote:i rarely post but always read here at disclose.tv

.
....
and
Booboo
....don't be such a stranger....
.
.
domdabears wrote:

I wanna punch you!!!!
---
Posts: 10138
Joined: Sun May 20, 2012 3:24 pm
What is the photo ID number? From what mission?
PEACE, PEACE...BUT THERE IS NO PEACE!
---
honestly i cant remember where i got the photo but heres a link
to a different thread here on DTV with a different photo of the moon
LOOK CLOSE AT THE TOP AND YOU CAN CLEARLY (TO ME ANYWAY
) SEE THE VERY SAME THING
LOOK TOWARD THE TOP JUST ABOVE THE BLACK CIRCLE
START AT THE POLE AND HEAD DOWN IN THE 8PM DIRECTION
http://www.disclose.tv/action/viewphoto ... O_GALILEO/
My apologies to the op of the thread
heres the photo
http://d38zt8ehae1tnt.cloudfront.net/TH ... 1355358925
---
Related topics

Replies
Views

Last post