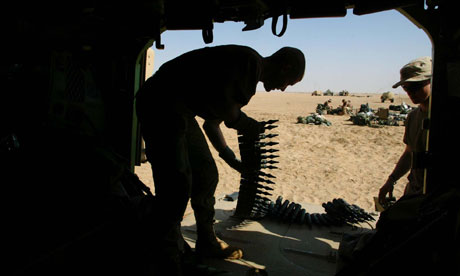 Spc Travis Hunter loads armor-piercing depleted uranium-tipped 25mm shells during the second Iraq war Photograph: John Moore/AP

Last month, the World Health Organisation (WHO) published a long awaited document summarising the findings of an in-depth investigation into the prevalence of congenital birth defects (CBD) in Iraq, which many experts believe is linked to the use of depleted uranium (DU) munitions by Allied forces. According to the 'summary report':

"The rates for spontaneous abortion, stillbirths and congenital birth defects found in the study are consistent with or even lower than international estimates. The study provides no clear evidence to suggest an unusually high rate of congenital birth defects in Iraq."

Jaffar Hussain, WHO's Head of Mission in Iraq, said that the report is based on survey techniques that are "renowned worldwide" and that the study was peer reviewed "extensively" by international experts.
Backtrack

But the conclusions contrasted dramatically from previous statements about the research findings from Iraqi Ministry of Health (MOH) officials involved in the study. Earlier this year, BBC News spoke to MOH researchers who confirmed the joint report would furnish "damning evidence" that rates of birth defects are higher in areas experiencing heavy fighting in the 2003 war. In an early press release, WHO similarly acknowledged "existing MOH statistics showing high number of CBD cases" in the "high risk" areas selected for study.

The publication of this 'summary document' on the World Health Organisation's website has raised questions from independent experts and former United Nations and WHO officials, who question the validity of its findings and its anonymous authorship. They highlight the existence of abundant research demonstrating not only significant rates of congenital birth defects in many areas of Iraq, but also a plausible link to the impact of depleted uranium.

For years, medical doctors in Iraq have reported "a high level of birth defects." Other peer-reviewed studies have documented a dramatic increase in infant mortality, cancer and leukaemia in the aftermath of US military bombardment. In Fallujah, doctors are witnessing a "massive unprecedented number" of heart defects, and an increase in the number of nervous system defects. Analysis of pre-2003 data compared to now showed that "the rate of congenital heart defects was 95 per 1,000 births - 13 times the rate found in Europe."

The purpose of the WHO study was to probe the data further, but some say the project is deeply flawed.
Continued:
http://www.theguardian.com/environment/earth-insight/2013/oct/13/world-health-organisation-iraq-war-depleted-uranium
Techblog => http://eclectriq.blogspot.com
---
Hi,

A few years before the 2nd Iraq war, there was a great deal of controversy here in Portugal due to this type of ammunition, and that the potencial harm of remains should be had been enough to stop the purchase, than years went by and the 2nd Iraq war came, and this issue resurfaced, though in a smaller scale. If a I am not misstaken this subject was first discussed when there was the Nato intervention in the Balkans.

The reason why this is not on the mainstream social media is like anything else, money talks.
---
Related topics

Replies
Views

Last post