Posts: 559
Joined: Tue Feb 09, 2010 4:48 pm
Location: Acheron
truth501 wrote:

lapislazuli wrote:
Anunnaki vs. Reptilianos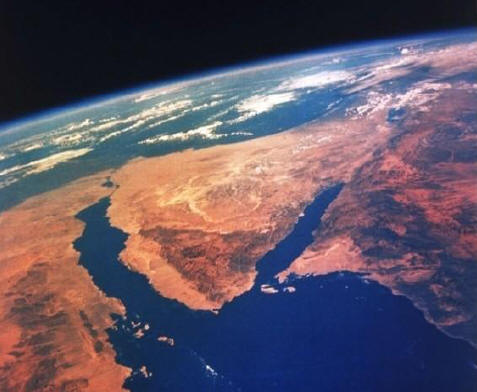 Anunnaki vs. Reptilian I

Año 2024 antes de Cristo.

Una serie de bombas nucleares arrasan Sumeria. La nube radiactiva mata a la mayoría de los humanos de la zona y obliga a huir a los no humanos; es la guerra de los dioses. Esto es historia. Esta es la historia que no nos han contado.

Esta es la historia responsable del pasado, del presente y del futuro inminente (que es casi presente).

Huella nuclear en la península de Sinai.

Hay que empezar por leer/entender/aceptar las mas de 20.000 tablillas sumerias de escritura cuneiforme encontradas en Irak (en su mayoría) hace mas de 100 años. Unas 250 personas que leen sumerio se han dedicado a su traducción. A la cabeza Zecharia Sitchin, que ha dedicado casi toda su vida a esta labor.

La conclusión de estas traducciones es sencilla:

Hace miles de años (entre 10.000 y 450.00) la raza Anunnaki llegó a la Tierra en busca de minerales necesarios, entre otras cosas, para reparar su débil atmósfera.

El oro fue su mejor hallazgo; el humano su segundo.

Cansados de trabajar extrayendo el oro, decidieron manipular genéticamente al humano y convertirlo en su trabajador. A cambio, los Anunnaki enseñaron al hombre a cultivar la tierra y a construir casas.

Dicen las tablillas que los Anunnaki modificaron genéticamente al hombre mono y lo convirtieron en humano.

El origen del origen es donde no hay posibilidad de confirmación, pero la historia posterior, la del control de la población humana, si ha quedado clara en las tablillas, porque muchas de ellas fueron escritas en presente, ordenadas por los dioses a sus escribas humanos.

A partir de hoy este blog va a dedicar una gran parte de su labor a hacer una exposición y por lo tanto, entablar una discusión, sobre las razas que han dominado y dominan en este planeta, así como aquellas nuevas que podrían estar interesadas en dominarlo. No voy a entrar a discutir si existen o no los seres no-humanos.

Desde el estudio y mi experiencia personal, doy por sentado que hay seres superiores a nosotros que llevan el control (o el descontrol) de la raza humana. Lo que nos interesa saber es quienes son unos y otros, cómo nos manipulan y cómo debemos de desenvolvernos en estos momentos claves de la evolución en nuestro Planeta.

Es este un tema complejo que merece abordarse con el máximo rigor, así que intentaré presentar opiniones de estudiosos del tema que nos ayuden a aclarar ideas.

Por lo que he estudiado hasta ahora, estoy a favor de la teoría de Zecharia Sitchin, o sea, que los Anunnaki existen, su planeta Nibiru va y viene en nuestro sistema solar y ahora está de vuelta. Acabo de leer su último libro, "El Fin de los Días - Armagedón y las Profecías del Retorno".

A la pregunta de cuándo regresará Nibiru, mi opinión es que ha decidido no jugarse la vida con su respuesta.

En el año 93 falleció uno de los grandes buscadores de Nibiru, Robert Sutton Harrington, un astrónomo brillante, de un cáncer, a los 50 años. Al propio Sitchin le pareció una muerte bastante extraña, ya que lo tenía por un hombre joven y vigoroso.

Al parecer y de repente había dejado de interesarse por el tema de Nibiru, al que había dedicado tanto tiempo, aunque uno de sus últimos artículos demostraba todo lo contrario.

Sitchin plantea un retorno de Nibiru abierto, que va desde finales de este nuevo siglo hasta finales de este nuevo milenio. Eso nos deja un margen de entre 80 y 900 años...

El considera el año 560 AC, como la última vez estuvo presente Nibiru, dado que fue cuando el último "dios" anunnaki partió de la Tierra. Sin embargo, esa fecha no corresponde con los acontecimientos catastróficos terrestres asociados a la entrada y salida de Nibiru, como los que sí ocurrieron alrededor del 1650 AC (fecha que haría coincidir el retorno del planeta en sus 3.650 años de elíptica con la fecha en que vivimos).

Mi opinión, después de leer el libro, es que Sitchin está jugando con el discernimiento del lector, para salvaguardar su vida, a sabiendas que su opinión, respetada por un gran público, podría causar un verdadero revuelo en la sociedad, y por lo tanto, estaría poniendo en evidencia los planes de poder de la raza que controla a la raza humana.

Si no, no se comprende a que viene tanto bombo y platillo para publicar un libro sobre el retorno de Nibiru.

Hay una especie de amnesia colectiva, que le ha entrado a muchos astrónomos, interesados desde mucho tiempo, en Nibiru/Planeta X, buscado durante cientos de años, con multitud de referencias arqueológicas y que ahora, de repente, ha dejado de interesar.

Algo huele a chamusquina

De todas maneras, Sitchin no es la única persona que habla de Nibiru.

La llegada del planeta ha sido anunciada por algunos profetas (de los que hablaremos mas adelante), muchos otros estudiosos del tema y muchos personajes que han estado o están dentro de proyectos secretos de los gobiernos (algunos de ellos asesinados como el coronel Phil Schneider) y que han sacado a la luz muchos datos interesantes, tales como Henry Deacon o el político noruego, entrevistados por Bill y Kerry del Proyecto Camelot, cuyas entrevistas son una fuente vital de información.

Por lo tanto, voy a dedicar parte del tiempo a recopilar y (si es necesario traducir) aquellos que considere mas relevantes, en esta mi lucha personal por acabar con los secretos de Estado. Entiendo que, todo lo que nos ayude a aclarar quienes son los que nos controlan y sus personalidades, nos ayudará a entender como funciona nuestro planeta y por lo tanto, los intereses que están detrás de los movimientos políticos, económicos y bélicos.

Tal vez incluso nos ayude a liberarnos y a convertirnos en seres Humanos Independientes y dueños conscientes de nuestro Libre Albedrío.

*

Zecharia Sitchin nos ha revelado a los Anunnakis

*

David Icke nos ha desvelado a los reptilianos en El Gran Secreto

¿Son los mismos?

http://www.bibliotecapleyades.net/sumer ... anu_44.htm
---
Posts: 496
Joined: Sat Sep 13, 2008 4:54 am
Location: East side Cydonia
I apologize to anyone and everyone that I offended, I had one too many last night. Truth501 you made some good points, bottom line is if the people that know roll out the real Truth about Egypt they would have to rewrite history so they are keeping it under wraps and spoon feeding us little pieces of the story at a time. I also really hope you were just talking the big talk as to your intentions with this site. I am admitting I was the creep for a minute here on your mighty post but if you think you are buying this site and hacking people, I will pull your card if it comes down to it.
---
---
newearthman wrote:Aliens
Nephilim
---
purplepanther wrote:I apologize to anyone and everyone that I offended, I had one too many last night. Truth501 you made some good points.
Spread the word, and God Bless
http://[removed].blogspot.com
---
harbin wrote:Atlantis remnants. Could they be alien ?
Perhaps they were left behind slaves as well.
Conjecture aside:
The pyramids are certainly the culmination of a certain kind of high point in human development. Even if they where not alien inspired, or the Kings of Egypt NOT a lineage of nephilim, they certainly had masonry and symbolism developed to a high degree. Quite objectively, there are secrets to learn.
How did they develop their minds to this ?
Good questions
---
stone069 wrote:sad part is he answered this question of "who" in his other post, the nephilim.
LOL
---
they were beacons for aircraft duh..used to have a big beam/shaft of light coming out the top when the crystals were in their niches & the capstone was in its place & the hydrogen was burning....fuck all to do with fallen angels or devils or any of that stuff...aliens,yeah...anunnaki,sure...the real beings behind religion...not this supernatural gobbledegook
IRMENSUL13
---
Posts: 21108
Joined: Thu Jul 22, 2010 3:20 am
Location: Odin's Palace
markton wrote:the two men couldnt believe it when they saw it. And what was spooky is that there was no sign of the spaceship. It may just be an elaborate hoax, but a video has surfaced showing the body of an alien found dead in snow in Siberia. more info ->[removed]
.....oh come on......
if you don't like my opinions....please lower your standards
.
---
Related topics

Replies
Views

Last post