Try as you might, you can't walk in a straight line without a visible guide point, like the Sun or a star. You might think you're walking straight, but as NPR's Robert Krulwich reports, a map of your route would reveal you are doomed to walk in circles.
---
Posts: 263
Joined: Wed Jun 23, 2010 8:03 pm
Location: in front of my screen
very interesting
never thought about it and it makes you think
...you dont know your wearing a leash if you sit by the peg all day...
---
Posts: 3945
Joined: Thu Nov 05, 2009 6:11 am
Location: Earth
This is very interesting indeed. I do have some thoughts to share. No I do not have an answer just thoughts.
The patern that seems to repeat remind me of the oscillation of Earth. Lets not forget about the pendulum either.
Of course I have to through in Magnetic fields and such
As I stated above this may not be the answer. Although it may be a clue.
---
.
If you look through this, Lloyd Pye explains in detail what is wrong with our gait.
This comes from the factual archeological record.
Makes more sense than any other
theory
I have heard.

.
In an Atheist's bookstore, is the bible in the Fiction section?
When a vegetarian bites his lip, does he feel guilty?
Enquiring minds wanna know.
---
---
Posts: 8422
Joined: Sat May 30, 2009 7:37 am
This guys always right...
~
What a long strange trip it's been..............
---
---
---
---
Posts: 696
Joined: Sat Sep 19, 2009 1:55 am
Going right has to do with the earths spin (the pendulum effect is correct, to one point), you know it is cockwise. Therefore everything else on the planet will have to go that way. Standing in the middle of a kiddie merry-go-round and have them spin it, one tends to go in that direction when walking out from the center while fighting it from the other direction from falling off it. I know this an extreme example and all the forces on earth arent that drastic, but should still be the same. (I dont think the example is that accurate but the physics should be).

Next in the magnetic lines and the humans "third eye", If all the animals go from place to place in their migration using these magnetics lines, how can humans be any different.? While blindfolded and trying to walk a straight line the third eye is leading you trying to pick up the strongest lines to follow getting so confused that it cant tell one line from another, thuss one will end up going in circles.

Maybe both of these are going on at the same time. Testing this with a blind dog or animal by reducing its hearing and see what happens that way. See if they go right in circles as well.

Heres another, theres a phenomenon and I cant remember what they use to call it, but seen it posted in a drivers Ed books, I dont know if its still there, but, When driving at a fairly large speed they always say to keep your eyes on the road, why.? Well, when driving at that speed and you get distracted by looking at something either to the left or right, youll be driving the opposite direction, but being blindfold, what the hell are you looking at, its just the reaction of doing it that causes it. Visualy this really happens, but being blindfolded Im not so sure but a possibility.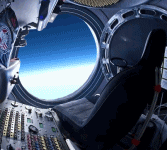 ---
Related topics

Replies
Views

Last post