that how southern cops are they all got picked on in high school and now they are picking back on the innocents .... i hope im never in a situation like that tho that was just to much i would have to have my "Friends" at the agency take care of em ...and they always enjoi fuckin with the blues if ya know what i mean.....
"The scientists of today think
deeply
instead of
clearly
.
One must be
sane
to think clearly, but one can think deeply and be quite
insane
."
- Nikola Tesla.
---
Posts: 229
Joined: Sat Jun 14, 2008 11:00 pm
I am glad i live where i do in the uk
If i had been unfortunate to be in that guys shoes i would have been either dead or counting how many more of those bastards i had left on my hit list
Peace
indi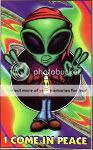 Believe only what you yourself test and judge to be truth.
---
no wonder i have a problem with authority when you see tazer dicks like this. talk about drunk these

south carolina hillbilly cocksnots

are drunk on power. jobsworth cunts
---
stone069 wrote:Thanks Bug!!!


I haven't figured out how to embed it yet.
this is the video link
http://www.youtube.com/watch?v=EmByfTKKUV4
sometimes there is more on the end that will start with a ? (this part can be ignored)
all you have to do to embed youtube videos here is
use the code after v= and put that code inbetween the bbtags below
(remeber the forward slash in the end tag )
Code: Select all

[youtube]EmByfTKKUV4[/youtube]
google video is the same as is disclose.tv videos ... just the code is needed
---
end0fall

ID: 63ebaafe6da4
this may be controversial but im going to say it anyway.
whilst the american police use of heavy handed tactics make me violently ill it is however a viscious cycle.
i know it is considered every american mans right to own a firearm but this is a possible reason why the police are so quick to react,i say BAN ALL GUNS!!!! no guns = no chance of getting shot.
i dont know if you have ever seen the approach of british police but they do it a whole different way (maybe go check some out on youtube?),for the most part british police take a much more laid back 'lets sort this out' stance on it,of course you get good and bad everywhere but i can only really link these heavy handed tactics to the threat of being shot,britain is almost firearm free,gun crimes are very far and few between.
---
Posts: 10609
Joined: Sun Mar 22, 2009 10:11 pm
I say tasers don't go far enough. Give the cops LASERS! That'll show those smart-talking punks and their elderly moms...
Where's the beer and when do I get paid?
- Jimmy Carl Black (the Indian of the group)
---
Posts: 11
Joined: Sat Aug 16, 2008 1:21 am
And they wonder why people shoot at them. I don't trust a damn one of them.In my town they just fired our head of police for stealing charity money.
---
Thanks crunchy will do next time. I appreciate the info. Still learning
---
Posts: 8435
Joined: Sat May 30, 2009 6:37 am
Where in the world did all those extra cops come from?

This video almost seems like some kind of training exercise.

The guy didn't do any of the things that the defenders of the officers can use when they say that the driver being questioned was "asking for it"

Sheez, they had the pepper spray out and ready before they started talking to the man.

Kind of scary because it shows that you don't even have to challenge them to get mistreated.

And no respect at all for the mother who got out of the car when she realized her son was being abused by a whole fleet of cops.

It is really sad that nothing can be done about this type of behavior that has gotten so out of hand.
What a long strange trip it's been..............
---
No excuses, All cops may not be bad when they join but unless I see cops supporting the end of stuff like this then in my eyes they end up ALL bad. It has nothing to do with guns because it happens just the same here in England. There is no respect for police here anymore in UK, they are just revenue collectors.
---
Related topics

Replies
Views

Last post