Posts: 10120
Joined: Wed Jul 01, 2009 9:10 pm
Location: Packing my stuff and moving to Denver like you should be doing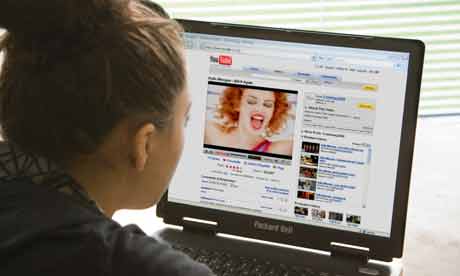 YouTube may begin offering subscription services that allow users to watch major new TV shows and films online, according to a senior Google executive.
While a number of broadcasters - including Channel 4 and Channel Five - have already forged deals with the Californian website to show full-length programmes online, the company indicated yesterday that it may consider paid options as well.
In an interview with Reuters, Google executive David Eun - who is in charge of partnerships with media companies - confirmed that paid subscription was an option as it tries to convince more TV channels and Hollywood studios to sign up.
"We're making some interesting bets on long-form content; not all content is accessible to us with the advertising model," he said.
The move would be an attempt to forge agreements with more rights owners, many of whom are reluctant to put their content online without adequate compensation.
Until now, the site has remained resolutely free for users and attempted to make its money through advertising. It has made limited deals to show movies on the site, as well as agreements such as the one with Channel 4, which was announced in October. Rather than charging users, these deals are based on a revenue split from the commercials attached to the programmes and films.
Despite these successes, however, the site - which Google bought for $1.65bn in 2005 - has not found it so easy to convince other broadcasters to follow suit. Hollywood studios have been notoriously testy about the possibility of putting more recent movies online with only the prospect of a share of advertising revenue in return.
"I think a free model is a very difficult way to capture the value of our content," said Chase Carey, the president of News Corporation - which owns broadcasters including Fox and Sky, as well as studios such as 20th Century Fox and Fox Searchlight - earlier this year.
Instead, Google hopes that offering money raised through subscriptions can tempt broadcasters to put their content on the site. The possibility of a pay-per-view model - such as the one used by Apple's iTunes store or Amazon's on-demand video service - could also be on the cards.
Google chief executive Eric Schmidt has said that making money from YouTube is a "top priority", with some analysts estimating that the site will haemorrhage as much as $470m (£288m) this year alone.
Although the site is a household name that commands hundreds of millions of visitors each day, it has found it difficult to successfully cash in - with advertising attached to viral videos and user-generated content collecting paltry amounts of revenue.
Such a move could also help YouTube fend off growing rivals like Hulu - the US website that operates as a joint venture between NBC, News Corporation and Disney.
Since launching publicly in 2008 with a slate of hit shows including House and The Daily Show, Hulu has become the second most-watched video site in America. It is thought be considering expansion plans outside the US, which would include a move to Britain.
Printable version Send to a friend Share Clip Contact us larger | smaller EmailClose Recipient's email address Your first name Your surname Add a note (optional)
Noooooooooooo this can't be happening
FAIR USE NOTICE.
Section 107 of the US Copyright Law. In accordance with Title 17 U.S.C. Section 107, . http://www.law.cornell.edu/uscode/17/107.shtml

---
Four years down the line, looks like it's going to happen - This Spring.
http://www.dailymail.co.uk/news/article-2270489/YouTube-takes-TV-subscription-channel-plan-charging-3-month.html
---
Posts: 21117
Joined: Thu Jul 22, 2010 3:20 am
Location: Odin's Palace
.
YouTube has reached out to a small group of channel producers and asked them to submit applications to create channels that users would have to pay to access. As of now it appears that the first paid channels will cost somewhere between $1 and $5 a month, two of these people said. In addition to episodic content, YouTube is also considering charging for content libraries and access to live events, a la pay-per-view, as well as self-help or financial advice shows.
It's not clear which channels will be part of the first paid-subscription rollout, but it is believed that YouTube will lean on the media companies that have already shown the ability to develop large followings on the video platform, including networks like Machinima, Maker Studios and Fullscreen. YouTube is also looking outside its current roster of partners for candidates.
http://adage.com/article/digital/youtub ... ng/239437/
if you don't like my opinions....please lower your standards
.
---
Why would I pay for porn? -_-
Master Raphael wrote:what you call the law of attraction was missing a vital aspect to the theory that I call the law of repulsion ...it is clear I drove the two of you together...using my repulsion not attraction
---
Posts: 3305
Joined: Tue Jun 08, 2010 9:47 am
If thats the case then I'd switch to another video service provider that free.

Like Foxtel bombard you with adds constantly and still expect you to pay 100 a month.
Live by the Terror, Die by the Terror.
---
Megavideo were once kinda the biggest and best streaming host,they strated charging...and disappeared from the streaming market...
---
Posts: 2379
Joined: Mon Apr 16, 2012 8:16 am
been waiting for this to happen, pretty predictable really,another good reason to fuk the internet off altogether, keep pushing it fukkas,

its not called the "web" for no reason, a web catches and traps things? no coincidence i think.
the story of life is quicker than the blink of an eye, the story of love is hello and goodbye, until we meet again my friend.
---
Related topics

Replies
Views

Last post